Description
Come to the Gippsland Garlic Festival and celebrate is one of the world's super foods
Enjoy a full day of fun, food, activities, learning and live entertainment at the Meeniyan Garlic Festival. Book your tickets today and secure your free garlic crusher – a Festival Special.
Monthly prize draws for books, bonus garlic peeler and other great gifts for tickets bought online. (Collect at event only).

Taste the magical flavours of food inspired by fresh Australian garlic in our Gourmet Lane. Learn about the 300 varieties, what to plant, where and when to plant. Make your own garlic plait and learn from the experts at the 'Garlic Institute'.

Stroll through the Garlic Market and sample a wide range of fine foods and produce – all with a touch of garlic. Buy your garlic from our 30 growers. Enjoy garlic ice cream, garlic beer and visit the Stadium Kitchen for cooking demonstrations all day.
Join in our Garlic Games – with fun for young and old and be entertained by our singers, bands, and story tellers on the Festival Stage.
Come to Meeinyan, just a 90 minute drive from "the burbs of Melbourne" for the 2017 Gippsland Garlic Festival. Stay for the day or the weekend.
Date Saturday 18th February 2017.
Time 10.00am – 5.00pm (With live concert to follow)
Tickets Book now and win great prizes in our Garlic Draw
Winners are drawn on the 1st day of the month until Festival day.

Program
'Garlic Heaven' : The Festival Marketplace
Stroll down Garlic Drive to sample fine food and produce with a garlic theme. Visit Garlic Square and taste the best of Victoria's garlic from any one of 20 producers. Drop into the Cricketer's Arms for a garlic beer.
Enjoy the best produce from the Tarwin Valley – direct from the farm gate and our regional producers, with cheeses, veggies, oils, olives, nuts, breads, pies and pastries, ice cream, wines, meats, pastas, sauces, pesto, craft beers and much more. Add in local crafts and a Garlic Kitchen for a full range of garlic preparation & utility items.
Pick up tips and tools for planting and growing great garlic. Meet our local arts and crafts people and explore the Festival's Garlic Kitchen stall for a full range of garlic preparation & cooking utensils.
'The Garlic Institute': Garlic Education
Acclaimed author, broadcaster and garlic guru, Penny Woodward is hosting the Garlic Institute – in the famous Meeniyan Hall! Our garlic education program is supported by the Australian Garlic Industry Association, so you can learn from the experts in the game.
Our full day program includes:-
Garlic Info Sessions : All you need to know about garlic – the cultivar groups, the 300 varieties & the characteristics

Growing Garlic : Growing & cultivating small scale plantations

Garlic Plaiting : Hands on skills demonstrations and workshop sessions

Displays : Pictorial displays of garlic

Garlic Tasting : Experience the flavours, and know the difference
Our Festival Guide will have timing for all the talks and presentations and plaiting
'The Festival Kitchen': Cooking Shows
See the masters at work in our day of cooking action at the Festival Kitchen. Cooking well with garlic is an art and our team of chefs will give you a real flavour sensation with garlic causes, steaks, calamari and so much more.
Maria Stuart from Millie and Romeo's Cooking School will host our Festival Kitchen with cooking shows on the half hour, featuring local and visiting chefs. A Garlic Extravaganza.
With big LCD screens and arena seating and the promise of tasting some special cuisine, this is a cooking show like no other.
'Garlic Grazing': Food Stalls, Eateries & Tastings
Savouring the taste of good food, flavoured by great Aussie garlic, is at the heart of the Festival. Our food offerings provide a range of grazing and lunching options, including paella, garlic BBQs, nuts, pastas, fish, garlic fries and more.
Enjoy traditional Italian pasta and pizza at Trulli Woodfire Pizzeria, tasting plates and a glass of local wine at The Meeniyan Store, classic 'pub-style' meals at The Meeniyan Hotel and a garlic inspired menu at Moo's @ Meeniyan.
'The Art Of Garlic': Arts And Crafts
Led by local artist and chef, Meg Viney-Bell, the program will include an exhibition of works of our young people, together with local artists and artisans. Wander down Whitelaw Street and be surprised by the Art of Garlic and the response from our creative community.
'The Garlic Games': Fun For All
The Garlic Games will provide fun and games for all ages and abilities. Jumping castles, face painters and balloon artists will mix it up with traditional party games – garlic sack races, garlic and spoon races . . . . together with some toys on display to entertain older kids. The Festival Toy Show will include historic cars and tractors and a 'Show and Shine' by the Foster Ulysses Club.
'The Festival Stage' : Live Music, Comedy & Bush Poetry
Led by local music teacher and bass guitarist from Men at Work, Mr John Rees, our Festival Stage will draw a big crowd during the Festival. We have a great mix of music and entertainment from local and visiting artists – comedians, bush poets and a full day of country, rock and folk music with a splash of swing for the crooners.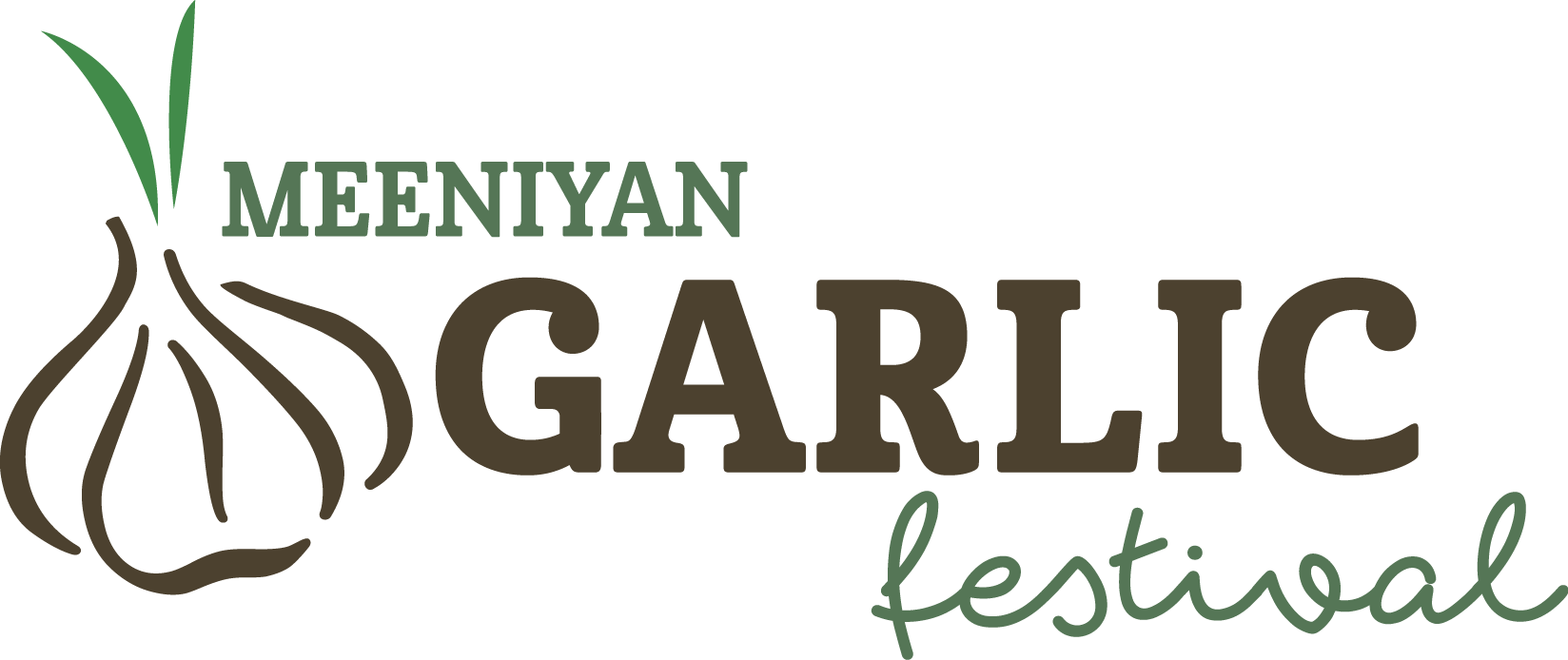 Meeniyan Recreation Reserve
Hanily Street Meeniyan
South Gippsland Victoria
Save
Save
Save
Save
Save