Chinmaya Mission Sydney has decided to postpone this event to a later date due to the rising risk of corona virus (COVID-19).
About this event
A Message from Chinmaya Mission Australia:
Hari OM ,
Due to the rising health risks associated with the novel coronavirus (COVID-19), Chinmaya Mission Sydney has decided to postpone the Meditation Workshop event to a later date. Our top priority at the moment remains the health and well-being of you and your family, and the community.
We will keep you informed with updates and let you know the new date & time for the Meditation Workshop event.
If you have any questions or concerns, please don't hesitate to contact Nandu Thundatil on 0408 445 941 or Shreenath on 0420 941 808.
Our sincerest apologies for the inconvenience. We hope you and your family stay safe and continue with your regular sadhana (spiritual practice).
You can find out more about our study classes and activities in the Chinmaya Mission Sydney website.
Love
In Your Service
Chinmaya Mission Sydney Committee
At His Feet
In this 1.5 hour workshop you will learn the nature and the workings of our minds. Participants will also learn the reasons for the conflicts and sufferings that arise in our daily interactions with the world.
By the end of this session one will have learnt by the process of meditation how to quieten the mind and have the right tools to conquer one's conflicts and sufferings in the mind.
How will this seminar benefit you & your community??
A calm mind is available to think and use its experiences and intelligence to apply towards the challenges of life. Meditation enables one to think and inquire the purpose of life and teaches us the fundamental lesson that happiness of a person lies within himself/herself and not in the world of objects and beings. A community comprising of these meditative minded people will raise the standard of life and living.
Venue: https://www.sydneytownhall.com.au/discover-learn/explore-building/lower-town-hall/
SEATS ARE STRICTLY LIMITED. TO SECURE YOUR SPOT PLEASE REGISTER NOW!
A $5 DONATION TO SECURE YOUR SPOT IS REQUESTED.
Coffee / Tea / Refreshments / Snacks will be provided to all participants.
For further details please contact:
Nandu Thundatil : 0408 445 941
Shreenath Menon: 0420 941 808
About the Speaker:
In an era rife with scepticism and confusion about matters spiritual, Swami Swaroopananda is a rare voice that blends authenticity with accessibility; theory with self- practice; logic with heart. Swami Swaroopananda has now been bestowed by Swami Tejomayananda the privilege to also serve as the Head of Chinmaya Mission Worldwide.
Born and brought up in the bustling commercial capital of India, Swamiji had always been convinced that beyond life's superficial, everyday joys and sorrows, there was something more enduring and satisfying. As a child he heard from his grandmother many religious stories based on the great Indian epics and the history of saints. These stories suddenly came to life, acquiring new meaning and depth, when as an adolescent he encountered the preeminent Master of Vedanta, Swami Chinmayananda.
His heart completely moved and inspired, in 1984 Swami Swaroopananda gave up his family's thriving business in Hong Kong to undergo intensive training under Swami Chinmayananda and Swami Tejomayananda at Sandeepany, Mumbai. He was initiated into the monastic order in 1992. Since then, he has touched thousands of lives across the world, and his tremendous work in bringing out the essential wisdom and underlying unity of all religions has garnered him a place among the vanguards of self-development philosophy.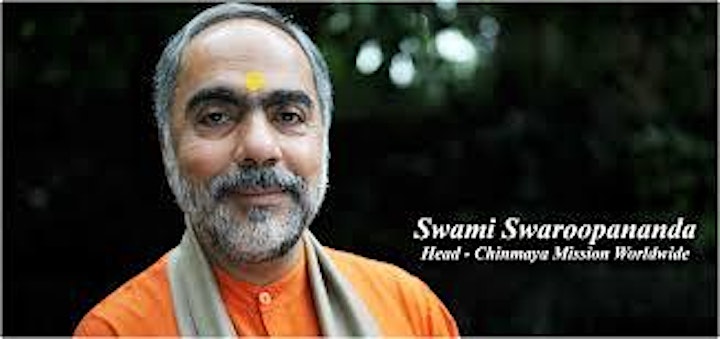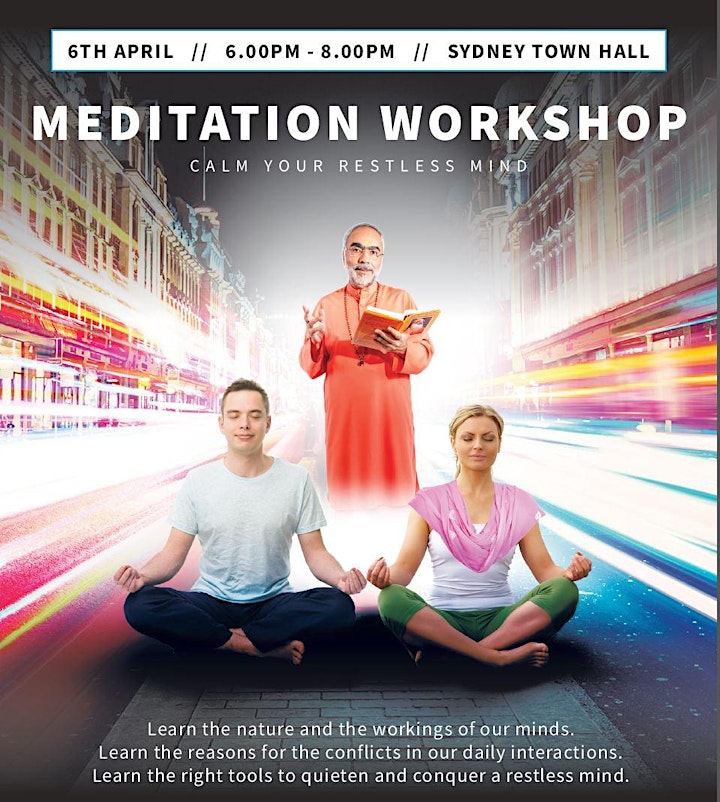 Organiser of Meditation Workshop @ Sydney Town Hall (EVENT POSTPONED)