Join us for a guided meditation and a pranic healing treatment to experience inner peace, tranquility, relief from aches, pains.
About this event
Meditation on Twin Hearts for peace & Illumination
Join us for the Meditation on Twin Hearts for peace & illumination every monday followed by a pranic healing treatment.
Start the week with increased energy to make the most of your week.
About the meditation
It is a form of world service that helps to bring harmony by blessing the earth with loving-kindness, peace, joy and good will.
The Meditation on Twin Hearts brings a tremendous amount of spiritual energy, peace, love, prosperity and happiness in the practitioner's life. It is a noble tool that raises one's vibrations toward higher states of awareness and expanded levels of consciousness.
Presently being practiced globally by tens of thousands of people of different religions and backgrounds, the Meditation on Twin Hearts is extraordinary in its simplicity with amazing and dramatic results.
Benefits of the Meditation
- Improved health
- Reduced stress, anxiety
- Flushes out unwanted thoughts, emotions
- Generate good karma
- Experience inner peace, stillness
-Sharper mind
-Improved relationships
-Bigger ,cleaner Aura & chakras
When - Mondays ,6pm-8pm
Venue- Movement Halo,53,Gilbert St,Adelaide
Cost - by donation
Limited numbers due to covid restrictions,
To register go to
http://bit.ly/SignUp_MH
For further information contact Ramya Arjunan 049 825 6666 / ramya.arjunanv@gmail.com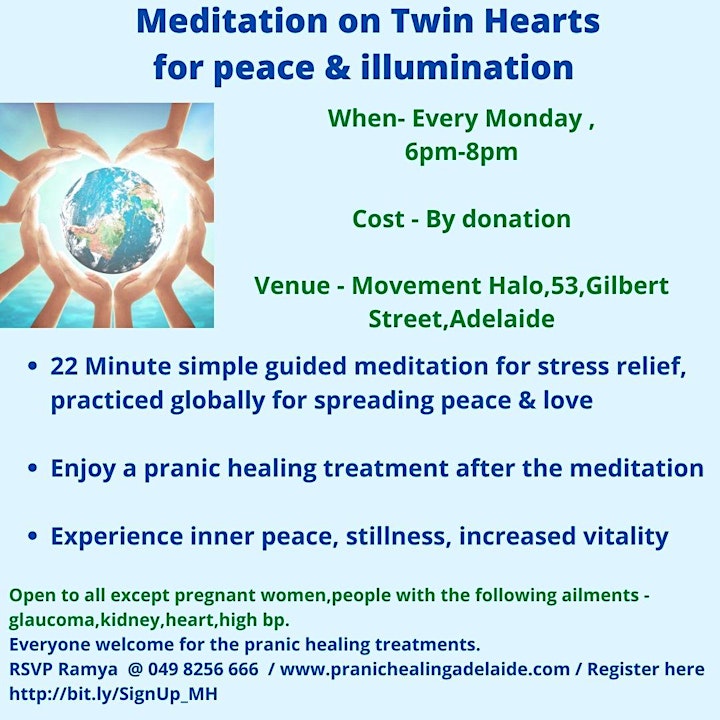 Organiser of Meditation on Twin Hearts for peace & Illumination & Pranic Healing