Meditation: Awaken Your Inner Power (free lecture with guided meditation)
Description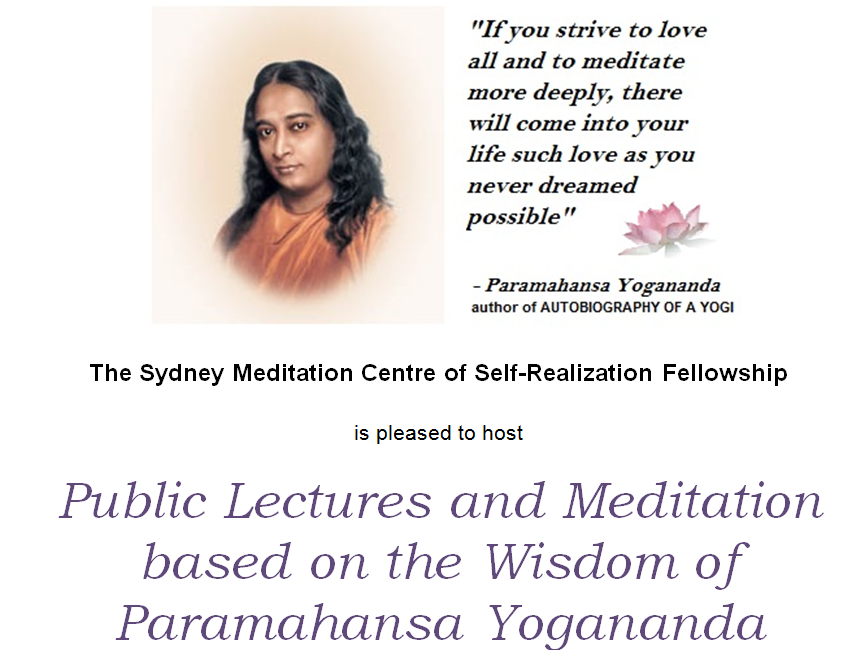 The talks conducted by two Self-Realization Fellowship monks offer a wonderful introduction to the teachings of Paramahansa Yogananda, author of Autobiography of a Yogi and subject of the award-winning film AWAKE: The Life of Yogananda.
Considered the father of Yoga within the West, Paramahansa Yogananda pioneered the modern-day Yoga movement and introduced the ancient spiritual science of Kriya Yoga meditation to the United States in 1920.
The monks are visiting from the ashrams of Paramahansa Yogananda in the United States of America; they last offered public lectures in Sydney in 2009. The weekend events will include inspirational programs, meditation technique classes and a Kriya Yoga initiation.

We are delighted to let you know this monastic visit will be hosted by Brother Naradananda and Brother Jitananda.
---


Tour Schedule of Events
Below is the weekend schedule of events. Please note the use of an asterisk * to indicate who can attend these sessions; where there is no asterisk the sessions are open to everyone.
Friday, November 11
07:00 p.m. - 08:00 p.m. Public Lecture
08:00 p.m. - 09:00 p.m. Reception
Saturday, November 12
10:00 a.m. - 12:30 p.m. Technique Review Class *
06:00 p.m. - 09:00 p.m. Kriya Yoga Initiation **
Sunday, November 13
08:30 a.m. - 09:15 a.m. Meditation
09:30 a.m. - 10:30 a.m. Inspirational Service
11:00 a.m. - 12:30 p.m. Kriya Yoga Review Class **
02:00 p.m. - 03:30 p.m. Satsanga and Film
05:30 p.m. - 07:30 p.m. Buffet Social ***

* Open to students of the Self-Realization Fellowship Lessons
(See FAQs below for information on how to become an SRF lessons student.)

** Open to Kriyabans only
*** The price to attend the Buffet Social is $59.00 per person
Tickets can either be pre-purchased at the Sydney Meditation Centre of Self-Realization Fellowship or by emailing sydneymonasticvisit2016@gmail.com for details about direct deposit payments.
The cut-off date for buffet ticket sales is November 6th 2016

---
Accommodation
A special accommodation rate has been negotiated with Rydges World Square which is only valid until 30 days prior to the event. Please note that these prices are competitive for this time of the year in inner city Sydney.
Nightly rates per room: all rates are quoted in Australian dollars (including GST).
Deluxe King Room Only on 11th November 2016 $229.00
Deluxe King Room Only on 12th November 2016 $319.00
Deluxe King Room Only on 13th November 2016 $199.00
Valet parking at Rydges is $60 per vehicle per day
Daily buffet breakfast is available at $20.00 per person (not applicable to room service)
Reservations: contact the Rydges reservation team by phone (02 8268 1888)
Or email reservations_worldsquare@rydges.com and
Quote BLOCK ID: 2616398 or BLOCK NAME: Sydney SRF Meditation Centre – Allotment

---
FAQs
Where can I contact the organiser with any questions?
Contact the organisers by clicking the CONTACT button just above the map below or email:
sydneymonasticvisit2016@gmail.com
Also see the event Facebook page at https: https://www.facebook.com/srfsydneymonasticvisit/
Are there ID requirements or an age limit to enter the event?
These events are geared toward adults, but children twelve years and older who are Self-Realization Fellowship students may attend if they wish. We are not able to accommodate younger children at the meetings.

How do I become an SRF Lessons student?
You can either sign up at the venue or click on the following link
http://www.yogananda-srf.org/py_srf_lessons_for_home_study.aspx
What are my transport/parking options getting to the event?
Rydges World Square is in a central city location at 389 Pitt Street, Sydney and there is direct access from the street to the venue via an escalator from Pitt Street - lift access is also available.
There are two trains stations close by, Town Hall and Museum Stations are an easy walk. Museum Station also has an Airport link.
Parking is available at Rydges (valet parking at $60 per day) OR at a number of local parking stations such as the Goulburn Street Parking Station (who offer a $10 'flat rate' on Friday night and they also offer a $10 'all-day rate' on Saturday and on Sunday).
City buses

are available from Pitt Street and George Street