Introduction to meditation and mindfulness, free of charge for 12 sessions
About this event
Meditation and mindfulness for healing and wellness with Steve Chin
Commencing on 14 August 2021 3 – 4pm every 2nd Saturday of the month at Quaama School of Arts Hall
Free of charge. Bookings required, maximum of 20 per session
Steve Chin has over 18 years' experience in teaching Tai Chi, Qigong and Meditation. and is the founder and chief instructor of the Sapphire Academy of Tai Chi & Meditation.
Steve is also a clinician, health professional and healing facilitator with qualifications in Health Science, natural therapies, massage therapy, nutritional medicine, Acupressure and exercise therapy.
Steve is passionate about healing facilitation through clinical therapy as well as providing Tai Chi, Qigong and Meditation classes, facilitating medicine music expression sessions, Tai Chi and Meditation retreats, and health and wellness workshops.
Sessions include:
• Introduction to meditation and mindfulness;
• breath awareness and mindfulness;
• meditation in stillness and in motion;
• integrating meditation and mindfulness into daily life for peace, health, harmony, healing and wellness
Covid rules apply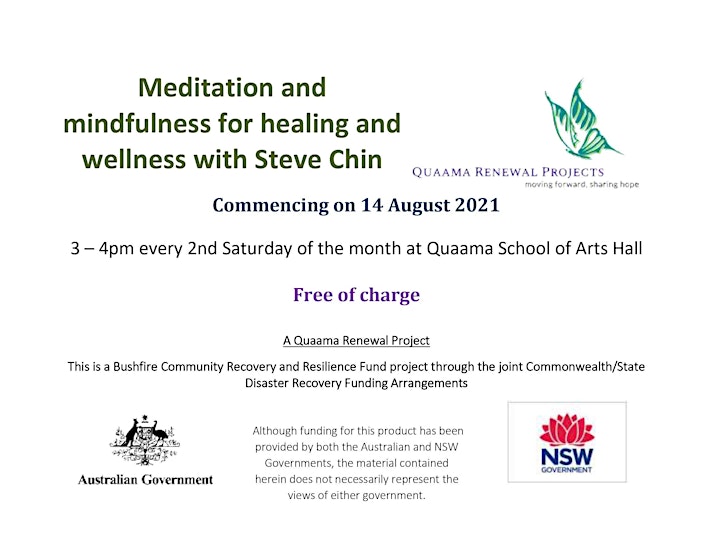 Organiser of Meditation and mindfulness for healing and wellness with Steve Chin