Medicine Buddha : Teaching, Transmission and Practice

Sunday, 25 March 2018 from 10:00 am to 4:30 pm (AEDT)
Event Details
We had to created another booking page for the Medicine Buddha Teaching, Transmission and Practice, please use the following link to get to the new page:
https://www.eventbrite.com/e/medicine-buddha-teaching-transmission-and-practice-tickets-44400052753
Alternatively, please select "Upcoming events on Eventbrite" (located on the right hand side of the page, in the Organiser's box) to access further events.
We apologise for the inconvenience. 
Medicine Buddha Practice is not only a very powerful method for healing and increasing healing powers both for oneself and others, but also for overcoming the inner sickness of attachment, hatred, and ignorance, thus to meditate on the Medicine Buddha can help decrease physical and mental illness and suffering. The Medicine Buddha mantra is held to be extremely powerful for healing of physical illnesses and purification of negative karma. This workshop will be valuable for health care workers, those suffering from illness and the general public.
An introduction to Medicine Buddha practice will be followed by the oral transmission of the Mantra and text,
followed by a guided meditation on the practice.
Venerable Dekhung Gyaltsey Rinpoche is a highly qualified senior teacher of the Karma Kagyu tradition and
has trained in Tibetan medicine and acupuncture. He is tireless in his dedication and commitment to benefit others. Rinpoche has been teaching in Australia for nearly 20 years, and has a strong grasp of the western md, making him a uniquely able to speak from both the Asian and Western perspectives. He has organised and presided over the last five Australian Kagyu Monlam prayer festivals.
Entry by donation.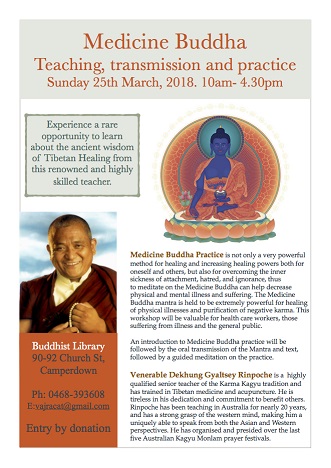 When & Where

Buddhist Library
90-92 Church St
Camperdown, NSW 2050
Australia

Sunday, 25 March 2018 from 10:00 am to 4:30 pm (AEDT)
Add to my calendar
Organiser
Kadri Bodhi Monastery Inc. [KDBM] is a non-profit Buddhist organisation based in NSW. The organisation is dedicated to the flourishing of Buddhist teaching, practice, art and culture in Australia. 
For further information, contact us at kdbm2015@gmail.com