This very popular online CPD event provides an update on medical history and local anaesthesia administration, featuring Dr Asha Starr.
About this event
In response to numerous requests for further evidence-based, relevant and high-quality professional learning, PLUS 2 Consulting are proud to feature Dr Asha Starr in this online CPD event to enhance your oral health practice in medical history and local anaesthesia administration.
Experienced oral health educators Sophie Karanicolas and Cathy Snelling will revise the neural histology and anatomy related to safe and effective dental anaesthesia before Dr Asha Starr presents an update on medical history and the safe administration of LA.
You will participate in group discussion focused on application to your practice, consequently, places in this event are limited to maintain an interactive team-based learning approach.
A short pre-workshop survey will be sent out to you with a link to the online workshop session. We encourage you to send in any questions you may already have about these topics as a part of your pre-workshop survey responses to include them in the online content.
You will receive 2.5 hours of scientific CPD hours after completing the workshop.
Finally, in the true style of PLUS 2 events, you will be sent follow up resources after the event for your own reference. If you have any further queries please contact Sophie or Cathy on plus2consultancy1@gmail.com
This is a popular event, so please reserve your place as soon as convenient.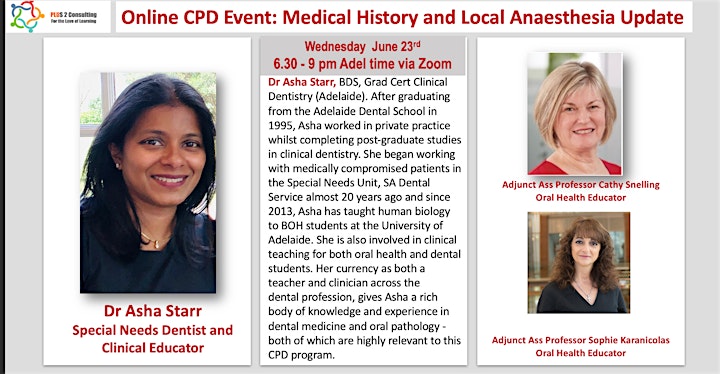 Date and time
Location
Refund policy