MedHack is Melbourne's premier student-run healthcare innovation hackathon.
About this event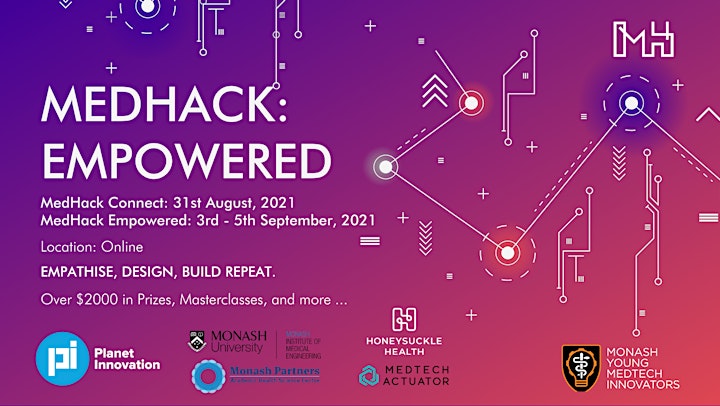 Key Dates:
MedHack Connect: 31st August 2021
MedHack Empowered: 3rd-5th September 2021
Due to the current COVID-19 restrictions, MedHack will now be run 100% online. More information will be given to participants after registration.
Every year we bring students and professionals from any institution together at the intersection of design, engineering, healthcare and entrepreneurship in a 48 hour sprint to help reimagine the future of healthcare.
This year's theme is Empowered, and we are focusing on tackling challenges associated with chronic disease and building solutions.
Chronic diseases are the leading cause of illness, disability and death in Australia. 9 in 10 deaths in 2018 were associated with chronic diseases (AIHW, 2020). Through MedHack, we aim to bring the community together to co-design solutions that help address the challenges associated with Australia's most pressing health concerns.
Teams of 4-6 will be matched with a Co-Designer and they'll have 48 hours to build something impactful, addressing the challenges that may be faced by their co-designer. As part of your ticket you will be given a T-shirt, tote bag with merch and access to both MedHack Connect and MedHack Empowered.
MedHack Connect, our networking evening with our core sponsors, mentors and Co-Designer panel will be on the 31st of August, 2021.
MedHack Empowered, our main event, will run from 3rd-5th September 2021.
This event is run in collaboration with MIME, Planet Innovation and The Actuator.
We also have community partners in the Faculty of Engineering Monash University, Tikkun Olam Makers (TOM) and Medical Pantry.
More information will be given to participants after a ticket has been purchased. If you do not have a team organised, there will be plenty of opportunities to meet other MedHackers and make a team.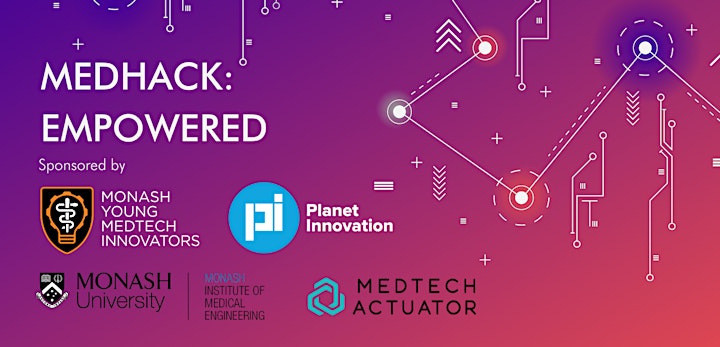 Date and time
Location
Refund policy