Description
Melbourne Contemporary Choir is thrilled to present 'INTERSECT', showcasing Melbourne's best loved vocal ensembles - MCCHOIR and CHIME CHOIR

100 voices on stage in this high energy, one show only event
It's not often that you see two great semi-professional choirs INTERSECT to create something really special that will ressonate with you well after the curtain closes. There's something about these two vocal groups that keeps you coming back for more. CHIME choir and MCCHOIR have performed to sold-out concerts all over the globe and in this rare opportunity the Directors of MCCHOIR (Jason Simmonds) and CHIME (Marten Visser) are coming together to create a unique musical experience that will have your spine tingling and keep you on on the edge of your seat in anticipation and send you home on a huge high.
This event will bring together four different ensemble into the one high energy show - MCCHOIR, CHIME choir, MCYOUTH (teen choir) and MCGOSPEL (Melbourne's newest gospel group). All four choirs will come together for a huge finale which will get your heart pumping and have you dancing in the isles.
Choir leads Jason Simmonds (MCCHOIR) & Marten Visser (CHIME Choir) have pulled together a creative team including Alinta Burnel (MCYOUTH), Sean Donehue (MCGOSPEL) Amy Horneman (MCCHOIR - KEW) to create for you this unforgettable musical experience featuring songs from the hit musical "The Greatest Showman" Broadway blockbusters such as "Lion King" and "Dear Evan Hansen" as well as pop and gospel sensations such Lady Gaga, Kirk Franklin, Protugal The Man and A Cappella's best known group Pentatonix.
It's like taking four amazing stand alone concert events and putting the best of each into one amazing ride to delight the senses. From the dramatic opener to the mass choir finale featuring over 100 vocalists you will not want to go home.
Be sure to secure your tickets early as with this many performers family and friends coming along together with limited seating this show will sell out FAST and there are bound to be plenty of people dissapointed that they missed out! So get your skates on and book in advance for a great nights entertainment. There are a few VIP ticket with reserved seating and undercover parking available, early bird and general admission tickets.
Who is MCCHOIR?
Affectionately known as MCCHOIR, Melbourne Contemporary Choir is one of our city's most highly regarded unauditioned vocal ensembles. We are fresh and progressive, and perform a wide repertoire of songs including a growing catalogue of inspiring original tunes. Not many choirs in Melbourne can boast such a collection of original recorded music like MCCHOIR can.
Now 3 years in and lovin' it, Melbourne Contemporary Choir has performed at many events such as White Night at Melbourne Museum (2018), Safe Steps Candlelight Vigil - Federation Square (2018), Beyond Blue (2016), Carols by Candlelight - Manningham City Council (2016 & 2017), SoleMotive's Run Melbourne (2017) and the Melbourne Convention and Exhibition Centre.
With high energy pop songs, original tunes, performance and recording opportunities, MCCHOIR is Melbourne's choir of choice for contemporary singers. Coming from all levels of experience, MCCHOIR forms an uplifting semi-professional ensemble, with campuses currently in Carlton, Kew, Coburg North and Macleod, as well as MCYOUTH choir for teenagers. Check us out at www.mcchoir.com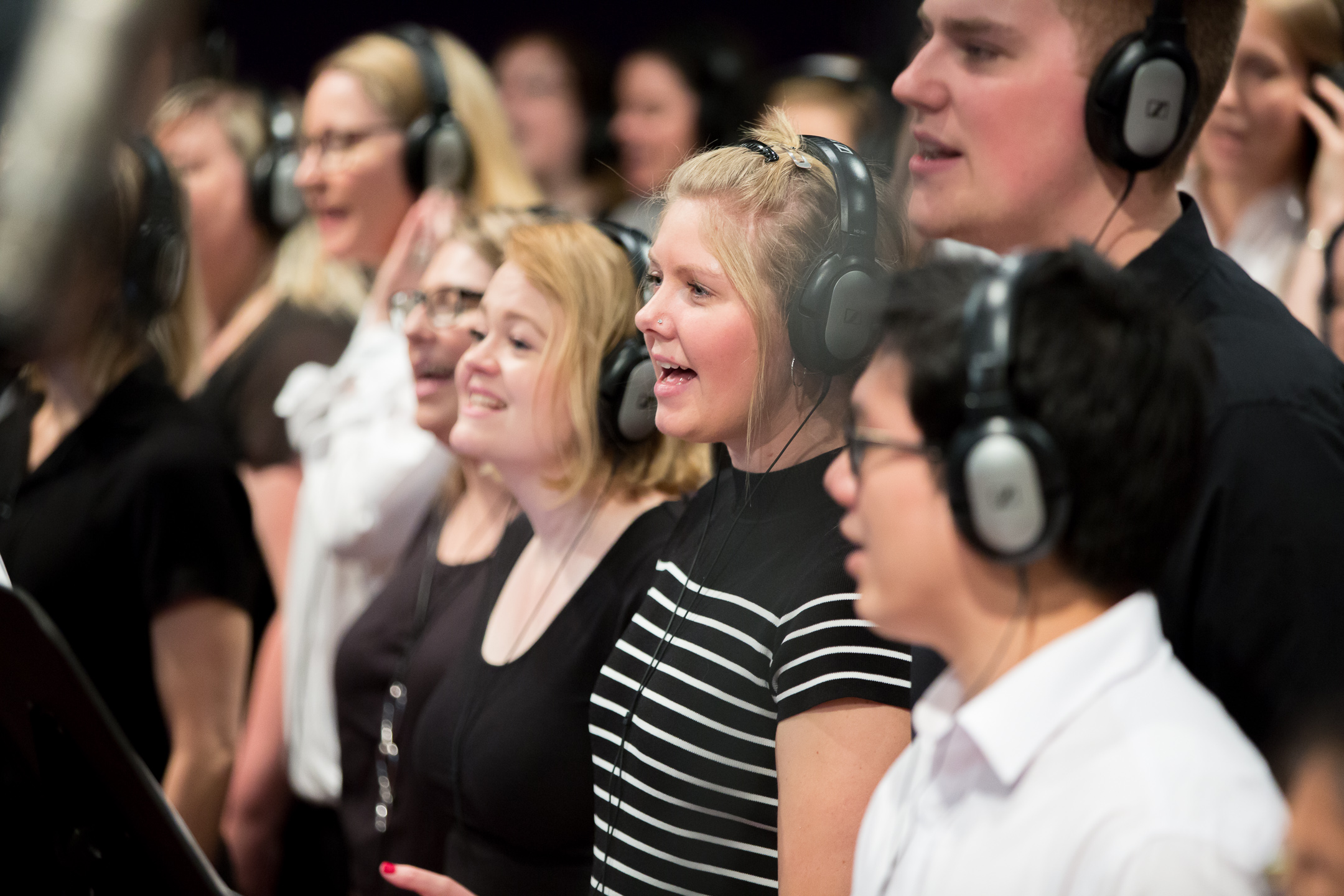 Who is CHIME Choir
The Chime Choir was founded in 1984 by renowned performer and educator kevin Casey, as a teaching choir for young singers. His passion fo rmusical excellence laid the foundations for Chime to evolve into the choir it is today.
Artistic Director Marten Visser, leads Chime with professionalism, enthusiasm and vision for the future, nurturing a community that makes fresh and exciting music. His passion for people and singing challenges choristers to achieve their very best at all times.
The choir's diverse membership is united by the desire to sing choral music that speaks to the heart and mind, exploring the world - past, present, and emerging. We are committed to creating a community where people have the opportunity to sing music that challenges and delights.

Each year, Chime presents a number of concerts as well as performing at weddings and funerals, seasonal festivals, and special events, at locations ranging from shopping centres and wineries to churches and performing arts centres. Chime has also toured America, England, Germany, Italy, and Austria, and participated in several international choral competitions.

In April 2018, our choristers had the once-in-a-lifetime opportunity to sing at Carnegie Hall in New York when Chime was invited to join a world choir, singing compositions by Norwegian composer Ola Gjeilo as part of the DCINY Dreamweaver concert.
Chime has been privileged to collaborate with many wonderful choirs and musicians. These include Southern Voices, The Idea of North, Exaudi, and Sweet Mona's Choir, as well as singers Roy Best and Andrea Bocelli, organists Hugh Fullarton and Thomas Heywood, and various bands and orchestral groups including Boroondara Brass. In 2017, Chime was honoured to be selected to perform with popular Welsh tenor, Aled Jones, at his inspiring Melbourne Recital Centre concert.
www.chime.org.au
FAQs
Venue Location is in Coburg North
Sometimes your navigation app will want to take you to Brunswick instead of North Coburg. The venue is located North of Bell Street, so heading north on Sydney Road past the old Pentridge Prison by about 5 minutes.

Here is the link to the venue on Google Maps. We don't want you getting lost!
What are my transport/parking options for getting to and from the event?
The venue is located on Sydney Rd, Coburg North, which is serviced by the following public transport:
Tram: Route 19 (Stop 40 North Coburg) - the end of the tram line at Bakers Road.
Bus: Route 531 along Bakers Road.
Train: Upfield Line to Batman Station. Then catch Tram 19 north to Tram Stop 40 at Bakers Road.
Plan your journey at www.ptv.vic.gov.au. Journey times and routes on a Saturday night may vary.

Parking
There is limted underground parking available at the venue (Enter off Headley Street) and ample street parking around the venue. If you require disabled parking, please contact us in advance of the event to reserve a spot.

Additional parking is available at Mercy College - which is located 300m/ 4min walk away on Sydney Rd. The entrance to the carpark is located on Sydney Rd, just before the pedestrian overpass bridge, if you are heading away from the city.
How can I contact the organiser with any questions?
Email: voice@mcchoir.com
Web: mcchoir.com