Description
Need to learn Media Composer from start to Certification? You can combine the Media Composer Fundamentals I (MC101) and Media Composer Fundamentals II (MC110) courses into 7 days of leaning and save 20% on the cost of attending the separate courses.
---
The Media Composer Fundamentals I (MC101) course is the first step in achieving confidence, creativity, and efficiency with Avid Media Composer, the non-linear film/video editing application used in most movie and television productions. Together with the second course in the series, Media Composer Fundamentals II (MC110), these consecutive courses provide the foundational training required to achieve the credential of Avid Certified User: Media Composer.

At the completion of the courses, students will have the technical and organisational skills of an assistant editor and will have developed their editorial skills with the tools and techniques required to produce a well-edited video.
From an understanding of the video editing process and the basic skills to edit a video project from start to finish, to using dynamic trim techniques to shape the actor's performances in a dramatic scene, to quickly assembling a news package to meet deadline, these combined courses empower novice users to take their Media Composer skills to the next level.
Class projects and exercises are hands-on, giving students the opportunity to work on a scripted short film and a promotional video.
Who Should Attend
This course is designed for:
Producers
Editors
Assistant editors
Multimedia producers
Prerequisites
No experience with Avid Media Composer is necessary
A working knowledge of Windows or Macintosh operating systems
A background or experience in editing, production, or post-production is recommended
Trainer - Rebecca Edwards (ACI)
Rebecca Edwards is a highly experienced Online Editor and Colourist, with a twelve-year history in broadcast post-production. She has an extensive credit list, having worked on some of the industry's biggest, and fastest turnaround TV formats for the Australian, UK and USA markets, in a diverse range of genres including reality TV, children's TV, factual and documentary. She is an Avid Certified Instructor (ACI) and has taught the official Avid syllabus for seven years throughout all of its many updates and developments. She has delivered extensive tailored in-house training to major broadcasters pitched at new users to senior editors using Avid Media Composer.
Rebecca has a Graduate Diploma in TV Editing (AFTRS), a Graduate Diploma in Media Arts (UTS), a Post Graduate Certificate in Education (Goldsmiths College, London) and a Bachelor of Arts in Drama (Exeter University, UK).
How to Get There / Parking
By Train: Alight at St Leonards station and walk down Herbert Street. Turn right on Cleg Street. Approximately 10-minute walk. A free Artarmon Loop shuttle bus leaves from St Leonards station under the Forum pedestrian overpass on the hospital side of Herbert Street. Alight the bus opposite SBS in Frederick Street.
By Taxi/Car: Take the Reserve Road exit from the Gore Hill Freeway travelling North or after exiting the Lane Cove Tunnel travelling South.
Parking: There is very limited street parking available. There are occasionally spaces in Punch Street and Francis Street (generally before 8:30am and after 5:00pm), but it is best to seek alternative transport.
---
This training is proudly presented by Digistor Training Centre
The Digistor Training Centre leads the way with an extensive range of instructor-led, hands-on training courses targeting the Digital Media industry. Classes are conducted at our Training Centre in Artarmon, Sydney and other states on request.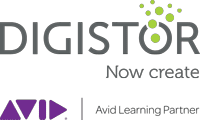 Digistor an Australian Avid Learning Partner – Professional and provides the full range of certified Avid video, audio, media storage and asset management courses for the Australian industry. Courses on and including Avid ProTools, Media Composer, MediaCentral, and NEXIS storage run by Digistor are available to clients needing to use Avid's creative tools and those that need to provide technical support for Avid tools and infrastructure.
Ensure your team members stay up to date, meet deadlines and improve productivity by choosing Digistor Training Centre for all your training needs both in-house and onsite.
For further information contact Digistor by email or on 02 9431 6000.
Learn about our other training courses.
---
For refund/cancellation policy see full terms and conditions here.