Description
This masterclass is part of the UTS MBA in entrepreneurship
The world is experiencing information overload. As such, traditional, text heavy ways of communicating have become redundant. Visual communication has exploded in popularity.
Here's why:
Visuals are processed up to 60,000 times faster than text

We remember 10% of written information. We remember 65% of visual information

50% of our brain is involved in visual processing
Being able to use hand drawn graphics and words together to demonstrate ideas and communicate gives you a new language to work with.
This practical, hand on workshop will show you how to:
Draw whatever you like through learning to draw what you see, rather than what you think you see. Who really looks like a stick figure?

Make rapid breakthroughs and kick out creative block once and for all

Increase speed and productivity by learning how to simplify complex ideas

Communicate with and present to key stakeholders more effectively with visuals

Easily prototype an idea using design thinking principles
The workshop approach that focuses on three fundamental principles: Vision, Direction and Confidence. These allow ANYONE who walks away from the workshop to express their thoughts visually.
Facilitator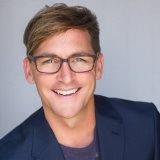 Simon Banks is an emcee, speaker, facilitator and artist who brings all the vim and vigour your audience expect to ensure brilliant corporate events. He's the Director of creative training company VisualFunk, known for running innovation hubs, conferences and training days to brew fresh thinking and develop market leading ideas. His first book, 1000 Little Lightbulbs, will be released in mid 2017.
By entering this event you agree that UTS, Business Practice may use photographs or video footage taken of yourself during the event for marketing purposes including DVD production, posting on UTS Business Practice website and or social media platforms, or for future UTS, Business Practice events.


For any queries please contact:
Ph: 02 9514 3504
Email: business.practice@uts.edu.au