MBAe Masterclass: Presentation and Performance to enhance your communicatio...
Description
Masterclass: Presentation and Performance craft to have access to more of 'you' to enhance your communications

Drawing on a combination of improvisation, acting techniques and role playing, George works to uncover, strengthen or even discover your full range of communication possibilities. Work towards being able to present more than just your data, having 'you' be the centre of all your engagements. Practice being engaging, work towards influencing others, learn to enjoy being the centre of attention and then holding it. This work can be part of your ongoing skills development, treat it like a craft, sport or technical skill that needs to be practiced.

Presenter: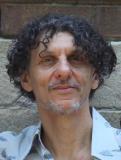 George Catsi

George has a doctorate exploring persuasive performance, is a national award winning performance writer, a performer, comic, academic and business owner overlapping film, theatre, business, health and education. George has worked with organisations, individuals and group of all ages in improving their ability to present, speak and in many cases just 'be' in their skin whilst people look at you. He explores how this enhances one's ability to network, lead, collaborate and generally communicate both in the work and social environment.

George thrives on facilitating people and ideas to move to better places, enjoying high-level conceptual thinking and problem solving, driving creative, innovative and entrepreneurial outcomes. He has worked with start-ups or early stages of business development in the commercial and social sectors and has gone down the venture road - amongst others he was executive producer / co-artistic director / company owner Flickerfest International Short Film Festival (Australia) and executive produced / visioned a health TV channel – RPAtv (shortlisted NSW Premiers Award). On the community level he is President of the Petersham Bowling Club (PBC) where he led a team that turned around a failed club destined for the developers by removing poker machines and creating a thriving arts, music and and community hub.

He is a graduate of the Asialink Leadership Program (Uni of Melbourne) and was a leadership delegate to the Future Summit (2005-07). He teaches Design Thinking plus Communications at UTS. He has presented on a range of topics including: Creativity; Perceptions of Evil and Human Wickedness; Satire; and National Identity (maybe they are all the same thing).


By entering this event you agree that UTS, Business Practice may use photographs or video footage taken of yourself during the event for marketing purposes including DVD production, posting on UTS Business Practice website and or social media platforms, or for future UTS, Business Practice events.


For any queries please contact:
Ph: 02 9514 3504
Email: business.practice@uts.edu.au