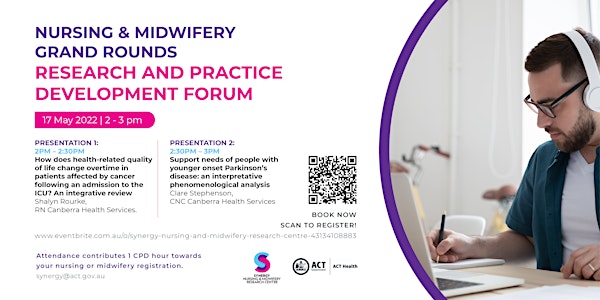 May Forum - SYNERGY Nursing and Midwifery Research & Practice Development
SYNERGY: Nursing and Midwifery Research Centre PRESENTS free monthly forums for nurses and midwives
About this event
Join our May 2022 forum!
Each Forum will see two presenters showcasing their research on a wide variety of topics relevant to nurses and midwives. The forums also provide a fantastic networking platform with attendees from various departments across the hospital and academics from the universities.
This forum will be recorded and made available on the SYNERGY website.
Attending this forum will contribute to 1 CPD hour toward your nursing or midwifery registration for the year.
Presentation 1
2pm
How does health-related quality of life change overtime in patients affected by cancer following an admission to the ICU? An integrative review 
Presented by: Shalyn Rourke
Despite patients affected by cancer accounting for 15-20% of all ICU admission, relatively little is known about how an ICU admission affects their health-related quality of life (HRQoL). The aim of this study was to perform an integrative review to critically synthesis the available evidence to further understand how HRQoL is impacted in cancer survivors who have survived a critical illness which required and admission to ICU.
Shalyn is a registered nurse working in the intensive care unit at The Canberra Hospital. She has been a Synergy Research intern for the last 12 months which involved completing a Graduate Certificate in Health Research through ICU and a role specific research project.
Presentation 2
2:30pm
Support needs of people with younger onset Parkinson's disease: an interpretative phenomenological analysis
Presented by: Clare Stephenson
The research project explored the experiences of people living with younger onset Parkinson's disease and the impact this had on their everyday responsibilities, such as: maintaining employment, caring for children, or ensuring financial commitments are met.
Clare Stephenson is a registered nurse with an Honours degree and post graduate qualifications in healthcare leadership and neuroscience nursing. She has recently commenced as the Clinical Nurse Consultant of Ward 11A (Acute Care of the Elderly). At the time of completing this research project Clare was employed as the Parkinson's Advanced Practice Nurse.
Questions?
Please direct any questions to us at the SYNERGY Office: synergy@act.gov.au