The Music Workshop is hosted by Master Piano Institute, presented by Natalia Raspopova & Suzi Stengel.
About this event
This will be one of the most beautiful recitals of the year, including the performance of "Petrarch Three Sonnets" & "Strauss Four Last Songs".
a). Petrarch Three Sonnets by Franz Liszt
No.47: Pace non trovo
No.104: Benedetto sia'l giorno
No.123: I' vidi in terra angelici costumi
b). Interval: Natalia's piano solo performance
c). Four Last Songs by Richard Strauss
Frühling (Spring)
September
Beim Schlafengehen (When Falling Asleep)
Im Abendrot (At Sunset)
Workshop Presenters:
Suzi Stengel (soprano) was born in Rome to founder members of Baroque chamber group, i Musici. She grew up in South Africa and began her studies at the University of KwaZulu- Natal, Durban. Her debut performance in Le Nuit D'ete (Berlioz) became the first of many guest soloist engagements with the KwaZulu Natal Philharmonic Orchestra. She had many solo recitals through the Friends of Music and Not the Grahamstown Festival, and performed regularly with the Baroque 2000 Orchestra as well as The Early Music Ensemble. In Australia she completed her Masters of Music at the Australian Institute of Music, appearing regularly in the St Andrews Cathedral and the Art Gallery of NSW Lunchtime Concert Series recitals. She performed the role of the First Lady in Mozart's Magic Flute and was costume designer for that production, and Aim's subsequent production of Purcell's The Fairy Queen. With the Hourglass Ensemble, Suzi has performed in two programs; 'Hourglass Beach' and 'Danzas Amarosas' at the Sydney Opera House and the Melbourne Recital Centre. She was a member of Divas on Demand, and performed regularly with the group throughout Sydney and the Central Coast. She played the part of Mimi in their adapted 'La Boheme a piacere', which debuted at The Independent Theatre in Sydney in 2018. More recently she has been associated with the Emerging Artists of Coast Opera Australia and was one of the soloists in A Night of Intimacy. She has appeared regularly in recital at the Friday Lunch-time Concert series at St Stephens. Suzi has directed various vocal ensembles; the NU Jazz Singers in Durban, the Lugar Brae Community Choir and Vox Gloria in Sydney, and The Artists Central Community Choir, which she began in 2016 on the Central Coast.
Natalia Raspopova (conductor & pianist) has recently completed her tenure as Assistant Conductor with the Queensland Symphony Orchestra – a position she has held since July 2015. In this role, Natalia has assisted international conductors such as Simone Young, Maxim Vengerov, Fabien Gabel, Yu Long, Ainars Rubikis, Jessica Cottis, Rory Macdonald, Johannes Fritzsch, Lukasz Borowicz, Santtu-Matias Rouvali and Jacques Lacombe. She has also conducted many of QSO's concerts in her own right – in Brisbane and on tour. Natalia has appeared with the Christchurch Symphony Orchestra, Monash University Academy Orchestra, Queensland Conservatorium Orchestra, Opera Queensland, New Zealand Secondary Schools Orchestra and Melbourne Youth Orchestra. In 2017 Natalia studied with Marin Alsop, conducting BBC Concert Orchestra as part of London's Southbank Masterclass. David Zinman has also selected her to study with him within 9th International Masterclass with Tonhalle Orchester Zürich. In 2019 Natalia was awarded the Rockend Berlin New Music Opera Award for Young Australians from the Opera Foundation, as a result of which she assisted on the production of Boheme at the Komische Oper in Berlin. Natalia has also become the recipient of the Brian Stacey Professional Development Award in the same year. Natalia has made her debut with the Coast Opera Australia and will continue this close collaboration in 2020. This year Natalia will be featured as a concerto soloist with the Sydney University Orchestra performing and conducting from piano Beethoven's Third Piano Concerto, she is also returning to conduct the Monash Academy University Orchestra and the New Zealand Secondary Schools Orchestra. Russian-born, Natalia came to Australia aged sixteen and has performed widely in Australia as a pianist – including with the Sydney Symphony Orchestra as concerto soloist. Concerts and important collaborations with singers led Natalia to developing an interest in opera, and subsequently to the study of conducting. Natalia also has been part of the Symphony Services International Conductor Development Program, which has seen her working with the Tasmanian and Melbourne Symphony Orchestras, Auckland Philharmonia and the Australian Opera and Ballet Orchestra. She has studied under the guidance of Christopher Seaman, Johannes Fritzsch, Eckehard Stier and Giordano Bellincampi. Natalia completed her Masters Degree in Conducting under the tutelage of Imre Pallò, Dr.Stephen Mould and Eduardo Diazmunoz at the Sydney Conservatorium of Music. In 2014, she commenced a Doctor of Musical Arts at the Sydney Conservatorium of Music under supervision of Eduardo Diazmunoz. Whilst studying, Natalia was engaged by the Willoughby Symphony Choir as Choir Director. In this capacity she worked closely with Dr. Nicholas Milton, preparing works such as Rachmaninov's The Bells, Orff's Carmina Burana, Verdi's Requiem, Mozart's Requiem and Handel's Messiah.
For more information
Phone: 0415 069 678
WeChat: mayichaoabc
Email: masterpianosydney@gmail.com
Website: www.masterpianoinstitute.com
Address: Suite 10, 301 Castelreagh St, Haymarket, 2000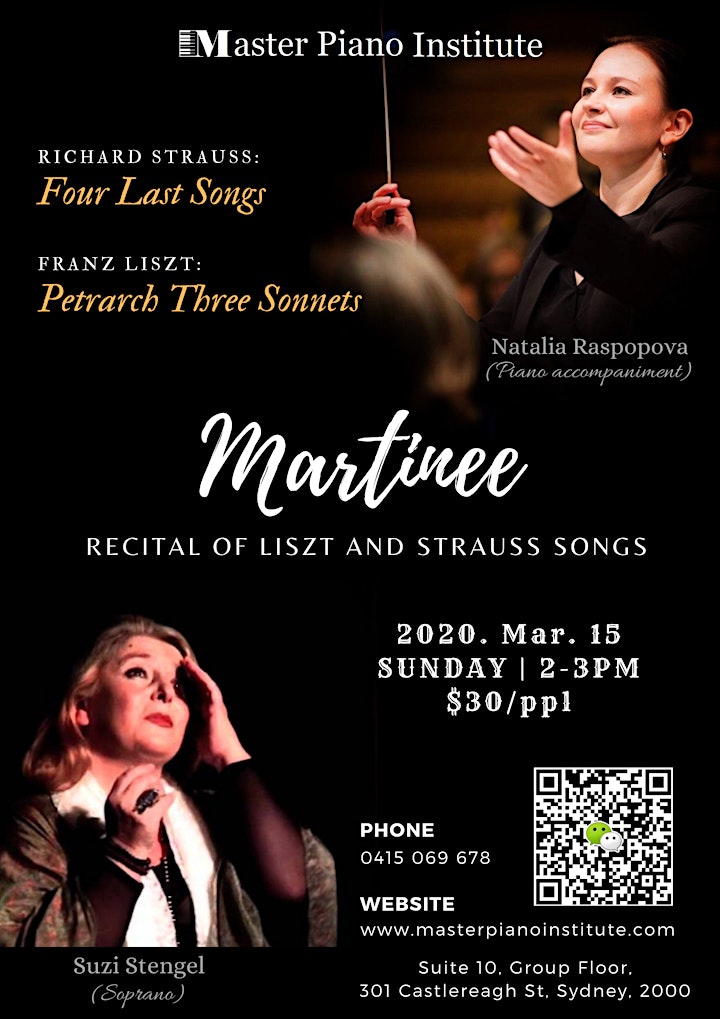 Organiser of Matinee - Recital of Liszt and Strauss songs
Master Piano Institute is Sydney's premier piano school, located in the heart of the city.
Our teaching staff are all professional musicians, who are knowledgeable, experienced and patient. We are dedicated to helping you take your musicianship to the next level.
We are located in Sydney CBD, where you can easily attend during your lunch break or after work for an exciting escape from your busy work day!​ 
We hold formal and informal concerts regularly for our students to showcase their hard work and keep motivated.
Our website: https://www.masterpianoinstitute.com/