Sales Have Ended
Registrations are closed
Click below to be added to the wait list.
Sales Have Ended
Registrations are closed
Click below to be added to the wait list.
How to have that difficult conversation
About this event
In any situation where people are interacting with each other, there is the potential for disagreement, challenge and conflict. One of the differentiators of successful people at all levels of an organisation is the confidence and ability to engage and perform in these difficult conversations.
Whether it is aggressive or upset clients, a workplace bully or an underperforming team member this program provides participants with knowledge and practical strategies to influence positive outcomes. This course offers a variety of practical learning opportunities for participants to develop skills in identifying conflicts and resolving them constructively.
 You will:
Identify and apply strategies for self-management during conflict
Learn to manage the emotional temperature of the other person
Practice a variety tactics on dealing with difficult people
Address personal styles of conflict resolution
Learn active listening and questioning techniques
Apply assertiveness techniques
Be more aware of managing anger - the other person's and your own
Develop skills to influence and persuade
Be more confident in handling difficult situations
Duration             1-Day (9am to 4pm)
Investment          $695.00
Click here to access Terms and Conditions prior to registering
Click here for more information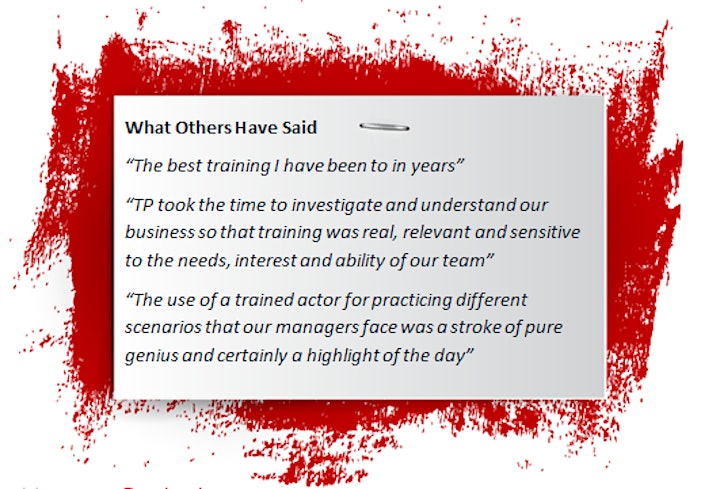 Organiser of Mastering Difficult Conversations
When developing a training plan for your organisation, or choosing training for your own self-development, it is vital that you choose a training partner who will deliver the results you require.
Computer Training
The computer is a powerful business tool, and like all tools, it is only as effective as the person using it. The effective use of computers can boost productivity, improve systems, create a professional image and increase the efficiency of an individual and an organisation.
Professional Development Training
Our scheduled professional development training gives employees the opportunities to enhance their self-development and professional skills, and to better manage themselves and others in real-life organisational settings so they can achieve their full potential in their chosen career.
Customised Training
Just as each individual has different needs, so do organisations. Although generic courses are a valuable tool to pass on a widely used set of skills, often organisations require training to be conducted in a way that matches internal procedures, processes and culture.
Click here for more information on how we can assist you