Actions and Detail Panel
Mastering Communication - Teacher's information evening
Thu. 23 March 2017, 6:00 pm – 7:30 pm AWST
Description
uncover how to close the communicationg gap between your students as well as your colleagues during this special evening.
This information session is for teachers who:
Are wanting to improve your mediation skills.
Are wanting effective tools for managing conflict.
Wish to discover how to take control of conversations.
Would you like better work relationships.
Would you like to gain control in stressful situations.
Wish to gain more confidence in your personal and professional life.
Would like to increase your ability to dissolve tension and manage the mood of the room.

Join this acclaimed communication program with business leaders and communication experts Adam Majrouh and Bass Tadros, for an exclusive evening as they uncover how to influence and inspire others.
Uncover the secret of effective communication through cutting-edge personality science
This training teaches you the same lessons in personality science passed down for 1,000s of years. Our information evening is for teachers who are looking to develop their communication skills with students and colleagues. This special session will show you how to:
Pinpoint and leverage personality science in the communication process
Quickly connect on a deeper level with your audience
Maximise the appeal of your core message
Communicate clearly and effectively in any situation
Have you wondered why people don't understand each other? It is because, most people communicate based on their own personality type, not based on other's personality type. As such, we are excited to introduce this new technique to those influencing our next generation of leaders.
WHO ARE WE?
Adam Majrough and Bass Tadros are the team within Australia driving this innovative communication mastery technique.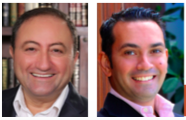 With more than 30 years experience as a business owner/manager, Adam Majrouh is a Qualified Strategic Intervention Coach, Trainer and Mentor for individuals and business owners. Adam brings a deep care for individuals and a desire to support people to believe in themselves and rise above their own challenges so they can live rewarding and successful lives. As a father of four adult children, Adam speaks with a bright excitement about being a parent. He calls this his life's top achievement. A testament to the quality of the relationships they all share is when his children called their parents to a meeting when they expressed their huge gratitude for all they had received from their parents and presented Adam and his wife with an all-expenses paid trip to Europe.
Adam's experience and interests in the personal development arena includes; Spirituality, Transactional Analysis, Gestalt, NLP, Human Needs Psychology and Marriage Counselling.
Bass Tadros is a specialised hypnotherapist, communication specialist, trainer and public speaker. Having worked with Individuals, Executives and some of the world's biggest brands Bass Tadros specialises in helping to resolve challenges professionally, personally and within business environments. Known for his ability to establish a safe experience, clarifying to clients the unseen obstructions that are holding them back. More importantly he has the tools and proven principles to provide necessary resolutions quickly.
Over the past five years Bass has integrated into his programs the frameworks from hypnotherapy, Neuro-Linguistics Programming whilst utilising revolutionary new tools in human transformation and empowerment frameworks to deliver lasting results for all his clients.
Date and Time
Location
South Perth Library Function Room
Cnr South Tce & Sandgate St
South Perth, WA 6151
Australia