Description
If you have done Facebook advertising before and are looking to optimize your campaigns, scale up spend, scale up complexity, or scale up people, this is what you'll need!



Course Overview
Students of this course get the latest, proven techniques to optimize their Facebook ad campaigns, driving more sales and leads. We'll cover the 6 phase Social Amplification Engine process, the most common mistakes in creating and tuning Facebook ads, how to run ads by yourself or in a team, and how to manage/hire others to run ads for you.
We'll use the Success Tracker template to track performance, project manage against dependencies (which impact goals, content, targeting), and forecast results.
We'll go deep into how the Facebook algorithm works, whether organic or paid, so you get the traffic at the cheapest price and highest ROI.
What This Course Will Teach You
If you have already started to run Facebook ads, you'll learn how to set up "digital plumbing", scale your ad campaigns, audit other campaigns for flaws (if you're an agency or have hired an agency), know how to use the 10 most common tools that Facebook provides to help you run ads, and know where to go for resources and help. You'll learn how to combine ads and analytics, drive cross-channel remarketing efforts via building sales funnels, and get a peek at the latest in Facebook analytics.
Benefits
Increase you Relevance Score via reducing negative feedback and managing against frequency.
Improve ad delivery by setting proper bids, objectives, and positive/exclusion audiences.
Drive awareness, engagement, and conversion through 6 types of video ads.
Reduce the management time for Facebook ads to 15 minutes per day.
Put in place a tight process for on-going management of your ads by your team or team members.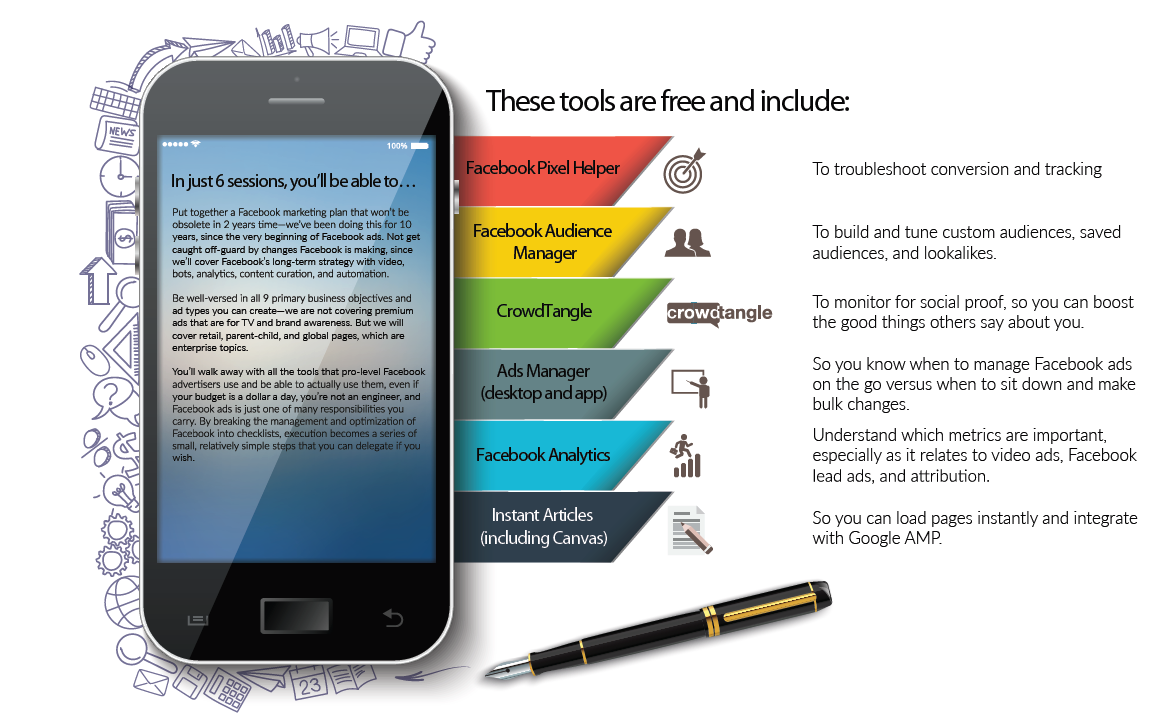 Topics Covered:
How the Facebook algorithm really works
Forming a facebook 'strategy'
$1 a day technique
Building Campaigns: Optimizsation, Management, Special Topics
Skills you should have before taking this course
This is an intermediate and advanced level course. If you've never boosted a post before or don't know what remarketing is, you'll quickly get lost. But then again, you don't need to be a super pro with Power Editor (which has gone away), or spending $100,000 a day. You should be comfortable with:

Excel/Sheets & Google Docs - We'll be downloading data and sorting colunms
Chrome Plug-ins - We have 5 we'll show you how to use
Powerpoint - To prep summary reports