Sales Have Ended
Ticket sales have ended
Online sales are closed but contact us on nathan@methodry.com if you're still interested.
Sales Have Ended
Ticket sales have ended
Online sales are closed but contact us on nathan@methodry.com if you're still interested.
How to hypothesise, prototype, test and validate new solutions and business models through experimentation.
About this event
Masterclass - Advanced Experimentation
Many organisations still jump from idea straight to business case development. The weakness with this approach is that business cases rely on certainty, clear facts and data and are very time intensive and costly.
A more customer/citizen-centric, faster, less expensive and reliable approach is to take an experimentation method to choosing which ideas to take into development and commercialisation.
The masterclass provides a deep dive into how to prototype solutions into business models, identify the riskiest assumptions, generate a broad range of hypotheses, test these for desirability, feasibility and viability in fast small-scale experiments, progressing the more successful designs, pivoting others and perishing the failed ones.
In this interactive and experiential workshop Nathan Baird shares his 20+ years of practicing, refining, honing, leading and training design-led innovation and experimentation on 100s of design and innovation projects and 1000s of workshops across multiple industries and continents.
We'll provide you a learn by doing experience of:
What is Innovation, Experimentation and Business Model Design and how they help organisations succeed
How to co-create experimentation briefs with business partners
How to use the Business Model Canvas in the government sector to develop value propositions and identify, test and reduce risk
A structured approach and the skills required for building and running experiments
Operating and decision making in uncertainty, complexity and ambiguity with insufficient data
Teamwork and co-design
How to showcase your busines smodels and experiments to gain buy-in and create momentum
How to create the right environment to lead and practice experimentation on an every day basis.
What others have to say about our training:
"Nathan is a spectacular resource to organisations, both in terms of being an outstanding coach, and also in his overall positivity and energy in driving them forward." Jeremy Utley, Director of Executive Education Stanford d. School
"Identified a better way of working than our current approach to innovation. This is a more flexible, smoother and less-political approach, which unleashes innovation." Participant, Commonwealth Bank
"10 out of 5. So well presented, so interactive, awesome learning environment created. Took my knowledge of innovation from 1% to wanting to be creative and innovative in every step I take!" National Coach, Australian Institute of Sport
"I have been involved in a number of innovation training programmes and projects run by Nathan and his team. I have found their tools, techniques and the way in which they approach innovation and creativity to be both enlightening and effective. Nathan challenges your thinking and teaches you amazing techniques to unlock new insights and ideas." Product Manager, Heineken
"Nathan supported our Foresight work at the ATO in 2020, including on the co-design and facilitation of the inaugural Strategic Foresight Program for the ATO. We simply could not have developed the program without Nathan's insight and extensive experience in the innovation space!" Director of the Foresight Domain, Australian Tax Office
"It's a rare person that's not only able to generate innovative ideas based on genuine insight, but also to teach others how they can develop that ability in themselves. Nathan is one of those people and his energy and expertise is bound to help drive any organisation forward." Dave Wild, Futurist
"Nathan played the lead role in the development and delivery of CBA's innovation capability program. His expertise across human centred design and experimentation is first rate but more importantly, is his ability to shape and embed application. Organisations actively using new found skills is the key measure of success!" Executive Manager, Design Thinking and Open Innovation, Commonwealth Bank
"We've been embarking on a Systems-Led Design journey and Nathan has worked alongside my team in a consulting, training and mentoring capacity. Nathan's insight and experience into design at a practical and leadership level has helped individuals in my branch at a personal level, but also our branch as a whole in strengthening our practice." Assistant Commisioner - ATO Design, Asutralian Tax Office
What your ticket includes:
Hands-on training with two expert practitioner trainers
Experimentation toolkit - tools, templates, worksheets
Opportunity to network with peers across Canberra and the ACT
A copy of Nathan's new book, Innovator's Playbook - how to create great products, services and experiences that your customers will love, published by Wiley
Catering and refreshments
Follow up virtual group coaching session
Just in time email coaching following the training
Digital certificate of completion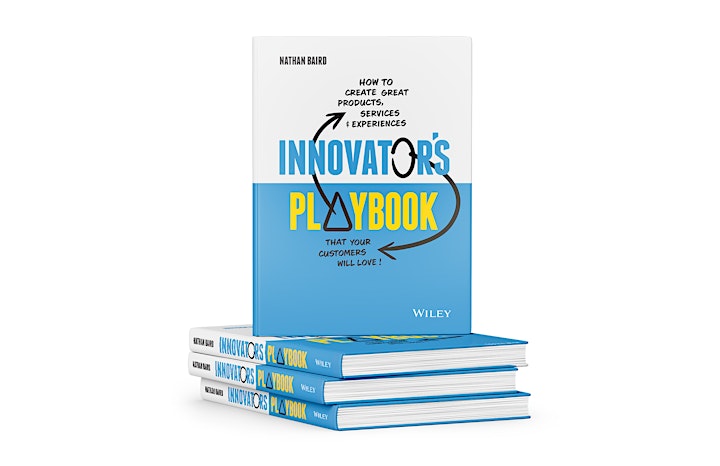 Nathan Baird
Nathan is an internationally experienced author, speaker and innovation consultant living in Sydney, Australia. He has been practicing, leading and training design-led innovation around the globe for 20+ years, a former Partner of Design Thinking for global management consultancy KPMG, where he established and led KPMG's Human Centred Design practice. He is the founder of customer-driven innovation and growth firm Methodry.
He has run 100s of innovation projects, 1000s of workshops and spent tens of thousands of hours leading and training innovation across most industries and continents with global giants and market-leading organisations like the Australian Institute of Sport, Bausch & Lomb, Commonwealth Bank of Australia, Diageo, Les Mills, Siemens and Unilever, as well as working with many small-medium enterprises, startups and not-for-profits and government.
Specifically, in government Nathan has worked on design-led innovation programs with the Australian Sports Commission and Institute of Sport, Australian Tax Office, Australian Army, Department of Home Affairs, NSW Department of Education, Royal Australian Navy and Services Australia.
He is super passionate about democratising innovation while balancing the need to maintain rigorous standards of teaching and practice to enable all individuals, teams, organisations and countries to prosper and flourish through design-led innovation. In his 20+ years of experience in business Nathan has worked both client side and consultancy side, as well as running his own company.