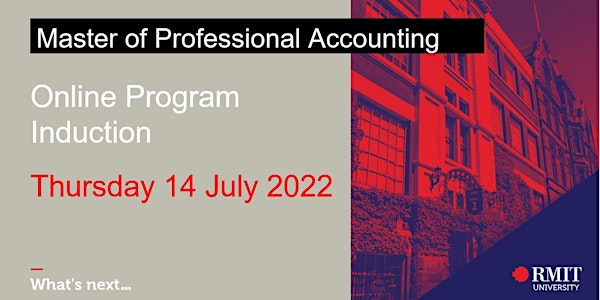 Master of Professional Accounting Program Induction (Online)
Womin djeka (Welcome) to RMIT!
About this event
Your program induction introduces you to the program you are studying.
When: Thursday 14th July
Time: 5:00pm - 6:00pm
Where: Microsoft Teams Meeting
Join us online to:
learn important details about your program
hear from your lecturers and teachers
Have a question?
For general enquires, contact RMIT Student Connect, your student support service. We look forward to meeting you at the program induction and seeing you in classes soon.
Noon gudgin (Thank-you)
*Please note: This is a hybrid event - it will be run on campus and broadcast via Microsoft Teams Meeting for those unable to attend in person.
If you are joining us online, you will need to download the Microsoft Teams app to access the meeting. Details on downloading Microsoft Teams can be found here.
Your orientation
Besides your program induction, RMIT orientation has two other important parts:
How2RMIT
Get across the stuff you need to know. In How2RMIT sessions and campus tours, experienced students cover:
Student cards
Email, WiFi & passwords
Scholarships, fees & loans
Finding your way around online and on campus in 2022
Career supports
Personal supports
Study supports
Getting involved at RMIT, and lots more!
Attend How2RMIT now – before your program induction and classes start.
Orientation Events and Activities
Meet other students, explore university life and student clubs, get involved in the RMIT community and celebrate the start of your studies!