Massively Build Your Business - Five Months of Training with Scott Lawrence

Friday, 8 April 2016 from 10:00 am to 11:00 pm (AEST)
Event Details
  Massively Build Your Business
Five months of packed sessions
- PLUS bonus phone coaching
Starts online Friday 8th April 2016 -
Five months of training plus bonus coaching calls
*** BOOK BY TUESDAY 22nd MARCH 
AND SAVE $700! ***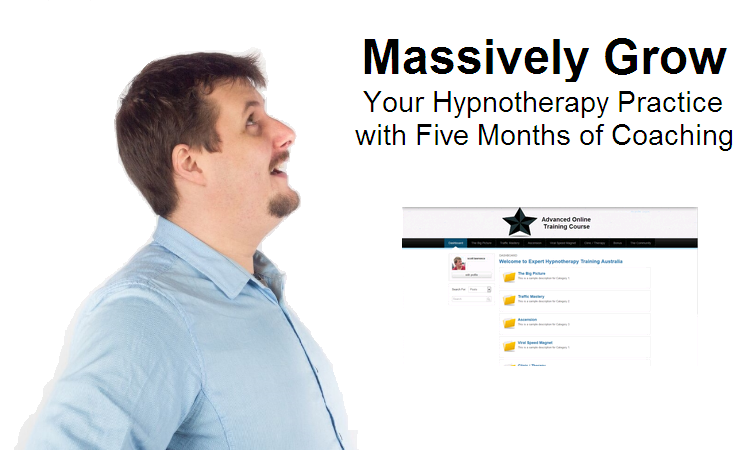 Are you here to build a business
that will support you
for the rest of your life?
Are you spending all of your own time and money doing things the hard way, bumping into sales and technology challenges only to hit your own ceiling?
If so? Then let us help you over this finish line.
Let us help you to help others, to conquer money and sales fears, confidence fears and to get on with your future.
In the Advanced online course, we are going to slow down the pace and walk you step by step through the screen shots, templates and thought processes at an implementation level.
---
Why do this course?
o   Take your business to the next level
o   Automate your sales process online
o   Learn world class network marketing skills
o   Give yourself the gift of a life time
o   You deserve to thrive in today's economy
o   It's pretty hard out there today not to have a plan...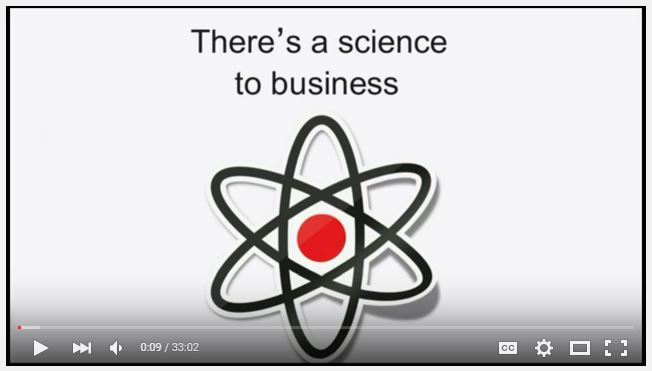 ---
How it works - what you get
o   From scratch, comprehensive monthly break down videos, to build your business for life.
o   Five months of the most advanced business building, marketing training online delivered monthly.
o   Network marketing secrets that reveal how experts build their community.
o   Step by step workbooks to walk you through every step of the process.
o   Five Bonus Monthly One Hour Phone Coaching Sessions to bust through even the toughest problems.
o   Access to a private online community to maximize your support
o   All backed by a 30 day 100% money back guarantee.
---
The Advanced Course Academy Elite
Module 1
1. The Big Picture. Think like an expert -  Jump Start Module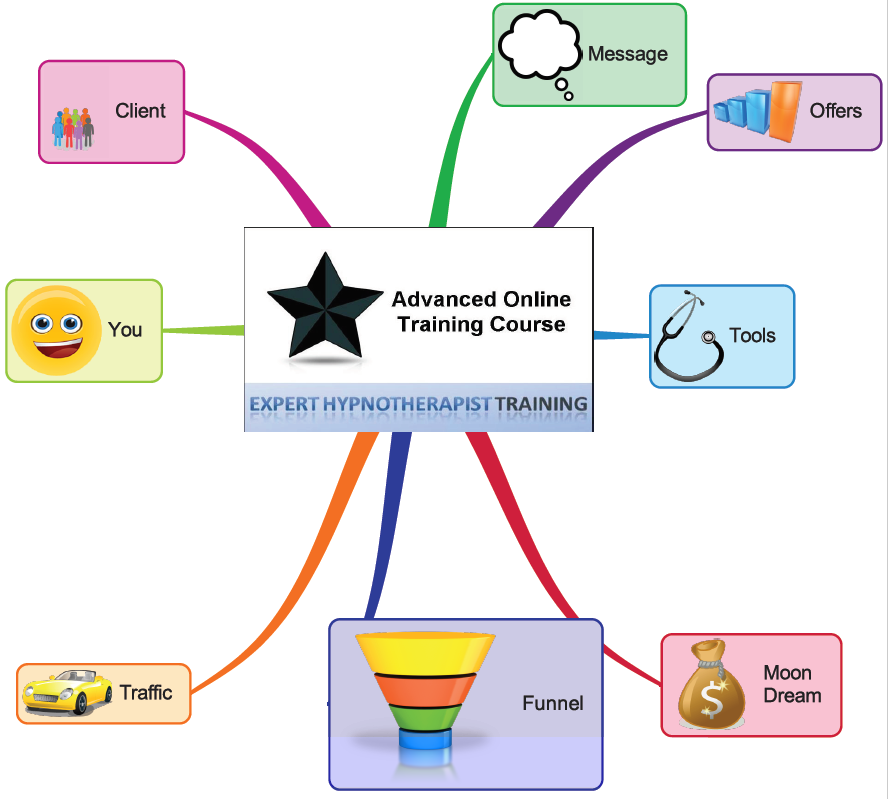 -How to set your business up from the start with enough income to support you for life
-  How to earn enough to take holidays
- Who you are serving – What is your real message

- How to keep growing without burning out.
Module 2
2. Traffic Mastery –
How to win the Search Engine, Social Media and Network Marketing game in a big way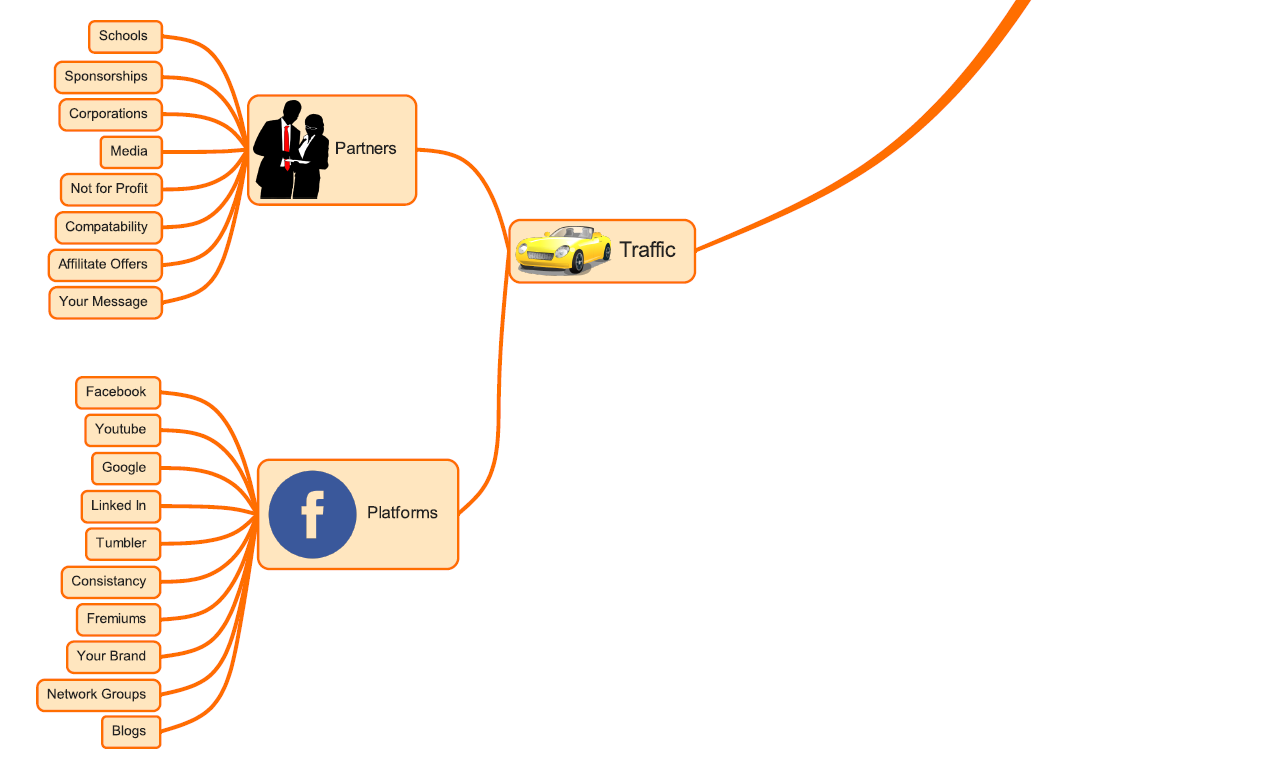 - Step by step walkthroughs and examples of campaigns from start to finish
- Screen Shots of high converting hypnotherapy ads
- How to build a fan base on Facebook for free
- Audience insights secrets – How to target your ideal client, re-targeting and creating look-a-like customer lists to only talk to people who actually want to buy from you
Module 3
3. The Ascension Module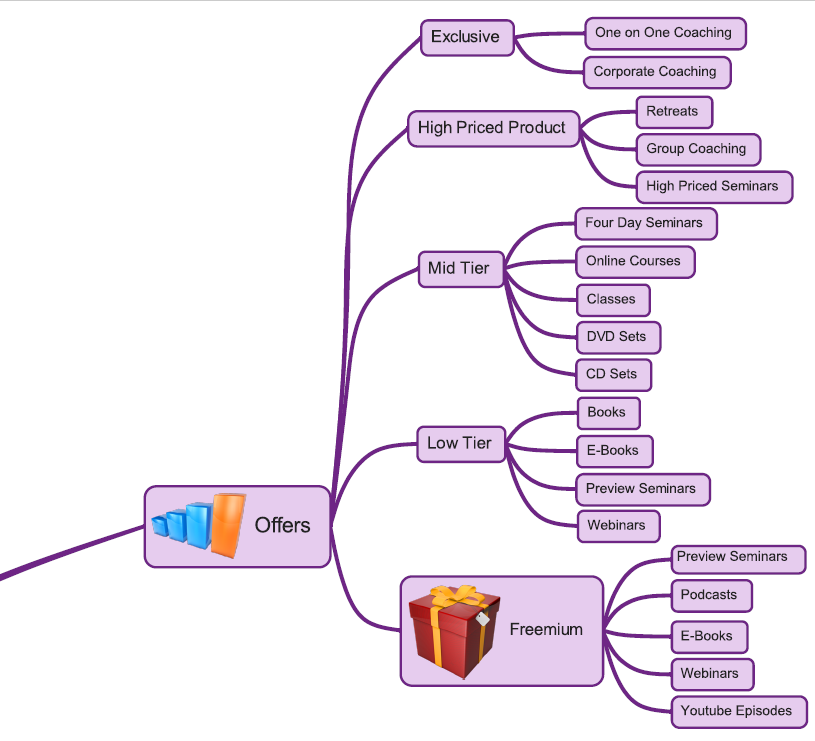 -How to create high priced back end products – Seminars, Workshops, Online Training for your client
-How public speaking both online and offline can make your business take off beyond your competition
- How to write ads that cause your clinic to be booked out weeks in advance. 
Module 4
4. Viral Speed Magnet Module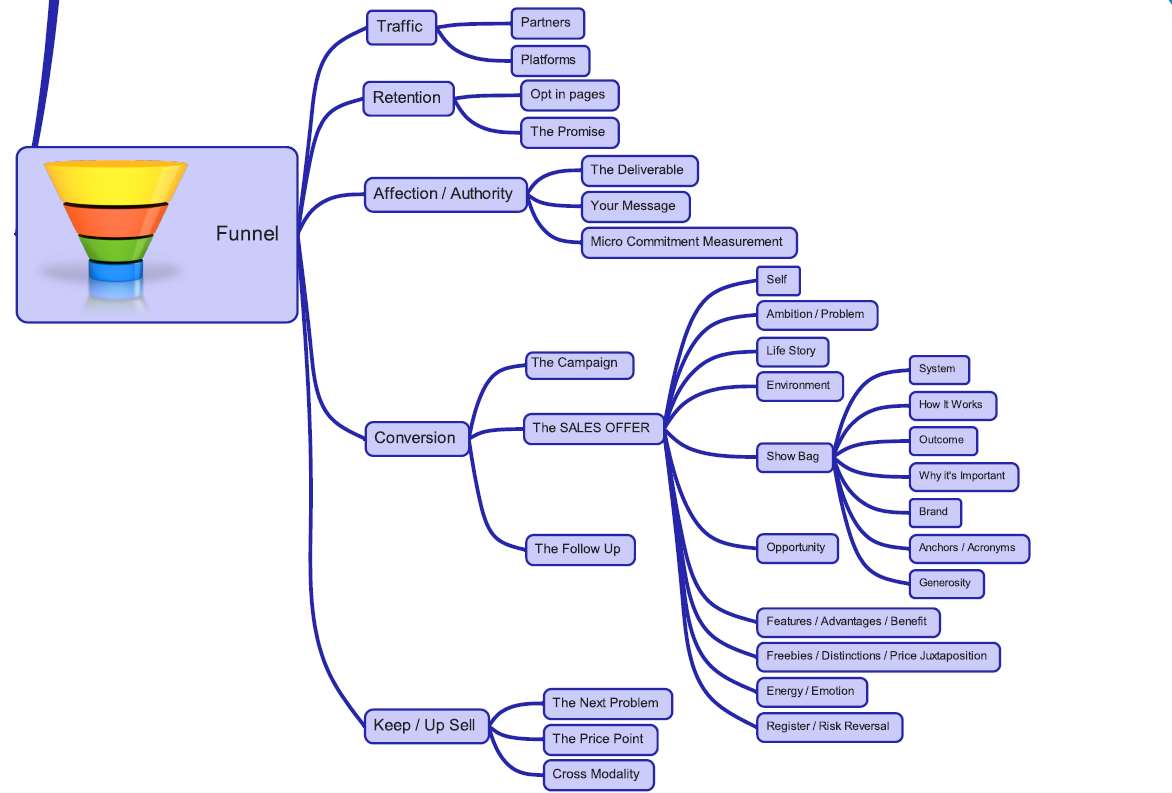 - How to create free content that the public will share
- How to ask people who see your viral content to come and see you for a paid service
- What is viral and why you need to keep the whole plan in mind
Module 5
5. The Coaching / Therapy Module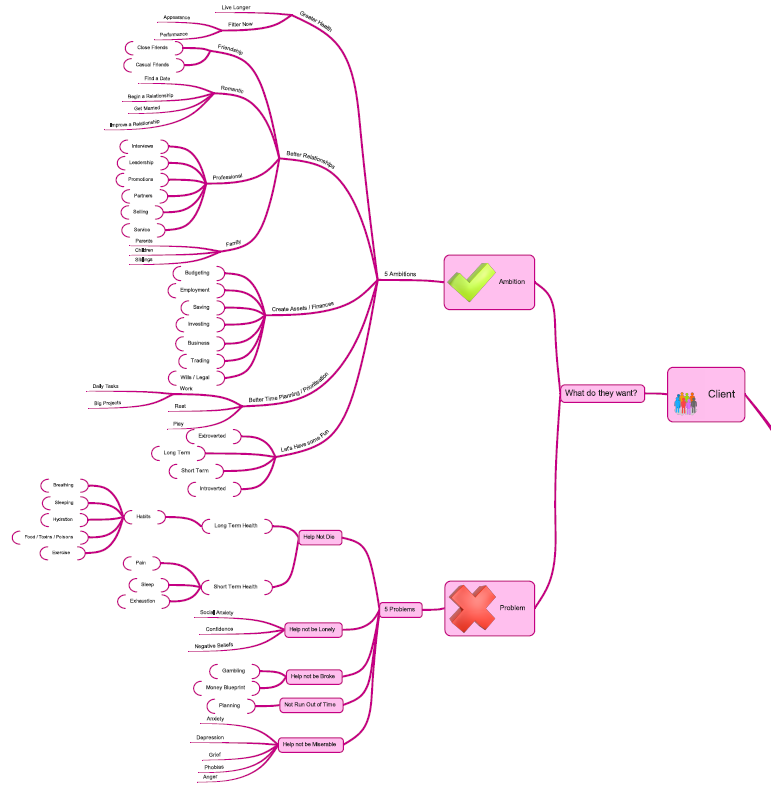 - How to structure your session
- What your client really wants
- How to gain more rapport with your client than you ever have before
- The four deadly (to your clients progress) client failures
-Your weekly therapy schedule for maximum energy and success
- How to write world class hypnosis scripts.
---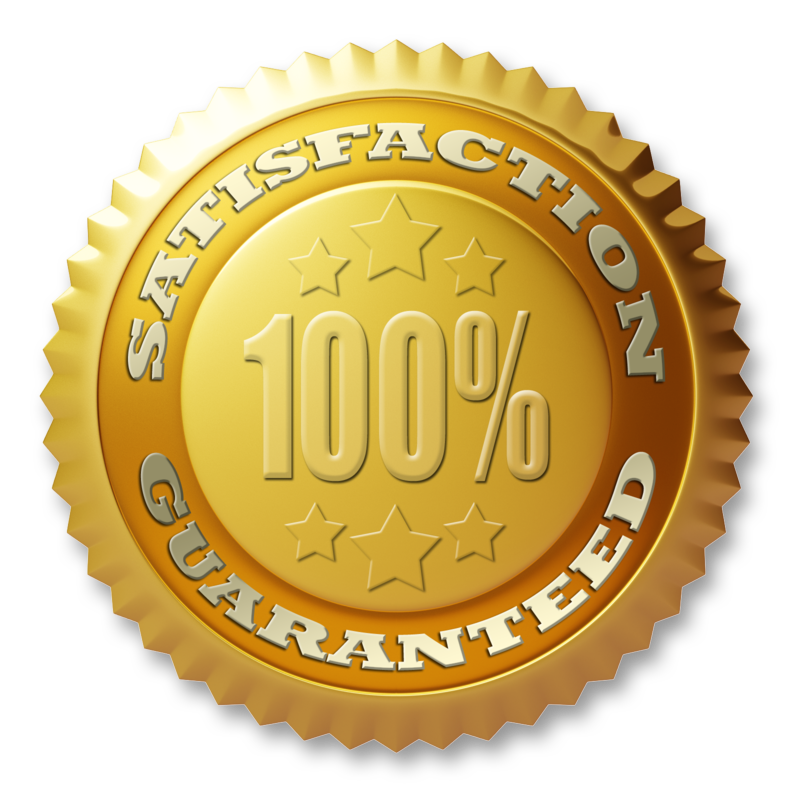 30 Day 100% Money Back Guarantee
---
Why this course is different from any other course
o   Based on industry best practices today
o   Implementation level training and tools
o   Nobody else is offering a total package
o   The personal experience and step by step simplification alone are easily worth more than your investment
o   This course cost me thousands of hours and over one hundred thousand of dollars to learn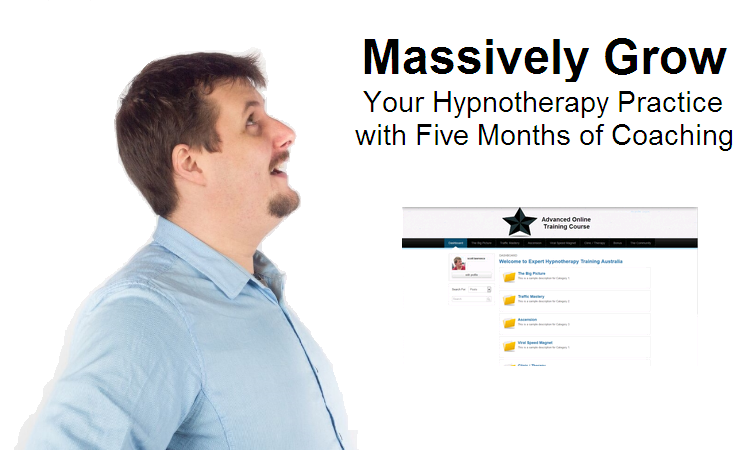 o   Full price: $1,497. There's an Early Bird at $797... 
---
Bonus Weight Loss

Hypnotherapy Training!
Enroll online during our launch period and get an instant upgrade to our
"How To Become An Expert Weight Loss Hypnotherapist"
online training course for free!
---
How to Become an Expert
Weight Loss Hypnotherapist
Bonus: Step by Step - Six Sessions of Weight Loss  Hypnotherapy Counseling Scripts (valued at $297)
Bonus: How to Massively Grow Your Hypnotherapy Business - Step by Step Guide - Secrets to getting started you   won't find elsewhere PDF (valued at $97)
Bonus: Two Discs of Weight Loss Hypnotherapy MP3's (valued at $60)
"Loved it 9/10! Incredibly practical, which I am all for. Is a great vehicle for putting all this theory into a practical program to use and develop as part of our business. I love that Scott has a passion for making things simple and is good at breaking information down into bite size chunks to easily digest. - Leisa Apelt
Having the follow up mentoring was what made me to decide to do this class and I feel it is a great boon to each of us who attended, as it helps to apply this info directly and uniquely into our own style and flavour of our business. - Leisa Apelt
So...
Do you want a Professional Program ready for your Weight Loss Clients?
Do you want a loyal weight loss client base, ready to refer their friends and family to see you?
Find out how to create your own loyal client base and
kick start your results quickly!
Most of all, are you passionate about helping others?
You are? Then this is the one event you can't afford to miss!
In this special on-line seminar you'll learn skills to run your own six week weight loss program, achieve results and build your business FAST!
Included in your workbook: 
     "How proteins, carbohydrates, fats and sugars effect the body"
 "The three basic rules of weight loss to grab results for your client"
    "How the thyroid affects metabolism"

 "Road tested plan for your weight loss hypnotherapy sessions" 
 "The 11 Systems of the body guide" 
 "How to stop emotional eating" 
 "The dangers of excessive carbohydrates" 
 "The secrets of the five food group pyramid" 
 "How to lose a kilo a week easily"
What you get in your
Weight Loss Membership Portal
An online

video of

How to Become an Expert Weight Loss Hypnotherapist

Disc 1 MP3 the three rules of weight loss

Disc 2 MP3 your healthy journey

Scott's

6 session counseling script

for weight loss clients

A copy of all material used, including Scott's Healthy Food Guide and his 3 Step - Essential Guide to Effective Weight Loss  PDF

PLUS the

Build your Practice Five Step Guide

 PDF
When & Where

44 Station Rd

Cheltenham, VIC 3192
Australia

Friday, 8 April 2016 from 10:00 am to 11:00 pm (AEST)
Add to my calendar
Organiser
Come and join us for one-off events, continuing professional development, seminars and workshops on all aspects of building your hypnotherapy business.