Description
Making Good Men Great is a project that aims to help men rethink masculinity and provide a way to help them shape their lives such that they are aligned to thrive and can become an inspiration to others.
Join us for a weekend where we will explore this idea of a new masculinity and many others that play into our lives and development as men.
Join us in the conversation that's taking place about how to become men that thrive and inspire positive change in our communities and world.
Join us in creating a network of men that support and usher in this new view of manhood together.
---
Day 1: Creating Meaning
During our first day we want to get everyone on the same page. We all have a nuanced view of masculinity and it's important for this journey together that we all start from the same port.
Day 1 is all about establishing the context and exploring the big ideas at the beginning of this conversation.
7:30am – Rise and shine! Join us early for the chance to get to know each other before we dive in for the day!
Morning – We'll kick things off with some spoken word poetry and an overview of the Making Good Men Great framework. Then we'll spend some time examining wellbeing in the context of healthy masculinity.
Afternoon – After lunch we'll start to explore how we establish and maintain healthy relationships and how we navigate the complicated culture we operate in. We'll have some great presentations and opportunities to contribute to the discussion together. We're going to wrap up the day with a panel discussion from our contributors on the challenge of being leaders.
Evening – Then there is the opportunity to have a few drinks together to wrap up the day.
---
Day 2: Creating Action
Now that we're all departing from the same harbor, we're headed into open water. Day 2 is about taking all of those ideas from yesterday and thinking about what to do with them. Day 2 is where the imagining – the reimagining – really starts. We'll revisit some of the themes from the day before but today we're searching for that spark that really puts wind in our sails of change and development.
7:30am – Right back where we started yesterday for another inspiring day together!
Morning – This morning we'll start with patriarchy. We'll take a look at what that has meant for us historically as men, and as a society, and we'll start to take it apart. If we want to re-imagine a new masculinity, we'll have to take the old one down together. This will be a big piece of work and will require some heavy lifting to think through the rebuilding process. The rest of the day we'll be workshopping that process starting with our well-being.
Afternoon – The afternoon will be more workshops focused on developing tools we can take home that pave the way to becoming inspirational leaders. We'll spend time together thinking, talking and brainstorming practically about our roles in relationships and as leaders.
Evening – After a brief wrap up on the two days there is the opportunity to spend the evening together celebrating our chance of going back home to turn all of our potential inspiration and energy for change into reality!
---
Our Speakers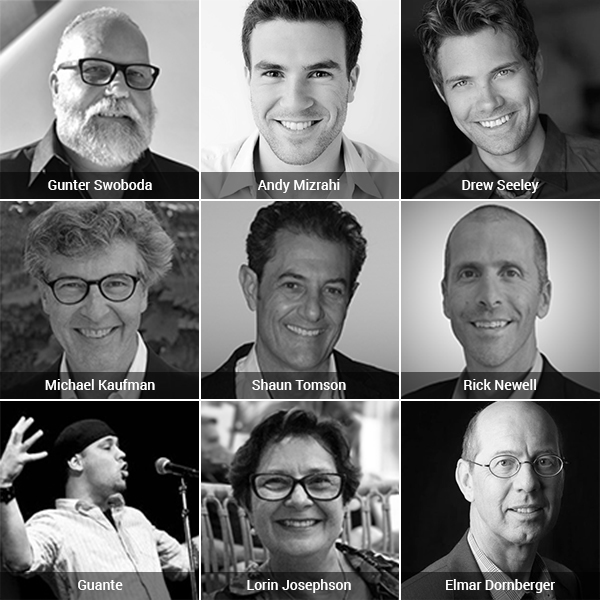 Gunter Swoboda – Founder of 'Making Good Men Great'
Gunter is a psychologist, speaker, author, mentor, coach and facilitator who has over three decades of counselling and organisational development experience. His passion for people, philosophy and psychology has allowed him to shape a curriculum to assist his clients to move beyond simply surviving in their world. It has enabled them to learn how to truly thrive within it.
Over time, much of his work has taken place with men and the issues men are dealing with. Through growing evidence that men collectively are in a state of social and psychological crisis, he began to see a growing need for men to learn to be more emotionally responsive, behaviourally flexible and therefore emotionally resilient.
It is this interest in men's issues has led Gunter to develop the project 'Making Good Men Great', a project that aims at helping men to rethink masculinity, provide a way to help men shape their lives to be aligned to thrive, and finally to become an inspiration to others.
Personally, Gunter has been successfully married for over thirty years and has two adult children. In recent years he has become a devoted grandfather to three beautiful grandkids. He is a keen surfer, and when time allows, likes to indulge his passion in percussion and creative writing. Intellectually, he continues to pursue his interests in history and philosophy.
Andy Mizrahi – Master of Ceremonies
Andy is Tinder's Most Swiped Right guy, a comedian, and a film producer. Featured in People Magazine's Sexiest Man Alive, MTV.com, Business Insider, iHeartRadio.com and more. He's currently directing a documentary about the comedy scene in New Jersey. As well as running the creative video agency, Old Farm Productions, and worked with several Fortune 500 companies. He makes videos at all times of the day from his snapchat account, comedy videos, films, and marketing productions. He lives and breathes the medium. Visit Andy's website.
Drew Seeley – Honoree
Emmy Nominated for soundtrack of Disney's High School Musical, star with Selena Gomez in Another Cinderella Story, Star of Lovestruck: The Musical with Jane Seymour and currently the lead on Broadway in Jersey Boys.
Michael Kaufman, Ph.D.
Michael is a speaker and writer focused on engaging men and boys to promote equality between men and women, promote fatherhood, and end violence against women. Over the past three-and-half decades, he has worked in almost fifty countries, including extensively with the United Nations, numerous governments, NGOs, businesses and universities including Unilever, Microsoft, PepsiCo, Accenture, HP, Deloitte, Philips Electronics, and Triumph International.
He is the co-founder of the White Ribbon Campaign, the largest effort in the world of men working to end violence against women. He is a Senior Fellow with Instituto Promundo.
Shaun Tomson
Shaun is a leadership, resilience and positive attitude expert and has worked with some of the world's best-known organizations – GM, Cisco, PWC, Google, Toy R US, Disney and Gap – to empower and activate their teams. Shaun offers a unique perspective on focusing personal will to improve performance, and workshops to help team members deepen relationships and transform individually and collectively.
He is the author of the best sellers Surfer's Code and the recent #1 Amazon book The Code -The Power of "I Will". He produced the award-winning documentary film Bustin' Down the Door, a dramatic story of how a group of young Australians and South Africans created professional surfing and built a multi-billion-dollar industry.

He has dedicated his life to inspiring and influencing others to be the best they can be.
Rick Newell
Rick is the Executive Director and Founder of MUST (Mentoring Urban Students and Teens). The mission of MUST is to find and hire responsible African American men their early to mid 20s to help teens break free from the hardest generational cycles of poverty through long-term mentoring. MUST was born out of Rick's seven years working at the Rotary Boys & Girls Club in the Central District of Seattle, Washington. Previous to the Boys & Girls Club, Rick's career was in technology, working at Microsoft, Sun Microsystems and Cingular. Rick brought the same work ethic from the corporate world to the Boys & Girls Club and youth under his tutelage won 9 national awards. Rick is happily married to his wife, Rebecca, and loves being dad to his four boys.
Guante
Kyle "Guante" Tran Myhre is an MC, two-time National Poetry Slam champion, activist and educator based in Minneapolis, MN. His work explores the relationships between identity, power, and resistance, and has been featured on Upworthy, Welcome to Night Vale, Everyday Feminism, BBC Radio 6 Music, MSNBC, the Huffington Post, and beyond. Whether deconstructing traditional notions of masculinity, challenging dominant narratives related to race and racism, or just telling stories about the different jobs he's had, Guante strives to cultivate a deeper, more critical engagement with social justice issues, one based in both empathy and agency. To that end, he serves as a teaching artist on the rosters of TruArtSpeaks and COMPAS, and regularly facilitates workshops and classes on a range of subjects.
Lorin Josephson

Lorin is my wife and muse. She has always been an essential part of all my work. She brings a lifetime of service to people, firstly as a Clinical Nurse Specialist in acute psychiatry, then as an ethicist and philosopher and finally as a writer. Most importantly, she raised two beautiful children, who are the result of her love, compassion and tolerance and who are passing this on to their own children.
Elmar Dornberger
Elmar started Hemisphere Consulting, LLC in 2001 as a place to serve individuals, families and organizations. His passion is the understanding of what makes people succeed and crate win-win situations. He is relentless in his search for modalities that create change in the shortest and most sustainable way. He recently published an article: From the River to the Ocean and was interviewed on an Internet talk show about Liminal Constellations.

---
FAQs
What are my transport/parking options for getting to and from the event?
Santa Monica has lots of affordable parking options in the area and parking. Apps like ParkMe will help you find the perfect spot in the area. Santa Monica Residents can use the Santa Monica Free Ride shuttle. Uber or Lyft and the Metro are alternative ways to get to the conference.
What should I bring to the event?
Bring something to take notes, such as pen/paper or tablet/iPad. Your registration includes a goodie bag from our sponsors/speakers and there will be exhibitors at the event too.
What is the dress code?
Please dress nice but comfortable as we have outdoor activities planned in the venue's courtyard.
Is there WiFi?
Yes WiFi is available at Metropolis Café. Please use with discretion and be courteous. Please only use for quick browsing and emails. No streaming videos etc.
How can I contact the organiser with any questions?
All questions about the event can be sent to the Conference PR Team at: frontdesk@mirandaspigener.com. Leave a message at 310-579-2565 or for urgent enquires contact Miranda at 323-610-2565.
Do I have to bring my printed ticket to the event?
Printed tickets will be accepted, but to help reduce waste, you can show a copy of your registration on your phone.
What's the refund policy?
Refunds will NOT be offered.