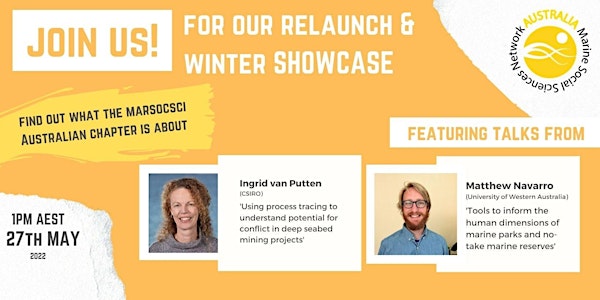 MarSocSci Australia: Winter Showcase
Sales Have Ended
Registrations are closed
Thank you for registering for the MarSocSci Australian Chapter Winter Showcase. A link to the hosting platform will be provided closer to the date.
The Marine Social Sciences Australian Chapter invites you to attend our winter showcase featuring Ingrid van Putten and Matthew Navarro.
About this event
The Australian Chapter of MarSocSci is back with a new committee, new networking platform and an exciting winter showcase!
Join in with us for an hour on the 27th May as we welcome back old members and greet new faces during our winter showcase, featuring talks from Ingrid van Putten and Matthew Navarro. In addition, the MarSocSci Australia committee will introduce the brand new networking platform and detail future plans for the Chapter.
Register now to secure your place. A link to the webinar will be provided via email closer to the date.
Ingrid van Putten (CSIRO)
'Using process tracing to understand potential for conflict in deep seabed mining projects'
Ingrid is a resource economist with an interest in behavioural economics. Her research focuses on understanding social and economic behaviour of marine resource users and what prompts it, to find tractable ways to reduce environmental risks.
In this talk Ingrid will focus on a new and emerging marine resource use industry, deep sea mining. With the expansion of blue economy activities and the increasing pressures on the marine environment, conflicts around marine resources may increase. For emerging industries like deep sea mining characterised by many unknowns and potential environmental risks understanding context specific issues that can lead to conflict is crucial. Tracing history backwards to understand causal and contingent events that lead to conflict in a structured way can stimulate further debate and illustrate potential management issues in the future of deep sea mining.
Matthew Navarro (University of Western Australia)
'Tools to inform the human dimensions of marine parks and no-take marine reserves'
Matt Navarro is a multi-disciplinary marine scientist interested in integrating ecological, economic, and social ways of thinking to help align marine management with the aspirations of communities and society. Matt's focus is on applied research and has included a diverse range of topics including no-take marine reserves, shark depredation, the objectives of recreational fishing management and incorporation of local ecological knowledge into management. Matt has recently completed a national social and economic benchmark of the Australian Marine Parks for the National Environmental Sciences Program, Marine Biodiversity Hub.
In this talk, Matt will discuss how marine parks and the no-take marine reserves are popular tools for biodiversity conservation in Australia. Whilst the biological effects of these areas are reasonably well understood, the human dimensions are simultaneously under-studied and paramount to decision making. I will present research that aims to inform the human dimensions of marine parks and no-take marine reserves from both a design and monitoring perspective. This includes developing tools for mapping human use and local knowledge, estimating impacts of marine reserves on recreational activities (including fishing, diving and snorkelling), predicting behavioural responses to marine reserves, and understanding community preferences and attitudes towards these areas. Overall this work aims to deliver robust information to help inform decision making in the use of marine parks and no-take marine reserves.
About the Marine Social Sciences Network (Australian Chapter)
The Marine Social Science Network, Australian Chapter aims to grow a network of social science practitioners, researchers and students working on human dimensions of Australia's coasts, estuaries and oceans. The purpose of the group is to create a platform for dialogue and conversation within Australia and with the wider global marine social science community.
Our objectives include:
1. Providing a networking platform for increasing opportunities and collaboration.
2. Knowledge sharing through curated content.
3. Providing an Australian chapter for connections into the global Marine Social Sciences Network.
Membership of the chapter is open to all researchers, students and professionals interested in meeting others in the marine social science space. The chapter welcomes people from every type of organisation in Australia.
Join our Winter Showcase to learn more about how to become involved in Chapter activities.