Event Information
Location
La Trobe Financial Auditorium
333 Collins Street
Level 24
Melbourne, VIC 3000
Australia
This professional development day will show you how to create new revenue opportunities and enhance your diversification journey.
About this event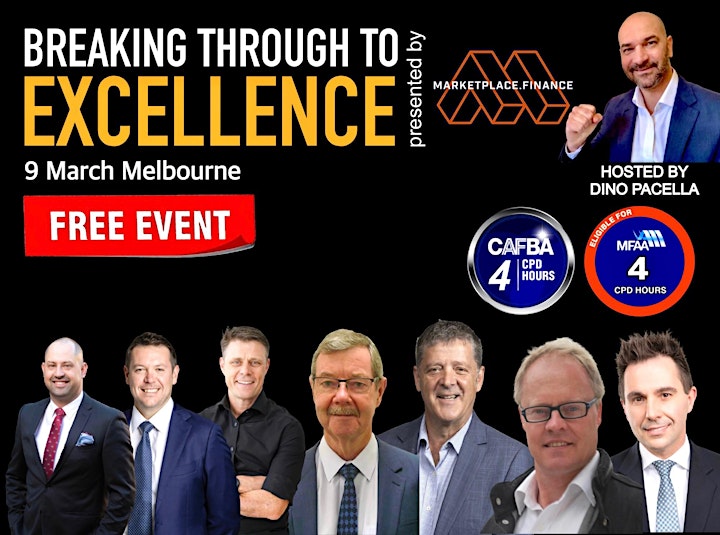 Breaking Through to Excellence presented by Marketplace Finance
Join us as we launch our first professional development events for 2022 across Sydney on 2nd March, Melbourne on 9th March and Brisbane on 16th March.
We will provide you with updates on the commercial landscape from property insights to understanding the ins and outs of commercial development finance, as well as practical knowledge and skills to increase your social selling, show you ways to identify and create additional revenue streams, help amplify your sales capabilities, all whilst ensuring you are putting your mental health as a top priority.
4 MFAA CPD hours & 4 CAFBA CPD hours have been allocated to this event.
POST EVENT : This PD event will be followed by an opportunity to network with the presenters and other attendees over some refreshments from 5:15pm via a short walk to The Bank on Collins - 394 Collins Street, Melbourne.
Reserve your free spot and register today, seats are limited
WHY YOU SHOULD ATTEND
You'll learn about:
Ins and outs of commercial development finance, what questions to ask, what information is required and how to package these transactions
The future of the commercial property landscape post COVID
How to to generate a credible brand and new leads through social media
Gain an in-depth understanding of the commercial lending landscape
Identifying new commercial opportunities which will assist in new revenue streams and enhance your diversification journey.
Setting up yourself and your business for extended sales growth
The power of looking after your mental health and wellbeing
EVENT HOST
Dino Pacella
Dino is the Head of Third Party Relationships for Marketplace Finance, who for over eighteen years has been a noteworthy leader in the finance industry. Dino extended his passion for the broking industry to establish the industry's official National Finance Brokers Day back in 2015. As an industry thought leader, Dino is continually advocating for brokers and assisting in the amplification of the finance's third-party channel.
SPEAKERS
Jean-Pierre Gortan
Jean-Pierre (JP) is one of the founders of the Simplicity Loans & Advisory Group of companies. Over 20 years of lending and banking experience, he has joint responsibility for the implementation and delivery of commercial transactions within the business. JP has had experience in lending transactions ranging from commercial investment loans, leverage transactions, structured equipment finance and construction loans exceeding $500M.
Matthew Johnson
Matthew is one of the founders of the Simplicity Loans & Advisory Group of companies. With over 18 years of lending and banking experience, Matt spent time in roles across NAB but always with a focus on servicing business and commercial clients lending needs, including 6 years managing a Senior Portfolio of diversified commercial clients in Sydney's CBD. Moving into Broking in 2014, Matthew has originated transactions across a broad array of industries and client types including large wholesalers, manufacturers, import/exporters, construction projects, professional services firms, commercial investments for wealthy families and overseas owned enterprises.
Milton Cations
Milton is the founder of Oceanic Property Valuations, Property Dynamics and the CivicMJD Australia project. Milton's property guidance knowledge is from high level corporate and government consulting, including being Director of Valuations & Consulting at Knight Frank for over 10 years. Milton has since directed a range of long term consultancy assignments with many corporate and government entities. Core responsibilities include property asset use strategies, feasibility analysis, corporate investment, rental and forensic valuations
Derick Mildred
Derick is the owner of Results Formula. As a Social Media Strategist, Coach & Trainer, Specialising in Facebook & LinkedIn, Derick will show us how to increase our connections & build relationships that convert. He'll show you how to get 'Online' incl social media to work better for you! Including analysis of your online branding & positioning on Facebook & LinkedIn, assess your current lead generation strategy,identify new target markets, assess your Website & SEO.
Dennis D'Angelo
Dennis is the Southern Relationship Manager for Marketplace Finance looking after our partners across VIC, SA, TAS and WA. Dennis has years of Commercial BDM experience within Choice Aggregation, Bankwest and ANZ.
James Malachi
James is a funeral Director based in Melbourne and has been an R U OK? Community Ambassador since 2018, James is passionate about spreading the R U OK? message because he knows that having meaningful conversations with mates and loved ones could save lives.
Mark McInnes
Mark is an expert sales capability consultant and host of the Best of Sales Skills (BOSS) podcast. He is a consultant that gets in the trenches with you and your team to drive the outcomes and results you need. Mark has helpled the following companies: Summit Leasing, JobAdder (Global), Tecala, Sydney Swans, Forum Group, Iugis (UK & Aust) Sola-Guard, BSM Global, George Weston Foods, IG Markets, Bromic Group, Coca-Cola, NewsCorp, Datto Inc, IMB Bank, Monash University, Big Mobile, Tyro Payments, Viatek, Bova, Infinity Financial, SEKO, Panopto, LEXMARK, Western Union and many more.
John Virgona
John is the Director and Developer of PropPay, an innovative property leasing solutions business focused on the commercial real estate market, headquartered in Sydney, Australia. He has over three decades of experience as a developer, owner and manager of real estate assets, responsible for all aspects of property management, including acquisitions, disposals, building management and leasing. He began his property career in 1987 in his family business when they acquired and developed Broadlands Estates, a 350-site manufactured housing estate in Gosford, NSW, and two years later, he commenced marketing and selling pre-fabricated homes and buildings. With the establishment of PropPay, they aim to provide security, certainty and opportunities for commercial landlords, mortgage brokers and building owners by ensuring that up to 75% of their rental income is paid in advance.
COVIDSafe Plan: Each venue has a set COVID safe plan in place, but can vary due to differing state government regulations. Please check these measures when entering the venue or visit the COVID health website relevant to your location. Regardless of venue, all guests must check in when arriving at each venue and sanitise hands. Please keep updated with the current COVID restrictions, as these events are subject to change at any time.
Please note the health and wellbeing of all attendees and staff is of utmost importance to us.
We have been closely monitoring changes to COVID safe legislation and are prepared to act accordingly.
We encourage you to come along and listen to a wealth of knowledge which can open the door to increased opportunities for your business.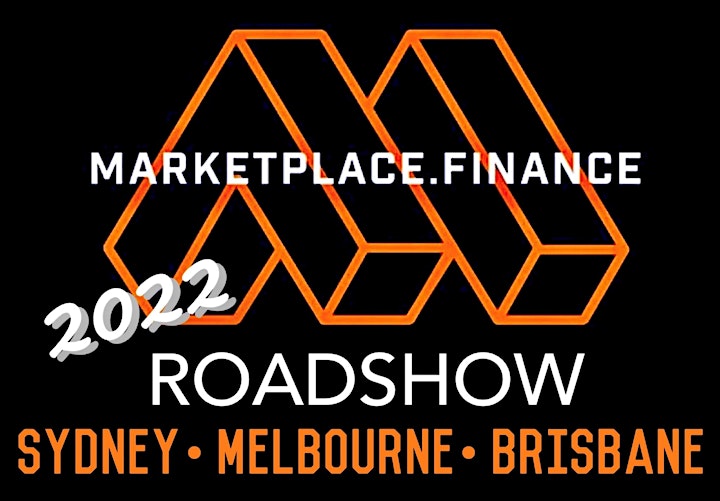 Date and time
Location
La Trobe Financial Auditorium
333 Collins Street
Level 24
Melbourne, VIC 3000
Australia