About this Event
One of fastest ways businesses can blow money is on poorly targeted marketing. They fail to define who their customer is first, and don't adequately work out and communicate their unique sales proposition (USP). At the Marketing 101 -Define Your Target Market & USP workshop you'll find ways to define your target market so your marketing efforts are reaching the right people and more cost-effective. You'll also discover how to distinguish your business offering from others in the crowd.
This is an ideal workshop to attend prior to the Marketing Plans and Effective PR Strategies workshop.
Book today. Seats are limited.
PLEASE NOTE: This workshop will be held as an IN-PERSON event unless regulation changes require us to deliver it as a webinar event.
What you'll learn at this workshop:
• How to identify your target market
• What makes customers respond
• How to develop a Unique Selling Proposition (USP)that stands out
• Branding with personality - How to identify a unique brand personality to subconsciously connect your ideal customer to your brand
• Secrets to creating an irresistible offer
• Tips for connecting with new customers (including FREE channels)
Who this workshop is for?
Local business owners and employees wanting to learn how to attract more of the right customers to their business, cost effectively.
About the Presenter: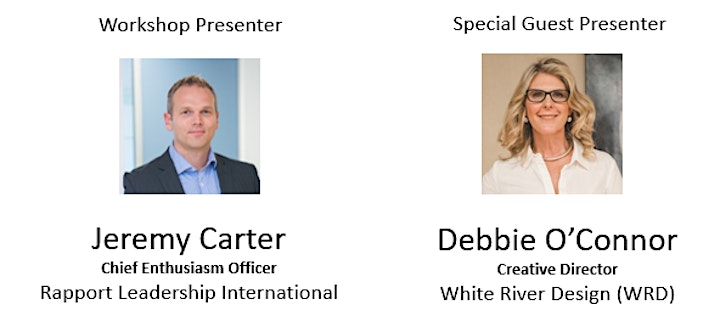 Jeremy Carter is the CEO of Rapport Leadership International in Australia. Jeremy started his career as a computer engineer and worked his way up to being the Oceania Managing Director of international technology company, National Instruments. In the subsequent two years, he increased revenue by 62% without increasing headcount.
Since leaving the corporate world, he has worked for fourteen years as a leading business and executive coach, winning numerous awards and recognition for both himself and his clients, including finalist for Outstanding Business Leader at the 2019 Western Sydney Awards for Business Excellence.
Special Guest Presenter:
Debbie O'Connor is Creative Director of White River Design (WRD) and has built it into Penrith's most awarded graphic design and branding studio. White River Design is named after the small South African town of 'White River' where Debbie grew up. Since the business was rebranded to WRD, this is Debbie's secret little piece of home that she has with her every day.
Growing up in a close-knit community, instilled in Debbie a strong sense of family and community values, which is core to the brand culture of how the WRD team does business. At the heart of everything they do, the team looks for a win/win solution. They treat each other and their clients as extended family and WRD has a unique way of building strong and lasting relationships, focused on trust and respect.
Other information:
The Business Success Program is a series of business education workshops for businesses of the greater Blacktown area, and is an initiative of Blacktown City Council in partnership with CGU and Rapport Leadership International.
For further information about this event contact David Somerville, Head of Blacktown Council Economic Development Department on 9839 5914.
We look forward to meeting you and being of service.