Sales Have Ended
Ticket sales have ended
We are sorry the Registration Time Limit of 20 minutes has expired.
Sales Have Ended
Ticket sales have ended
We are sorry the Registration Time Limit of 20 minutes has expired.
Marine Biologist for a Day - Junior
About this event
Ever wondered how many teeth a shark has? How long sea cucumbers live for? Which animal throws its stomach out through its mouth to eat? Ocean Life Education's Marine Biologist for a Day Program is designed for children with a curiosity about the marine environment and all the animals who live in it.
This program delves well below the surface to provide kids with an in-depth knowledge about sea creatures and clears up some common misconceptions about the ocean's much maligned apex predator.
Director of Education, Richard Coward, says sharks are always a popular topic on the day.
As part of the hands on nature of the program, children get to touch different shark jaws, learning about the shape of their teeth and why they vary so much between species.
An essential part of the learning process is making sure the information is delivered in a fun and tactile way.
While meeting Feisty Franky, the freshwater turtle, children discover how simple pollutants such as plastic bags are proving fatal to sea turtles. They learn how the reptile's digestive system prevents rubbish, mistaken as food, from being regurgitated.
For Richard this environmental message is a key point he wants to get across in the program. "We treat the ocean likes it's invincible but it's not. Every little thing that ends up in the sea has the potential to make animals sick – and if they start to die off, the impact on humans is huge as well. Making that connection between sea and land is vital for the planet's future."
While stroking sea stars, handling sawfish rostrums and observing a baby shark from close quarters, the children absorb a huge amount of interesting facts, which they share with their parents in a presentation at the end of the day.
FAQs
Are there age/grade requirements to participate? Yes, suitable for 7 - 12 year olds and is ideal for children with a passion for the ocean and a desire to make a difference to the lives of sea creatures.
What time does the day start and finish? Start time is 9am and finish time is 2.30pm. Please arrive at 8.45 for a 9 am start. Parents are welcome from 2pm to be educated by their children and view the live marine animals.
What to bring?
CLOTHING - Children are asked to bring a hat, for morning tea and lunch times. Dress comfortably, casual with enclosed shoes. MEALS - There is no food provided. Bring drinks, morning tea and lunch.
Supervision? The children will be supervised at all times by the workshop leaders both in workshop times and break times. During break times children are supervised in designated areas. Parents are asked not to take children away from the supervised area before notifying the event organisers. Please note parents are not required to stay. However, if necessary, you may touch base with your child during break times.
How can I contact the organiser with any questions? You can contact the Ocean Life Education office phone: 07 5443 8545 or email us: info@oceanlifeeducation.com.au
What do I do if my child is unwell on the day? Please notify the event coordinator as soon as possible. Your child may be able to attend the next event if available.
What is the Refund Policy? Refunds available up to 30 days prior to the event.
Organiser of Marine Biologist for a Day - Junior - Mon 13th Dec 2021 - Sunshine Coast
Ocean Life Education 'brings the sea to you' providing fun environmental education programs designed to inspire students of all ages to appreciate and take responsibility for the marine ecosystem.
Interactive programs aim to impact the learner's attitudes, beliefs and behaviors with the long-term outcome being sustainability of our marine environment.
Marine educators arrive with fascinating live marine animals, artifacts, games and information, blending 'hands on' interaction with science and entertainment.
We have been providing curriculum based workshops in schools, early learning centres, outside school hours care and environmental events since 2006.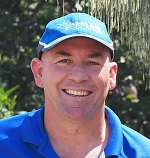 Richard Coward is a marine biologist, teacher and our Director of Education.
"Ocean Life Education is committed to making a difference. We believe that early awareness and understanding form a basis for life-long learning and appreciation of our marine environment," Richard Coward.