Marilyn's 80's Party wicked 80'S including: New Wave, Dance, Alternative, Synth-Pop, 2 Rooms, 7 DJ's -Oct 28 Tickets at Door from 8pm
About this event
Tickets at Door from 8pm tonight
Thursday 28 Oct 8pm- 3am (Next day Brisbane Public Holiday Oct 29 )
2 Rooms - 7 DJ's - Music Video clips - Visuals
MAIN ROOM DJ's: Mark James, Peter Brown, Ken Maxwell (All Marilyn's original DJ's) Kyle Pitman
MARBLE BAR DJ's: Lyle Blackmore, Violet Black, JFK (Alternative and New Wave)
Main Room 8.30 - 3am 80's Synth-Pop - New Wave - Dance - Alternative
Marble Bar 8 - 2 am Mixed videos from 8, Alternative till late
Venue: The Beat Megaclub 677 Ann St Fortitude Valley Entry via Marble Bar
Refunds are only available up to 7 days before the event starts
Please note EventBrite fees are not refundable Please email promoter with name email and number tickets purchased to : marilyns80sparty@gmail.com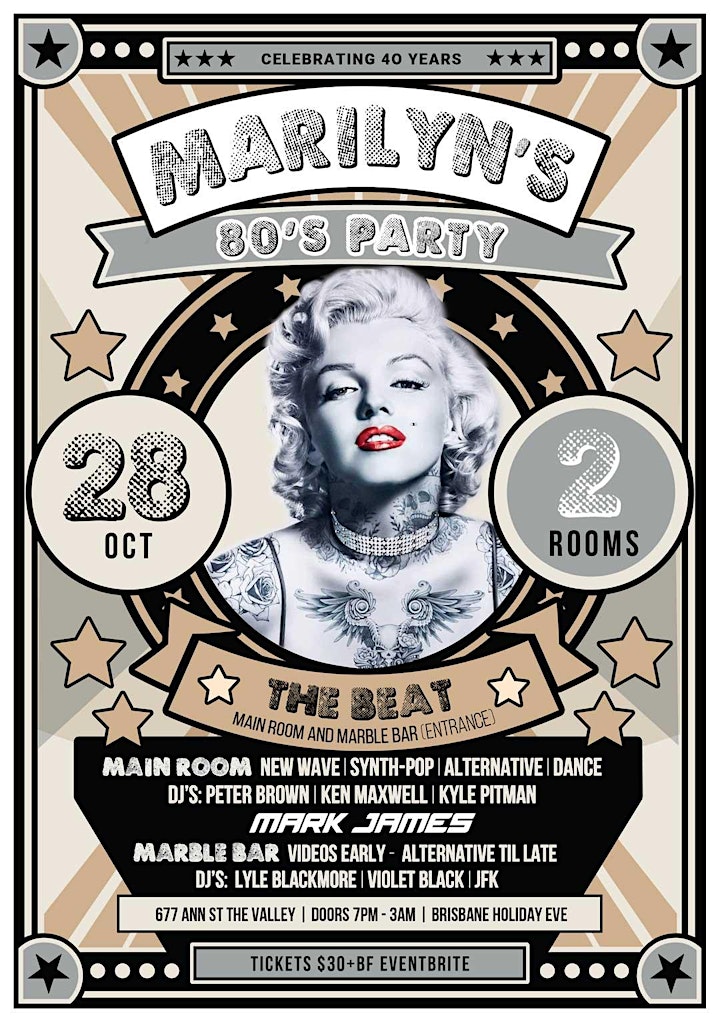 MAIN ROOM
New Wave - Synth-Pop - Alternative -Dance
Playlist includes
New Order, Depeche Mode, The Cure, Eurythmics, Pseudo Echo, Tears for Fears, Simple Minds, Blondie, The Human league, Modern English, Duran Duran, Yazoo, OMD, Flock of Seagulls, Soft Cell, Erasure, ABC, Talking Heads, Heaven 17, The Smiths, Style Council, Dead or Alive, Joy Division, The The, Visage +more
ALTERNATIVE ROOM
Alternative
Playlist includes
Siouxsie & the Banshees, The Stems, The Cure, Shriekback, Bauhaus, The Sisters of Mercy, Lords of the New Church, The Pixies, The Damned, Love and Rockets, The Primitives, Alien Sex Fiend, Shower Scene from Psycho, Modern English, Echo & the Bunnymen, Public Image Ltd, The Pixies + more
Listen to our Spotify Playlist to give you a taste of what to expect at our party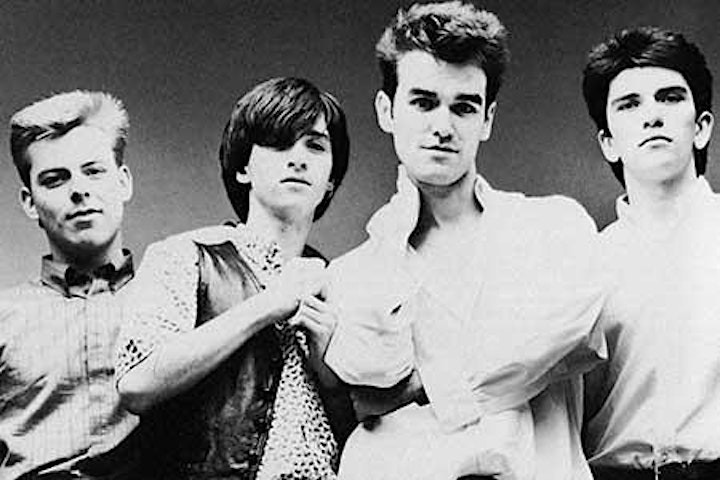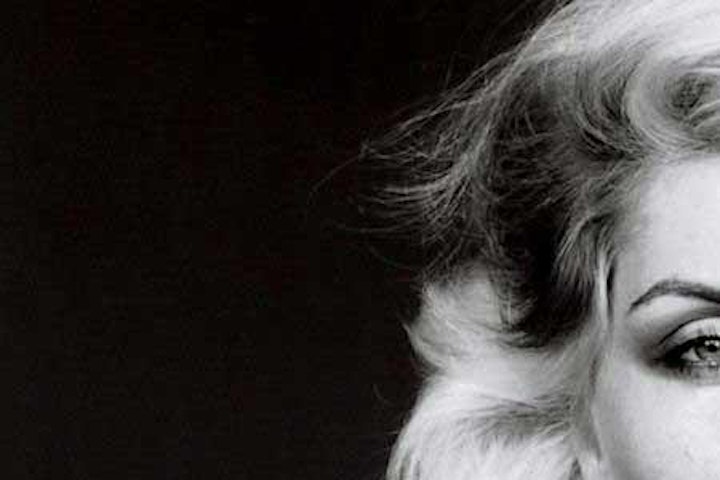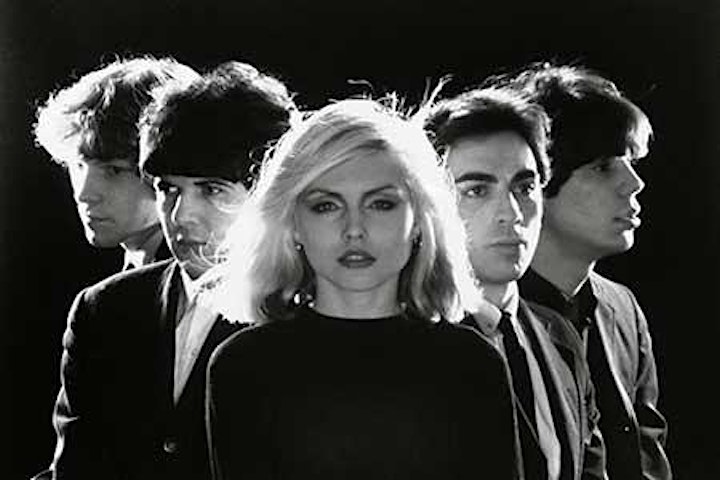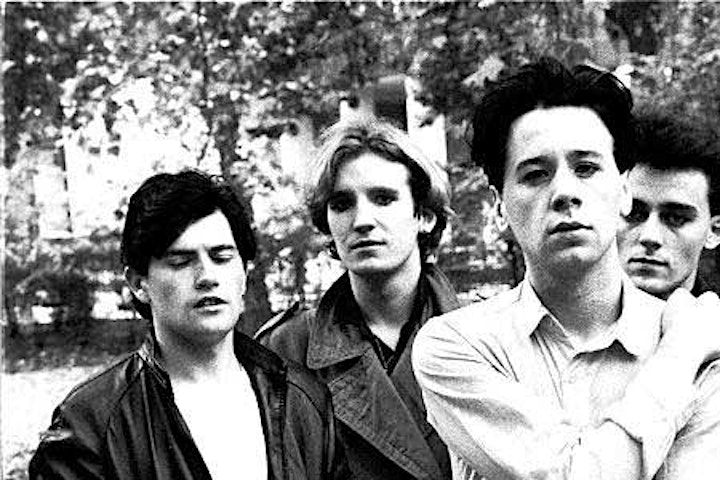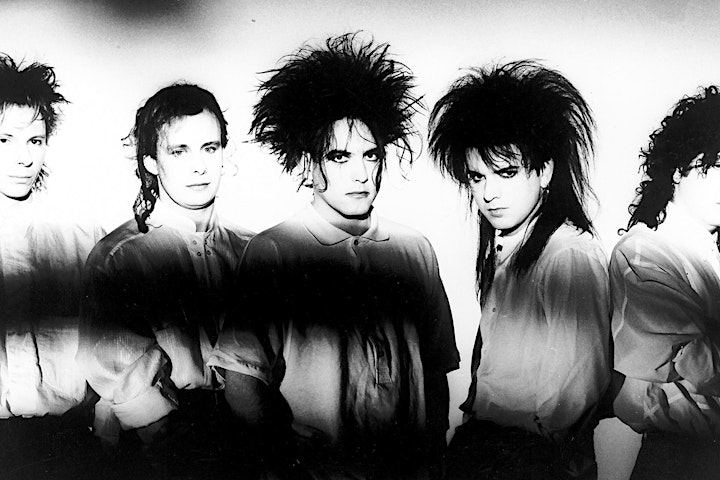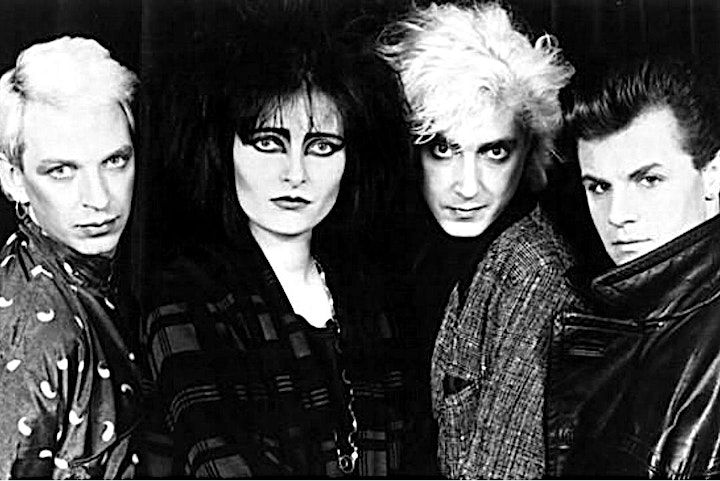 Announcing our featured Dj to play at Marilyn's 80's Party Main Room
MARK JAMES [A Marilyn's Original DJ]
It's been a minute, but legendary Dj/Producer Mark James is back in a big way!
Starting his career in the early 80's in Brisbane Australia at legendary clubs/nights like Marilyn's ,Mannequins, The Beat, New York Hotel and The Penthouse & Twains on the Gold Coast before moving to Melbourne in 1989.
Having pioneered the Australian dance music scene for over 30 years there's not much Mark hasn't achieved in his long illustrious career.
Let's not dwell on the past to much but from heading Future Entertainment who brought us Future Music Festival, Summadayze and countless events, international tours & brands to chart topping worldwide club hits since 1991 collaborating with such artists as Carl Cox, Sasha, & Paul Oakenfold just to name a few.
Fast forward to 2021 and Mark is on a roll again with his latest productions!
In the past year Mark James along with his techno alias MJM have scored a massive 3 x Number Ones' and no less than 10 x Top Ten & Twenty's on Beatport & Traxsouce , there's not to many other Australia DJs/producers that can say they have achieved this in 2020 –2021.
Mark's new record label Two Tribes Records first release I LOVE U – Mark James & Pipi Le Oui has scored itself a #14 spot on the Aria Club Chart, with many more releases coming this summer it's set be another chart topper season into 2022.
Currently living on the sunny Gold Coast Mark runs Queensland's newest house music club Arcade where he DJ's every weekend to packed house of upfront clubbers who go off to his unique blend of Disco Jackin Tech house sounds.
Current release
I LOVE U – Mark James & Pipi Le Oui (Aria Club #14)Upcoming 2021 releasesAugust : MJM – Trash The Disco 02September : Mark James & Pipi Le Oui – Me TimeNovember : MJM – Welcome to the clubMarch 2022 : Mark James & Inaya Day – We had Disco
Mark plays a wicked set of New Wave, Synth-Pop, Alternative and Dance at Marilyn's 80's Party Sunday 3 Oct at The Beat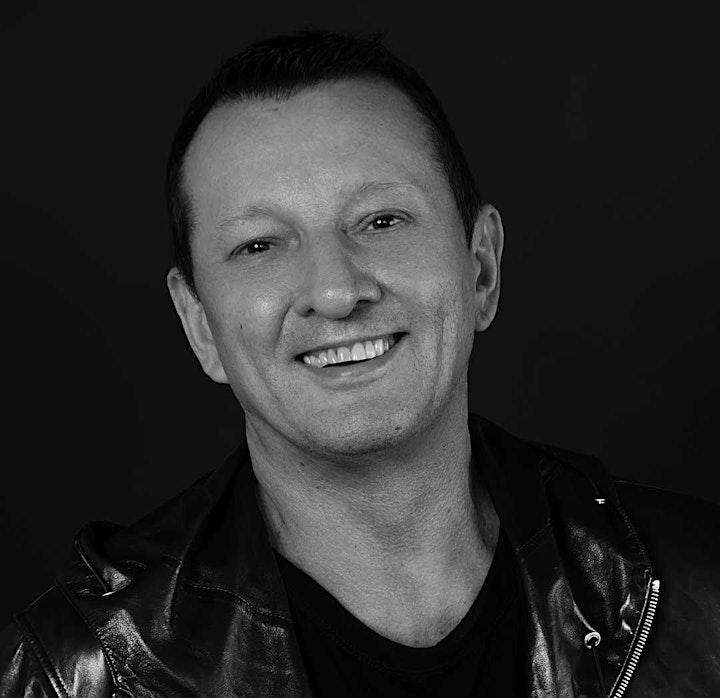 DJ Peter Brown
Peter has been a DJ and promoter since 1975 and Peter Brown has been providing quality Night Clubs and Events in Brisbane since 1979
In 1979 Peter came to Brisbane from Christchurch and started DJing at the famous Cloudland Ballroom in Bowen Hills where he also helped stage events
He then worked at Top of the State, The National Hotel (Apples) then the New York Hotel
Peter then opened his first first club in 1981, Marilyn's Cocktail Bar at the old Treasury Hotel opp the Casino. Providing a mixture of New Romantic, New Wave and Alternative music, along with fashion parades and Interesting and bizarre stage shows. He was later joined by Ken Maxwell, and in 1982 they transformed it into Mannequins Party House .
Peter has launched or worked for many other top clubs in Brisbane including:
Tommy's Pinball, Whispers, Warhol's, Transformers, The Underground, Café Neon, The Groove, The Belfast, The Land Office, Metropolis, The Go Go Club, Soho - Grand Orbit, The Empire Hotel - All Souled Out, The Tube, The Globe, The Site, Viva, Bed at the R-Bar Plus many more
Dance Parties/Raves staged by Peter include Performance, Inifiniti, and with Michael Watt: Nasa, Strawberry Fields Music Festival.
International DJ's promoted Include: Carl Cox, Sasha, Paul Oakenfold, Boy George. +more
Acts promoted include: The Shamen, C & C Music Factory, De La Soul, Beats International, KLM. plus many more
Peter's favourite Club was his first and with that in mind Marilyn's continues to live now some 40 years later
Peter plays his fav style of Music 80's New Wave, Synth-Pop and Alternative from 10pm in the main room at The Beat Sun Oct 3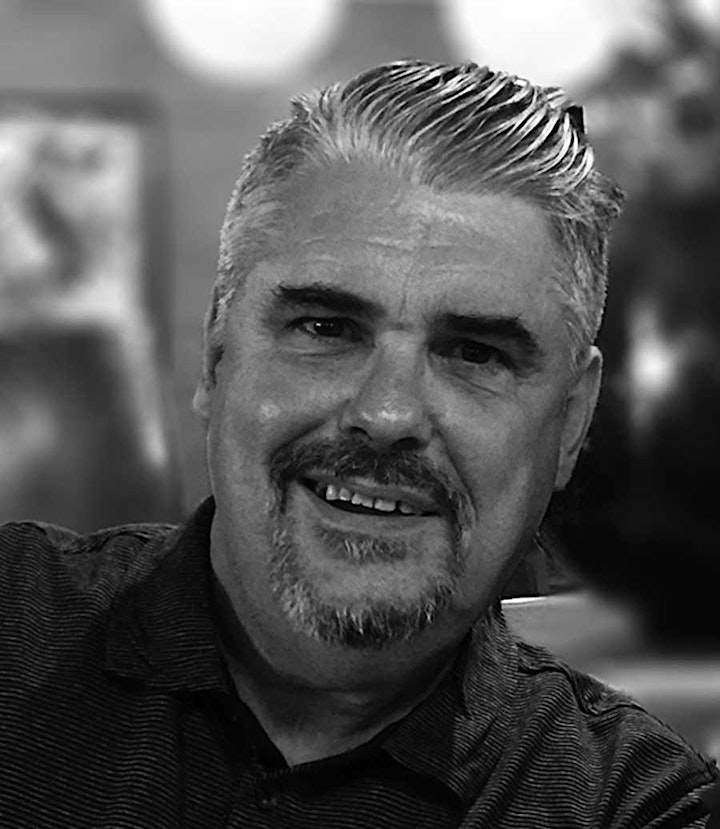 Dj Ken Maxwell (A Marilyn's original DJ)
Ken has been a DJ in Brisbane since the late 70's was one of the pioneers in the Brisbane DJ scene
From early beginnings at the Homestead and Apples at the National Hotel he then partnered with Peter Brown at Marilyn's and Mannequins in the early 80's
Ken has played at every Marilyn's/Mannequins party and reunion and has put a wicked set together of great New Wave and Synth-Pop tunes including tracks from: The Human league, Simple Minds, Gary Numan, OMD, Depeche Mode
Catch Ken's set 8-10 at Marilyn's 80's Party Sun Oct 3 in the Valley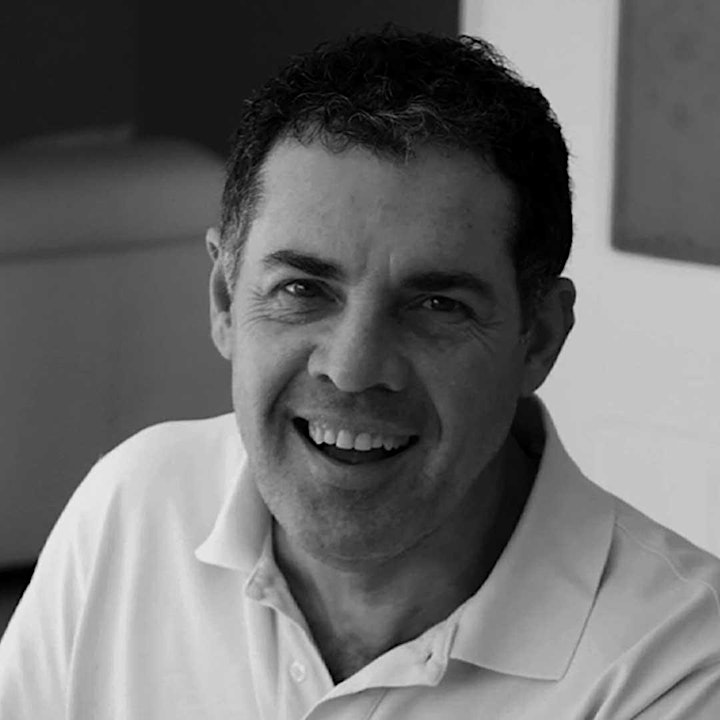 DJ headlining the Alternative Room Lyle Blakemore
Lyle also known as DJ Poisondwarf Lyle has been a DJ for over 20 years, has run clubs in Melbourne and Brisbane since 2005. Organiser of Melbourne's Alternative party '1334' & co runner of Melbourne's Alternative '80s & Brisbane's Helter Skelter.
DJ Poisondwarf plays a mix of classic Post-Punk as well as '80s alternative and Underground. His musical influences include Killing Joke, The Damned, Theatre of Hate, The Cure and Christian Death. He has DJ'd at International events such as Dead & Buried - UK, Minicave - Germany & Return to the Batcave - Poland.
DJ Poisondwarf has a vast knowledge of music from the'80s and understands the need to ensuring that the dancefloor is kept full and that people are happy with what they are hearing and plays the Alternative Room from 11.30 till close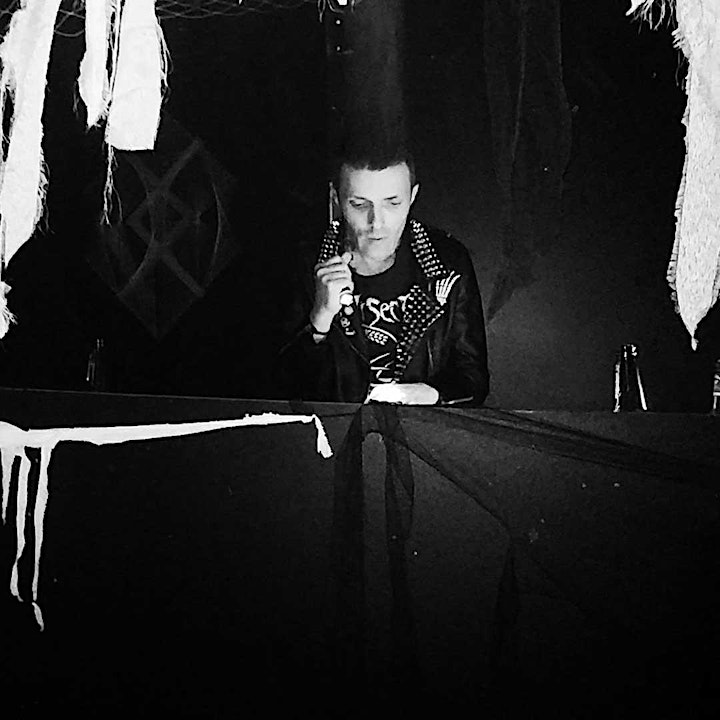 DJ Violet Black
Violet started as a DJ on 4ZZZ in the 80's and soon after was running her own alternative clubs (The Sect, Subteranea, Wonderland, Black Sunshine) and doing the odd guest spot in other clubs. She was the DJ for events at the Lava Lodge Art Space in the mid 90's after which she hung up her headphones to follow other pursuits. Her musical influences include Siouxsie and the Banshees, Bauhaus, Danielle Dax, Marc Almond/Soft Cell, The Sisters of Mercy and a multitude of other wonderful artists too numerous to list. She is delighted to come out of DJ retirement to play an awesome set in the Alternative Room for the Marilyn's 40th Reunion Party Sun Oct 3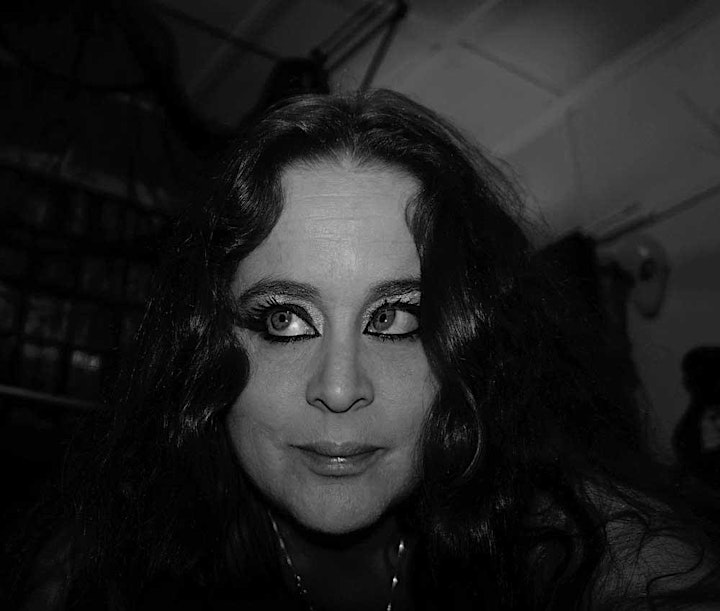 JFK meets MarilynThe latest DJ announced to play Marilyn's 80's Party
DJ JFK
Jason K to his friends, held it down in DJ consoles ranging from Mac's 409 Club, Sensoria, co-Founded the Kaleidoscope Klub with (RIP) Rudolf & The Outpost where he learnt to also book and market bands. His DJ training in proper commenced under David (Tube Club) in '84.
He went on to co run the Magnet Club, The Velvet Beetroot Club & Netherworld with John C & Bar manager Robbie W (it was also home to 4ZZZ's 'Euphoria' Acid house & hip house Club & The ID Dance party). He co-founded/ran/DJ'ed at Empire Byzantium with beloved taste-maker, perfumer and world music guru (RIP) Jonathon Midgley.
Next up was The Sacrificial Virgins Club and then a 3 year stint as 4ZZZ Promotions manager, announcing and DJing on air Friday nights 6-8pm & working on Market Day Festivals across '93, '94 and '95. And, at the invitation of Peter Brown launched the Creation Dance Party Series at the Site with 4ZZZ Dance show head honcho Peter Mogg. They actually also joined forces on a crazy full house show at The Beat for DJ John Digweed. Jason went on to stage over 70 dance parties including as Festival Director of the Advent*jah Festivals at the R.N.A.
He then went back to his roots booking a string of alternative live music venues (The Arena, The Rev, Colombian Bar, Step Inn, Beetle Bar, New Globe Theatre, All Inn, Club Limbo) and currently works as a festival mechanic and market researcher.
JFK plays a great alternative set in the Marble Bar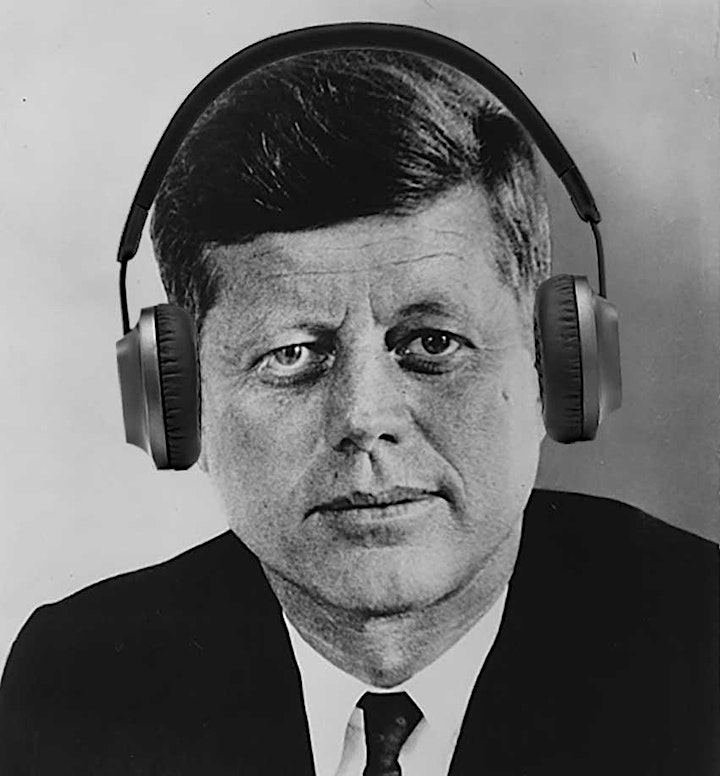 Organiser of Marilyn's 80's Party - 28 Oct - The Beat Tickets at Door from 8