Description
EVENT INFORMATION
On 22 April we invite the people of Canberra to come out and March for Science!
Meet us at the end of Federation Mall nearest Parliament at 11am for a series of inspirational speeches. The speeches will be preceeded by a Welcome to Country by Ngunnawal Elder Jannette Phillips (Nin) and they will be accompanied by an Auslan interpreter.
After the speeches, we'll march across the Mall to Queen Victoria Terrace and wrap around Old Parliament House along Parliament Square to the Senate Rose Gardens. At the Gardens, we invite our participants to engage with local scientists in an 'Ask a Scientist' forum. So, bring a picnic blanket and settle in for some science chat!

Our route is wheel chair accessible, has water stations and shade along the way, and is just under 1 km. Should you have accessibility requirements, please don't hesitate to contact our organising team at marchforsciencecbr@gmail.com.


SCIENCE, NOT SILENCE
The March for Science celebrates the public discovery, distribution, and understanding of scientific knowledge as crucial to the freedom, success, health, and safety of life on this planet.
We are a nonpartisan group, marching to demand action in the following areas: Literacy, Communication, Policy, and Investment.
Universal Literacy
A well-informed community is essential to a free and successful society. We support education to promote broad public knowledge and discussion of scientific work. As professionals, parents, and community-engaged volunteers, we enthusiastically contribute our time and expertise to helping children and students of all ages engage with the physical universe and biological world.
Open Communication
Publicly-funded scientists have a responsibility to communicate their research and public outreach and accessibility of scientific knowledge should be encouraged. Communication of scientific findings and their implications must not be suppressed.
Informed Policy
Public policy should be guided by peer-reviewed evidence and scientific consensus. Public policy must enable scientists to communicate their publicly-funded research results, and must support literacy in science, technology, engineering, and mathematics.
Stable Investment
A long-term, strategic approach to investment in scientific research and development is essential for driving true innovation. Government commitment to stable science funding policy will deliver solutions to complex challenges, promoting prosperity for all.
For more information, please see: https://marchforsciencecanberra.org/
For other marches around Australia, please see: https://marchforscienceaustralia.org/
Take Action!
DONATE to the March for Science Canberra.

WEAR your support for the March for Science Australia (and help us raise funds).
Take part in our 'Ask a Scientist' portion of the event.
Venue and March Route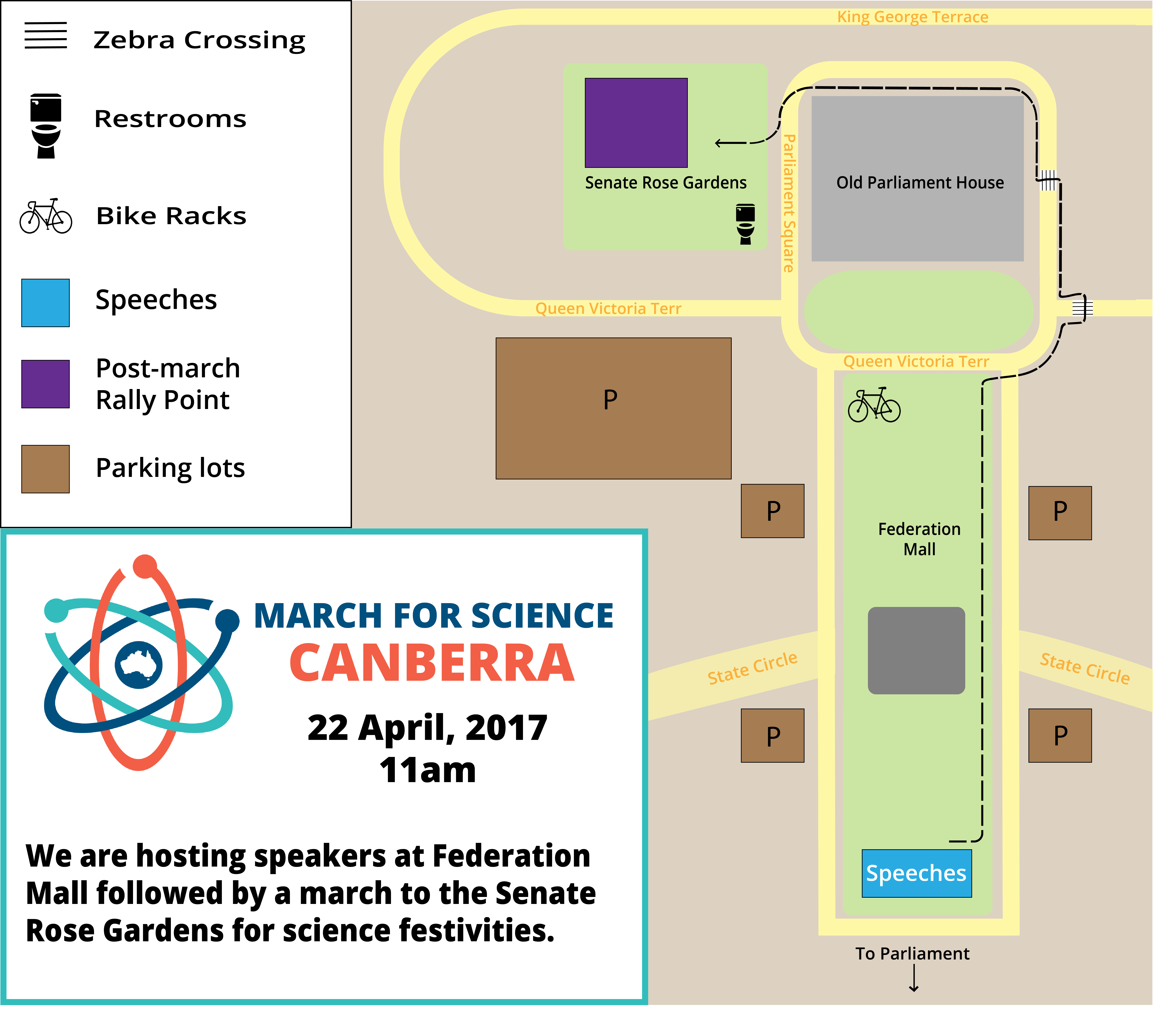 Travel To and From the March
HOW: It being Earth Day, we encourage you to bike, walk, carpool and use public transportation. Plan your trip here.
Bike: Pedal Power ACT is proudly supporting the March for Science by donating bike racks on the day. Remember, wear your helmet, plan your route, and bring a quality bike lock to keep your ride secure.
Bus: Route 934 stops at Parliament House. Routes 935, 938 and 981 stop at Barton Bus Station (corner National Circuit & Kings Avenue).Route 932 and Blue Rapid 900 stop at Albert Hall on Commonwealth Avenue.
Carpool: Use the free ride-sharing service, RideVu.
Private car: Try using Taxi or Uber. There is limited (free) carparking on Federation Mall, under Parliament House and near Old Parliament House.
What to Bring

There is no official head gear or costume for the March for Science Canberra. Come as you are but consider a rain coat and/or umbrella in case of rain. We encourage our participants to bring re-fillable water bottles and to make sure to slip slop slap. You're more than welcome to bring along a sign/placard/banner to express your science-related views and/or to show your organisation's support for the march. In crafting your sign's message, please keep in mind that we are promoting this event as family-friendly. After the march, we'll be convening in the Senate Rose Garden. If you'd like, bring along a camping chair and picnic blanket! We're hoping to have a few people stationed at the Gardens to mind marchers' belongings but you'll ultimately be leaving items at your own risk.