Description
Creating custom maps to present your research is easy!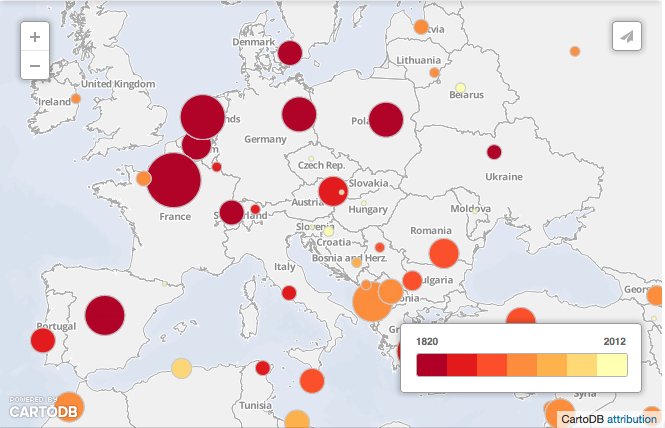 Map created with CartoDB illustrating the development of written constitutions around the world. See the interactive version here
Researchers from many disciplines all need to be able to create customised maps that will let them present their research findings to use in presentations and publications. Anyone can drop "pins on a map" using Google Maps, but that doesn't give you anything you'd want to print. And it doesn't let you visualise a dataset. What's the next step up?
CartoDB. It's an impressively easy to use map visualisation platform. Upload your data in a spreadsheet, georeference it if needed, then start producing all sorts of different map based visualisations. You can manage your data directly online and can add features such as lines and polygons to your map. Best of all, you can embed your visualisations anywhere, making them perfect to include in websites, conference presentations and teaching materials.
Steve Bennett and Fiona Tweedie from ITS Research are running a morning workshop to introduce researchers to using CartoDB to illustrate their research findings.
What happens?
At the workshop we'll be introducing you to the tool and how to format your data. We'll play around with the different built-in options that CartoDB gives you and start to look at CSS, the language that gives you more control over how your data appears.
After the workshop, you'll be able to make an appointment to follow up and get some extra help once you've started making your own maps.
What to bring?
We'll provide computers and some test data for you to start working with, but you're welcome to bring your own laptop (capable of connecting to wireless) and some data if you'd like to.
If you've got any questions beforehand, get in touch with us at stevage@gmail.com or Fiona.C.Tweedie@gmail.com