| | |
| --- | --- |
| | |
Event Details
MAP Startup Bootcamp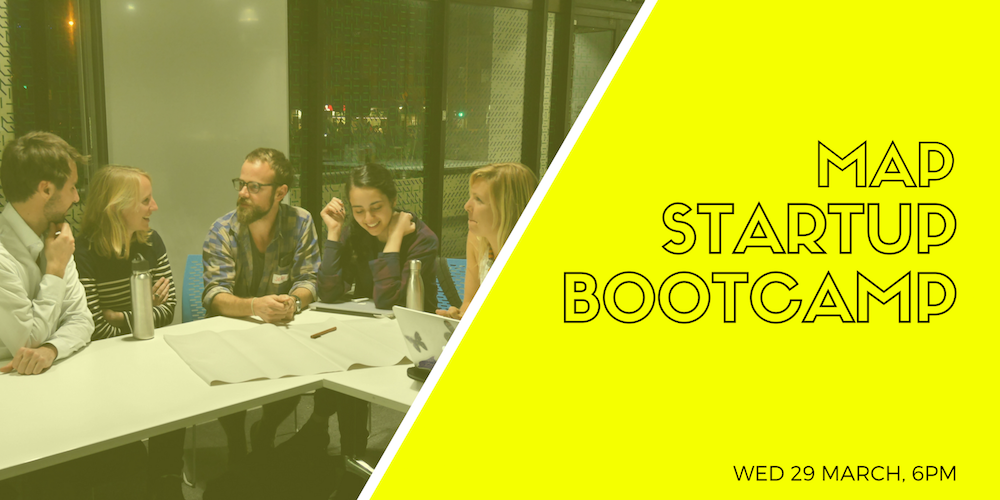 Begin your entrepreneurial journey with a MAP Startup Bootcamp.


---

Are you wondering how to come up with a good business idea? Do you want to learn more about entrepreneurship and launch your own business? Are you keen to avoid the most common startup mistakes?
The MAP Startup Bootcamp is for you.
Designed to connect, educate and inspire those who want to learn what it takes to launch a startup. In this bootcamp, you'll be introduced to the fundamentals of startups including the practical tools and steps to turn your business ideas into reality. On the second night, return for the MAP Founder Open Mic Night where you'll have the opportunity to meet members of the MAP community and to pitch your startup (idea) or your skills.
---

Event Details

Night 1 - Startup Bootcamp: Wednesday 29 March, 6.00pm - 9.00pm
LAB-14, 700 Swanston St, Carlton, VIC 3053.
Dinner and refreshments provided, along with a comprehensive resource pack for each participant.

Night 2 - Founder Open Mic Night: Thursday 30 March, 6.00pm - 7.30pm
LAB-14, 700 Swanston St, Carlton, VIC 3053.
Refreshments provided.


The Fundamentals
Understanding and applying the Lean Startup methodology.

Ideation, identifying pain points and framing potential opportunities.

Developing your idea with the Business Model Canvas.

Exploring your audience - grasp the keys to customer development.

Key Takeaways

Learn the most areas to consider when making your business idea a reality.

Learn how to define your true customer base and how to deliver value that your customers actually want.

Understand the next steps so you can keep moving on your entrepreneurial journey. 

The Presenters
Lisian Teh, Development Manager, MAP

Li Xia, seasoned startup founder and Managing Director, Nebula Health.




---

Event Format
Night 1 - Startup Bootcamp: Wednesday 29 March
6.00pm - Arrival & Registration
6.30pm - MAP Startup Bootcamp (including break for dinner & refreshments)
9.00pm - Event concludes
Night 2 - Founder Open Mic Night: Thursday 30 March
5.45pm - 6.00pm: Arrival & Registration
6.00pm - 7.00pm: Open Mic 'Pitching'
7.00pm - 7.30pm: Drinks & Informal Networking


---

Event Presenters
Lisian Teh, Development Manager, MAP 
Lisian is responsible for all MAP events and programs across the early stage pipeline, including Master Classes, Startup Bootcamps, the Velocity Program and Female Founder events. She is committed to connecting aspiring entrepreneurs with the right programs to develop their skills and help them launch their businesses. Prior to joining MAP in September 2016, Lisian was a construction disputes and commercial litigation lawyer, and was previously an Advisor to the Office of the Premier of Victoria.
Li Xia, Founder, Simple Pharmacy (MAP16) and Managing Director, Nebula Health.
Li has started, grown and exited multiple tech companies in Australia and Silicon Valley. He is the founder of Mud Map, an outdoor mapping app that was awarded App of the year by Apple and has also co-founded Hipcamp.com, a ventured backed San Francisco startup in the outdoor travel space. Upon returning to Australia after his time in Silicon Valley, Li has turned his focus to solving problems in the Healthcare space. Li is the founder of Simple Pharmacy, which his brought through the MAP Startup Accelerator in 2016. He is now cofounder and Managing Director of Nebula Health, whose aim is to improve the experience of patients throughout their operative journey.


---

Please Note: An audio visual recording of this event may be produced by the University of Melbourne and uploaded to the MAP YouTube page. By attending this event you consent to being photographed/filmed.
Enquiries: map@eng.unimelb.edu.au
When & Where

LAB-14
700 Swanston Street
Carlton, VIC 3053
Australia

Organiser
MAP's aim is to create a more entrepreneurial Australia and our mission is to launch high-growth ventures into the world. We believe that innovative, scalable businesses will play a crucial role in driving prosperity for Australia in the years to come.
Since launching in 2012, the program has since supported over 100 startups, who have raised over $70 million in funding, generated over $100 million in revenue, and created over 1000 new jobs
MAP fosters innovation and entrepreneurship in the startup community by connecting and up-skilling thousands of entrepreneurs through its talent development and accelerator programs. MAP provides the funding, networks and expertise to accelerate the growth of world-class business, bringing leaders, University of Melbourne alumni and investors to our door.
For more information please visit our website: themap.co
Enquiries: info@themap.co