Manufacturing innovation: How tapping into support delivers success
Manufacturing innovation: How tapping into support delivers success on the innovation journey.
About this event
Hear from and engage with regional businesses and industry experts on how to manage the challenges associated with scaling up your innovation and the business support that can connect you with opportunities.
Removing the roadblocks in the commercialisation process
Shay Chalmers, Director, Strategic Engineering Australia & NED, QMI Solutions
Shay will give an overview of manufacturing in Qld and will draw upon her vast experience working with organisations to outline how Australian business can bring manufacturing innovation to life through robotics and automation.
Tapping into support to cultivate Innovation
Shannon Jansen, General Manager, Berg Engineering
Shannon will outline how innovation has been a driving force in Berg Engineering's continued success. Shannon will explain how Berg creates an environment to encourage innovation and how they utilise government initiatives and CQUniversity research programs to enhance process.
Rapid scale: From Prototype to Manufacturing
Andrew Bates, Managing Director & CEO, SwarmFarm Robotics
Andrew will discuss establishing SwarmFarm to scale globally and how being one of the most successful agricultural disruptors comes with great challenges. Andrew will outline what practical innovation looks like in their business and how support for innovation has enabled them to overcome pain points and set ambitious manufacturing goals.
Please advise of any dietary requirements, ie lactose free, gluten free, vegan or vegetarian
Please note all attendees will be required to wear appropriate clothing and footwear for outdoor site visit.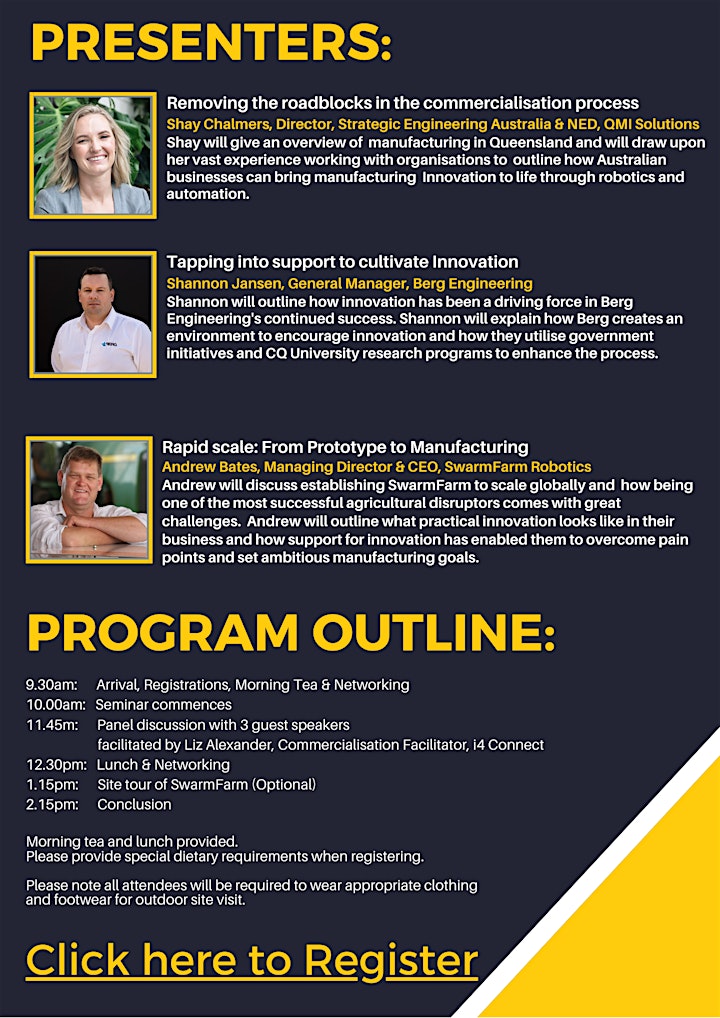 Organiser of Manufacturing innovation: How tapping into support delivers success