Mindfulness, Breath awareness, Kirtan Meditation, Yoga Wisdom, Chai and Vegan Desert, Community
About this event
Interweaving live music, mantras, mindfulness, and the breath to deepen your meditation experience, this Mantra Meditation evening is both soothing, yet uplifting. You will be sure to leave feeling lighter, calmer and truly nourished within.
Meditation is easy to do, even for one who has not had prior training or experience. Amongst all the forms of meditation, it is Mantra Meditation which is most easy to perform.
"Mantra" means transcendental sound vibration, sound which transcends the material world. It does not originate in the material world; it originates in the Spiritual World and descends to the material platform without losing any spiritual potency.
By the simple process of mantra meditation, our mind and heart are gradually purified of all kinds of stress, worry, hankering, envy, anger, anxiety, and deep-seated fears. We begin to experience an ever-deepening inner peace and happiness and increasing insights into life.
The evening is fully guided and includes breathing, mindfulness, mantra/kirtan meditation and refreshments.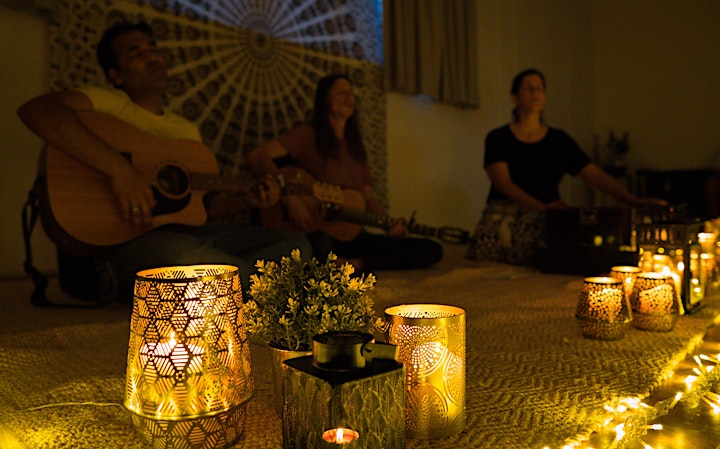 Everyone is welcome, whether you regularly engage in meditation or are new to the experience, we encourage you to come along and join us for a special night of community chanting in the beautiful location of Sandgate, only one block away from the waterfront.
Spiced Chai and Vegan treats to end with.
We very much look forward to connecting with the local community.
We hope you can make it.
Namaste!
Amit, Chantelle & Radhe
-----
Runs by donation
This event follows all the best practices for COVID Safe event.
Thanks to Sandbag Community Centre for supporting us with this event.
Organiser of Mantra Meditation Experience
We invite you to share with us the benefit of the wonderful practices of Yoga Asanas, Meditation & Kirtan to relax your body, mind and spirit in a friendly setting at Everton Park & Sandgate.
The tree of Yoga goes far beyond just exercises. Although the exercises improves health and well-being of the body, the real purpose and priceless gift of Yoga is the knowledge and practice to achieve self-realization.
Appreciating this understanding of Yoga, we use Hatha yoga postures, breathing techniques, relaxation and mantra meditation to give an experience of spiritual happiness and a lasting relief from stresses of life.