Learn how to attract, employ, engage & retain a winning team for your business.
About this Event
If you want your business to thrive and grow, you need a loyal and engaged team that's willing to back you up 100%. At the Management Skills and Understanding People workshop you'll learn how to attract and retain the best people for your business, and uncover insider recruiting secrets so candidates are more likely to choose YOU….and it doesn't come down to salary! You'll also gain ideas that can help you build a more productive and tight-knit team, and discover how to conduct employee reviews and give feedback effectively.
This is a workshop you won't want to miss. Book today. Seats are limited.
PLEASE NOTE: This workshop will be held as an IN-PERSON event unless regulation changes require us to deliver it as a webinar event.
What will you learn at this workshop?
• What employees REALLY want from you
• Creating a positive business culture
• Writing job titles and defining KPIs
• How to recruit the best candidates for your business
• Planning induction and training
• Giving effective feedback for improvement
• How to conduct employee reviews
• Team building strategies
Who is this workshop for:
Business owners wanting to learn how to attract, engage and retain a winning team for their business.
About the Presenters: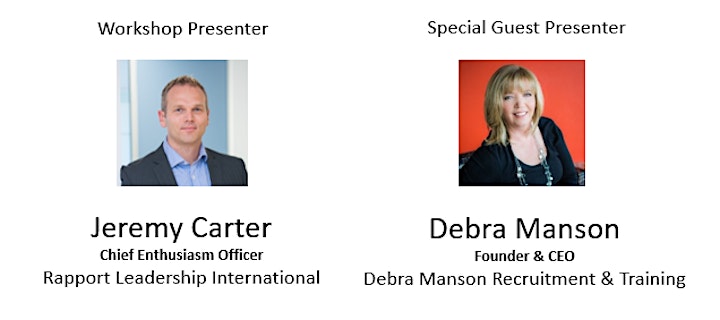 Jeremy Carter is the CEO of Rapport Leadership International in Australia. Jeremy started his career as a computer engineer and worked his way up to being the Oceania Managing Director of international technology company, National Instruments. In the subsequent two years, he increased revenue by 62% without increasing headcount.
Since leaving the corporate world, he has worked for fourteen years as a leading business and executive coach, winning numerous awards and recognition for both himself and his clients, including finalist for Outstanding Business Leader at the 2019 Western Sydney Awards for Business Excellence.
Guest Presenter:
Debra Manson is the founder and CEO at Debra Manson Recruitment and Training and has over 16 years experience in helping business owners find great staff members that stick around and help businesses grow to the next level. If your staff are no good, then your business will be no good.
Other information:
The Business Success Program is a series of business education workshops for businesses of the greater Blacktown area, and is an initiative of Blacktown City Council in partnership with CGU and Rapport Leadership International.
For further information about this event contact David Somerville, Head of Blacktown Council Economic Development Department on 9839 5914.
We look forward to meeting you and being of service.