An intimate gathering of mothers who crave connection, rest, nurturing and growth in your motherhood.
About this Event
Mama,
We know you want to be attuned and connected to your children. We also know how incredibly difficult that can be when you are aren't feeling connected to yourself, you feel exhausted, depleted and lonely in your motherhood journey.
You may want to be attached and joyful with your children, but feel in a constant cycle of anger, yelling, guilt and worry.
You are not alone in these feelings - but it can feel lonely and depleting when so many mothers do not share the truth of motherhood.
This day retreat is an opportunity for a reset. A place to start honouring the absolute importance of your mother role and putting your needs front and centre. Because without a well and connected mother, our children cannot thrive.
Program
10am - Welcome and Acknowledgment of Country
10.15am - Opening Circle and Sharing
11-30am - Breathwork
12pm - Catered lunch and connection time
1pm - Conscious parenting foundations
2pm - Break and tea in garden
2.30pm - Restorative Yoga
3.30pm - Closing Circle
4.00pm - Close

Connection first
We will start your day retreat with a connecting women's circle. A safe and sacred space to rest, listen and share. You will feel seen, heard and witnessed in your motherhood journey. Often the power of circle is not only sharing your truthful emotions and setting them free, but also feeling less alone with other mothers share their feelings .
Breathwork
Michelle will lead you through a Revelation Breathwork practice, an active meditation technique that will allow you to release that which is no longer serving you and welcome in new intentions.
(Please note the caution notice below re contraindications of Breathwork. You are welcome to sit in mindfulness or to walk the garden if you prefer).
Lunch
Vegetarian lunch and a selection of drinks and teas will be served.
Growth in parenting - Conscious Parenting
Michelle and Alita are passionate believers that motherhood is our greatest portal to growth and when we learn how to parent with more awareness and empathy, we can also start a healing within us. We will share some of the foundations of aware and conscious parenting to help you move towards more connection with your children without threats, punishment and bribery and help you build your emotional awareness as a mother.
This includes
The healing power of tears and tantrums
What is holding space and empathic listening
Setting loving limits
Mindfulness and self compassion
Connection before correction
Restorative yoga
To close, Tara Menon will guide you through a gentle restorative yoga and mindfulness practice to soothe your nervous system, help calm the mind and enable deep rest.

Facilitators
Alita Blanchard, Parent Coach and Circle Facilitator
Based on the NSW Central Coast, Alita is a dedicated, honest and nowhere near perfect mother of three boys who love to rumble and ramble in the outdoors . She is a trained Rites of Passage facilitator, Women's Circle facilitator and trauma-informed Conscious Parent Coach.
Alita supports and guides mothers in their transformation through motherhood (matrescence) and helps to bring awareness to their own needs and emotions so they can feel more aligned, aware and connected to themselves and their children.
From a corporate background in compliance and corporate communications, Alita's motherhood journey and seasons of post natal depression and grief after the loss of her 4th son Remy, created a deep calling to share her knowledge of brain science, child development, conscious and aware parenting, mental wellness, healthy rites of passage and the healing power of holding space to support mothers in their growth.
Instagram: @alitablanchardspace
Michelle Diasinos, Parent Coach and Breathwork Facilitator
Michelle Lee Diasinos is a Conscious Parent Coach, Co-Author of the International Best Selling Change Makers 5, co-host of The Mothers' Roundtable podcast and a mother of two.
After a decade of working with families and educators as a teacher and occupational therapist, she recognised the immense impact of the conditioned self on our ability to connect with our children when she became a mother. Her journey inwards sparked a deep calling to support fellow mothers as they navigate their unique healing journey and break generational cycles so they can raise conscious, emotionally well future adults.
Michelle lives in Sydney, Australia with her husband Phill and their son and daughter. Woven into her days, she enjoys reading, nature walks and yoga.
Instagram: @michelle.diasinos
Tara Menon,Yoga teacher / Owner of Turiya Yoga.
Tara is a wife, a mother, appreciator of small things in life, 3/4 latte drinker, nature lover, but, most of all Yogini. Her classes are Hatha style, incorporating asana (postures), pranayama (breathing exercises), and Yoga Nidra (relaxation) or dhyana (meditation).
She will provide a grounding practice and share with mamas some simple practices for mamas to incorporate into their every day motherhood within the micro moments of mothering. Her practice will help you reconnect with the breath and body and present moment, and allow the nervous system to restore back to balance.
Instagram @turiyayogaspace

Venue
A relaxing and restful private yoga studio with open views to trees. There will be time to enjoy the garden and fresh air if weather allows.
To find the retreat space, you can type "Turiya Yoga" into your GPS and we will come up. When you arrive you just need to walk straight down the driveway and the Yoga space is the building straight ahead with the door just around the corner.
There is plenty of parking on North Rocks Road, or the 549 bus stop less than 100m from us (please do check the bus timetable as it is not always frequent).
Price
Earlybird $230 until 5th March then $280.
7 spaces available. Register early to secure your place.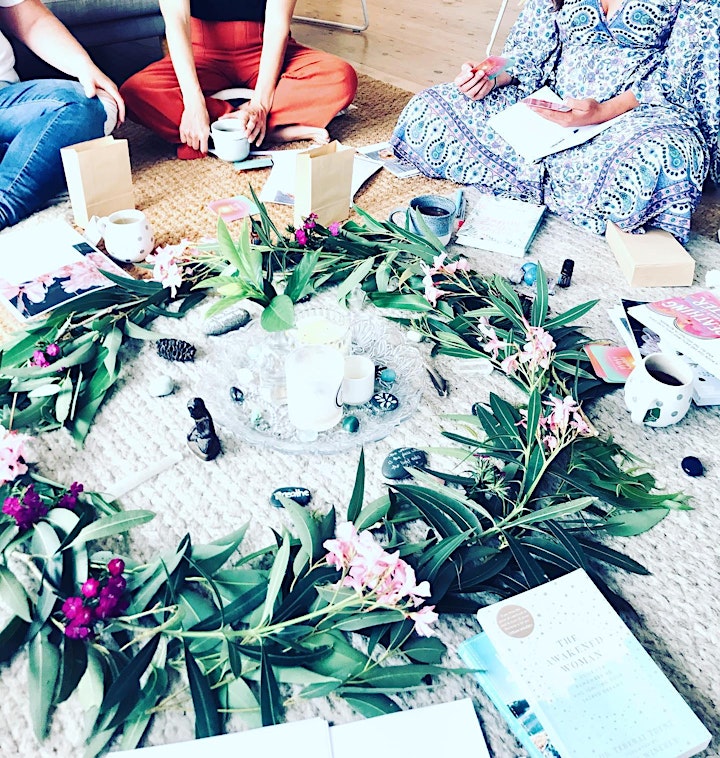 Payment
Places are strictly limited to 7 people. You can register through EventBrite or contact the Alita to make payment.
Contact Alita Blanchard on 0410 324 042 or alitablanchard@gmail.com to organise payment direct via bank transfer or credit card.
Accessibility
I acknowledge the situation of many people in financial stress that may need respite in these times of great need but are unable to afford this event or organise care. If you are disadvantaged in some way but feel greatly in need of parenting support and connection, please contact the organiser to discuss assistance and/or alternative support I might be able to offer.
What to bring
Water bottle
Cushion to sit on
Yoga mat (due to Covid restrictions)
Cardigan or light blanket for meditation
Cancellation and Refund Policy
Covid 19 - full refund if the event must be cancelled due to Covid.
If you cannot attend the workshop please cancel as soon as possible. The following refund policy is strictly adhered to.
Cancellation up to two weeks prior to the retreat - Full refund.
Cancellation within 14 days prior to the commencement of the workshop - No refund but registration can be transferred to another person. To transfer your registration please email alitablanchard@gmail.com
Disclaimer
The content at this workshop is for information and support purposes only. It is not intended to be a substitute for professional psychological treatment.
We are not trained Psychotherapist/Psychologist and this is not a group therapy session. If you are experiencing depression or anxiety, we cannot offer psychological advice, counselling or therapy.
Terms and Conditions
Please note that information about the event and venue are subject to change and cancellation. In the event that this workshop may have to be cancelled or postponed, we will inform you directly via email as soon as possible.
Covid Safe Measurements
We ask that all attendees:
* Stay at home if unwell or if you have been in contact with a known COVID-19 case, or returned from overseas in the past 14 days.
* Check in with the COVID-safe QR code at the door.
* Use the provided hand sanitiser before and after the retreat.
* BYO mat, pillow/blanket for relaxation/meditation & props if you own them.
* Maintain physical distancing throughout class.
Breathwork Disclaimer
Revelation Breathwork can result in physical and emotional release. Please take note of the contraindications of breathwork. If you experience any of these, please consult your healthcare provider before you participate in this work.
Pregnancy
Cardiovascular disease
Angina
Heart attack
High blood pressure
Glaucoma
Retinal detachment
Osteoporosis
Recent injury or surgery
Any conditions for which you take regular medications
History of panic attacks, psychosis
Severe mental illnesses
Seizure disorders
Family history of aneurisms
Coronavirus or flu-like symptoms