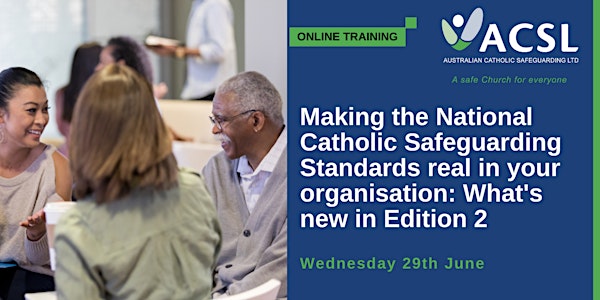 Making the Standards real in your organisation: What's new in Ed. 2?
Sales Have Ended
Registrations are closed
Thank you for registering for this training with ACSL.
Sales Have Ended
Registrations are closed
Thank you for registering for this training with ACSL.
This session provides an overview of the framework, approach and changes to the NCSS in Ed.2, which includes protections for adults at risk.
About this event
This session will focus on:
Unpacking the integrated and inclusive approach which underpins NCSS Edition 2
Overviewing the major changes from NCSS Edition 1 to Edition 2
Introducing the new risk-based review framework to help entities measure progress in meeting safeguarding requirements for children and adults at risk
Exploring key definitions used in Edition 2, including: Adults at risk; Ministry; Governance; Power imbalances in relationships (abuse of power); Dignity of risk and consent; Transient risk; Cognitive impairment; and Diminished capacity
Requirements :
A computer (Mac OS X or Windows) is preferred, but any device with a browser and speakers/headset can work. Google Chrome is the preferred browser. High speed internet will enhance your experience, 3mbps is the recommended minimum – test your speed here.
Joining the session:
ACSL will email you on the business day prior day to the session with login details and other session materials.
You can contact ACSL at any time if you have any questions by emailing resources@acsltd.org.au or phoning us on 1300 603 411.
____________________________________________________________
Media Disclaimer:
As an attendee at an Australian Catholic Safeguarding Ltd (ACSL) event, you may appear in photographs, video and audio recordings taken on the day by an ACSL designated person(s). Such media may be used, with discretion, in publications by and for ACSL . To opt out of this arrangement, please advise a facilitator from ACSL on the day, or in writing to ACSL via info@acsltd.org.au.
ACSL reserves the right to cancel this event in case of an insufficient number of participants. Should the event be cancelled ACSL will notify participants in writing.
Privacy
Read our Personal Information Collection statement on our website here.