MAKING DEMANDS: HOW DO WE ADJUST OUR CITIES TO WORK FOR US?

Tuesday, 26 May 2015 from 3:00 pm to 6:00 pm
Event Details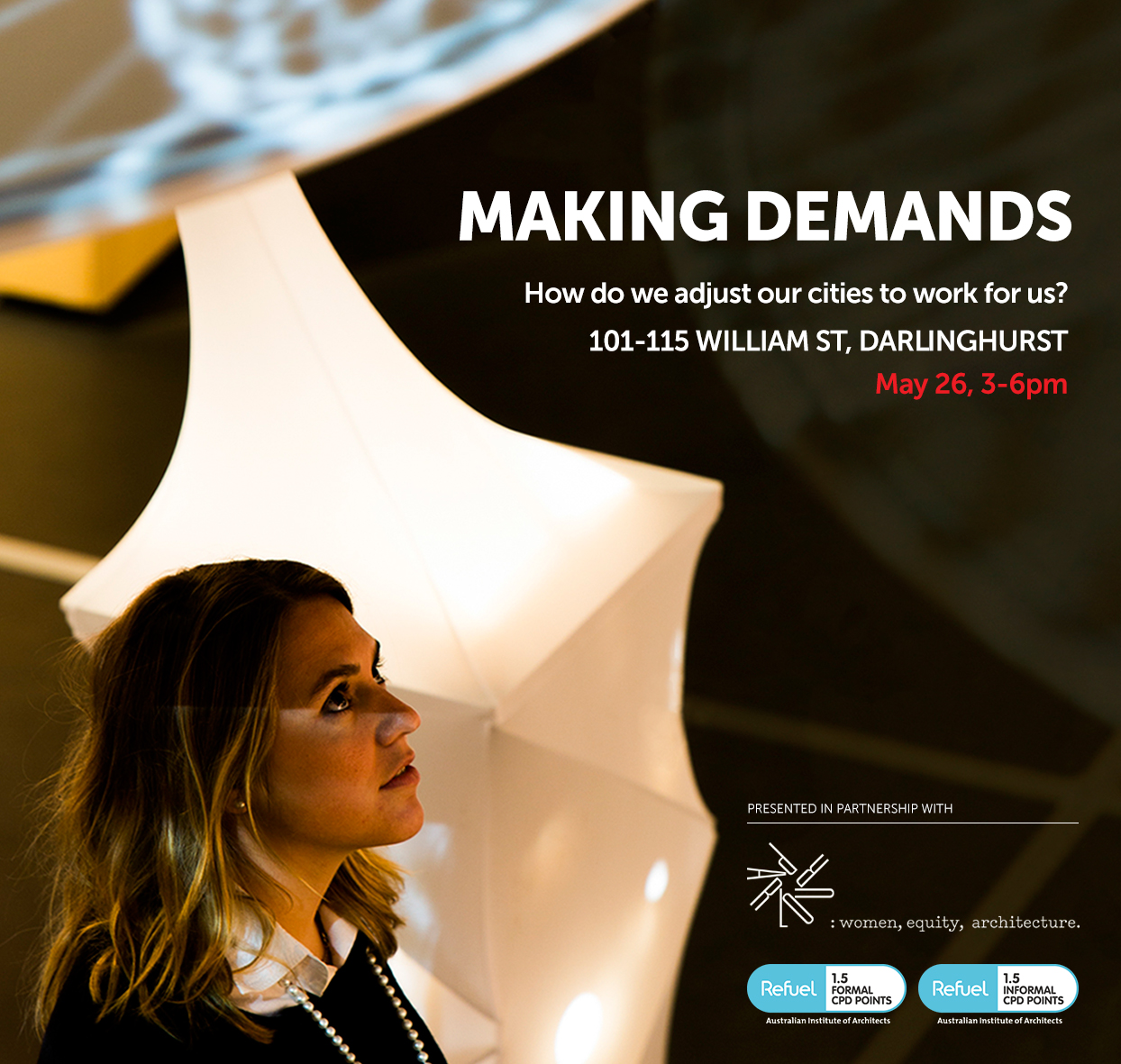 How do we make our cities work better for us?
How can we make clearer demands for better-designed spaces with cultural value?
And what strategies can we put in place for more sustainable outcomes?
Join leading practitioners from The Gold Club, as they discuss how we might make realistic and inspired demands of our city.
Presented at Vivid Ideas in partnership with Parlour: women, equity, architecture, Making Demands is a live conversation addressing the working concerns of the architecture industry.
Join a stellar line-up – Fiona Foley, Shelley Penn, Clare Sowden and Barbara Schaffer – for a three-hour session addressing the working concerns of the architecture industry.
Making Demands will include a moderated panel discussion led by Siobhan Toohill, followed by your choice of one of two workshop sessions.
Workshop Group #1, led by Shelley Penn and Fiona Foley, will focus on best practices for public art and public space making. Real-life examples from projects that audience members are working on will be dissected and presenters will relate to these examples with their own experiences, highlighting their own processes and ways of working.
How might architects build in indigenous consultation to their work practices.
What resources for indigenous information are available for practitioners.
How might practitioners best structure their approaches to projects, with regards to politicians.
Workshop Group #2, led by Clare Sowden and Barbara Schaffer, will focus on the urban scale where participants are given a real place in Sydney to start discussions and role play scenarios regarding urban renewal, using policy and negotiating with developers, financiers, and politicians. Topics that will be addressed include:
How the "Green Grid" concept can be overlayed during planning and design stages.
How to propose plans to developers and discuss feasibility and increased marketability.
The event provides professional development for the architecture and built environment community, and inspiring conversation for others interested shaping our cities.
At the conclusion of the event, drinks will be provided thanks to our beverage partner, Gourmet Traveller Wine.
Making Demands is part of the Vivid Ideas program during Vivid Sydney, an event owned and managed by the NSW Government's tourism and major events agency, Destination NSW.
*Making Demands is a CPD accredited event thanks to Refuel CPD, worth 3 x CPD points (1.5 x Informal + 1.5 x Formal).
Please bring Concession ID for discounted rates.
Featuring...
SIOBHAN TOOHILL

As Group Head of Sustainability and Community at Westpac and training in architecture and urban design, Siobhan leads the organisation's sustainability strategy. This is shaped around addressing pressing social issues including responding to demographic change, economic solutions to environmental challenges and helping customers achieve sustainable financial futures. Siobhan is also responsible for community partnerships, Indigenous engagement, the Westpac Foundation and the Westpac Bicentennial Foundation.

Siobhan is deputy chair of the Green Building Council of Australia, a director of Sydney Living Museums and participated in the Vincent Fairfax Fellowship Ethics in Leadership Program. Trained in architecture and urban design, she remains passionate about cities – with her podcast Out the Front shining a light on the makers and thinkers helping to make Sydney a better place to live.

SHELLEY PENN

Architect Life Fellow RAIA, Hon NZIA, Hon AIA, Hon RAIC

Shelley Penn is a Melbourne-based architect whose work includes strategic advice to the public and the private sectors on achieving high quality architectural and urban design for public places. Her practice has centred on residential projects, and her work has been published and exhibited nationally and internationally, and has received a number of awards. Since 2000, she has also focused on advancing public outcomes in the built environment through various roles within state, local and federal government.

She is currently an Associate Professor in Architecture at the Melbourne School of Design, University of Melbourne; an Adjunct Professor in Architecture Practice at Monash University; a member of the Victorian Design Review Panel and the Capital City Design Review Panel in South Australia. Shelley was named one of the Australian Financial Review/Westpac's "100 Women of Influence" in 2014.

CLARE SOWDEN

Clare Sowden, Associate Director at PwC, was listed by the Urban Land Institute in the "40 Under 40" top property professionals worldwide. Claire is working on Sydney's last tranche of coastal development, Little Bay, she is an Honorary Associate of UTS and sits on the Board of the Urban Land Institute and Chairs the Australian Young Leaders Group. Clare is a trained Architect and considers "Australia is riding a wave of urban renewal that is unprecedented in our history, it costs nothing to have a vision, but the end cost of not having one is immense".

FIONA FOLEY

Fiona Foley is a founding member of Booomalli Aboriginal Artist Co-operative. Foley is a Brisbane based artist and exhibits regularly in Australia and internationally. Her recent solo exhibitions were held at Andrew Baker Art Dealer, Brisbane in 2013 and Niagara Galleries, Melbourne in 2012.

In 2014 she was the recipient of an Australia Council Visual Arts Award. She is a regular keynote speaker at conferences and symposia all over the world, and is currently Adjunct Professor at the University of Queensland. In 2009 – 10 The University of Queensland Art Museum and Sydney's Museum of Contemporary Art co-curated a survey exhibition of Fiona Foley's work titled Forbidden. The exhibition traversed photography, sculpture, moving image, etching and installations.

Foley's major public sculptures include The Lie of the Land, Melbourne Museum, Tribute to A'vang, Parliament House, Canberra, Bible and Bullets, Redfern Park, Sydney, Black Opium, State Library of Queensland, and Sugar Cubes, Mackay Regional Council.

BARBARA SCHAFFER

Barbara Schaffer is Principal Landscape Architect in the NSW Government Architects Office. With over twenty years of experience Barbara has a strong track record in place-making, strategic planning, design and the delivery of complex high profile public places, within both government and private sector.

Barbara's key passion and focus has been around projects that implement progressive technologies and practices to shape future developments and instigate change.

She is interested in projects and ideas which set a vision and direction for a sustainable future and has led and contributed to projects across diverse realms including the delivery of the Parklands at Sydney Olympic Park, the West Circular Quay Public Domain Revitalisation, the ACF Restoring the Waters Project and now the landmark Sydney Green Grid – a metropolitan wide green infrastructure project.


When & Where

The Australian Design Centre
101-115 William Street
Darlinghurst
Sydney, NSW 2010


Tuesday, 26 May 2015 from 3:00 pm to 6:00 pm
Add to my calendar
Organiser
Australian Design Centre is a leading centre for contemporary craft and design and play a critical role in building a significant design culture for this country.
We nurture a nation of innovative makers and thinkers and we aim to inspire audiences to use design in their lives.