Description
MakeupKat is giving away all her secrets on how to get a perfect, flawless glam everytime in her first ever Look & Learn Workshop!
Learn what took years of experience, hours of practice and thousands of clients to master. It's all packed into 4 massive hours, things that other artists don't want you to know, everything is being revealed!
Don't miss this opportunity, limited tickets available! Early bird discounted tickets available if you get yours quick!





Flawless Bronzed Glow Up & Cranberry Smokey Eyes with a Twist
Kat will demonstrate 2 of her most popular makeup looks. These are hands down the most highly requested glams. Everyone wants to look beautiful, bronzed and flawless.
You will see exactly how Kat creates the looks from start to finish

Techniques on how to speed up your application

How to select products based on skin types

The application explained in detail - including brush pressure, motion and technique

Favourite products

Most common mistakes and how to fix them

How to take pictures of your models and clients

Filming & Lighting Set

Tips on Growing your Makeup Business

This is a Look & Learn workshop so just bring your passion and excitement for makeup!

This workshop is beginner friendly - everything is explained in step by step detail! Everyone's welcome



What You Will Learn:


SKIN PREP
- Prep the skin for long wearing makeup
- Adjust your products for oily skin and dry skin
- Assess your clients skin type


EYESHADOW
- Blend eyeshadows seamlessly with no harsh lines
- Make eyeshadows long wearing without making it thick and crusty
- Apply glitter to the eyes in different ways
- Best way to clean up glitter fall out without making a mess and ruining your work
- Clean up eyeshadow fallout
- The easiest way to apply eyeliner and get the perfect wing every time
- Quickest way to clean up eyeliner if you make a mistake
- Smoke out colours under the eyes without the smudging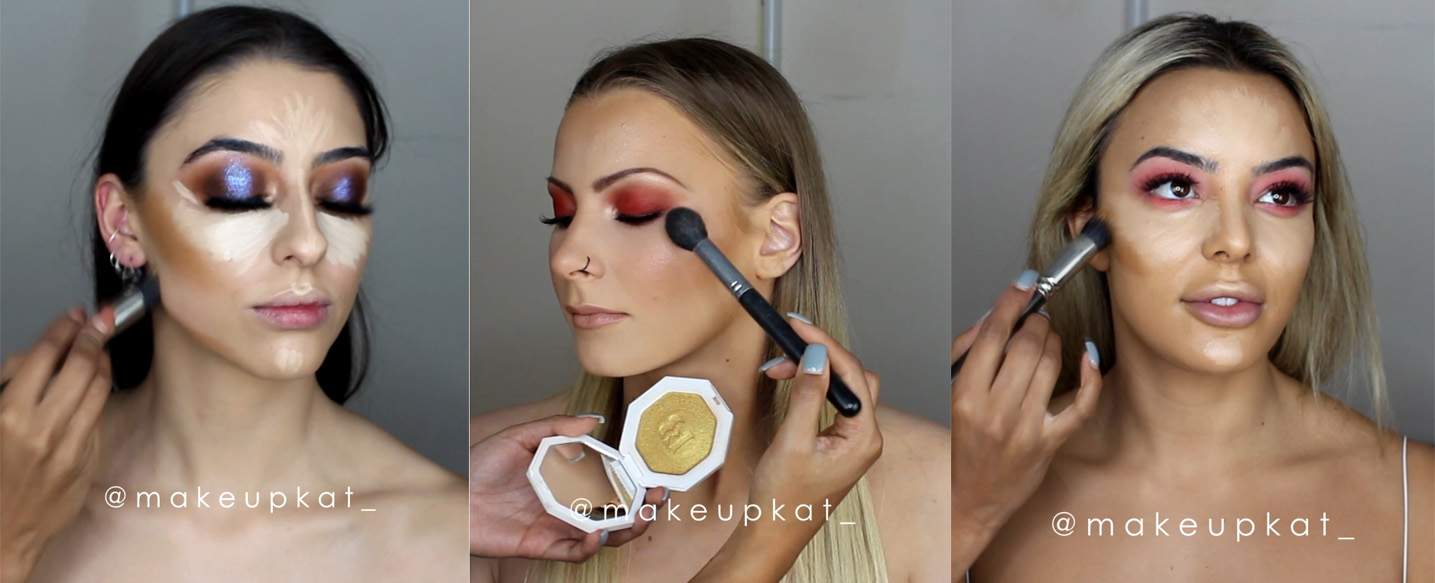 FOUNDATION
- Match the perfect colour foundation for your clients that doesn't turn orange
- Matching foundation with tanned skin
- Adjusting foundation for clients that get really oily and really dry
- Build up coverage without making the foundation thick and cakey
- The proper way to colour correct without changing the colour of the foundation
CREAM HIGHLIGHT & CONTOUR
- In depth training on the most effective ways to apply your highlighting and contouring products.
- Blend and apply contour that looks smooth and flawless
- Application on different face shapes
- Creating higher cheekbones
- Sliming and shaping the face
- Natural nose contouring that doesn't look like you drew two lines down the side of the nose
- Choosing the colour of your highlighting and contouring products
- Blending your contouring and highlighting products flawlessly with no edges
- Setting your highlighting and contouring properly to make sure it stays in place all day
- The best products for highlighting and contouring

SETTING & BAKING
- Layering setting products effectively depending on your client's skin type to make sure it stays in place all day and requires minimal touch ups
- Set concealer to stop concealer from creasing
- Apply powder without it getting cakey and thick
- The best way to bake under the eyes and around the rest of the face with out it getting to heavy
- Determine which clients can bake under their eyes and which should avoid it
- The difference between setting and baking
- Different tools you can use to set and bake with and how it changes the look of the skin
- My favourite setting and baking products that work on most skin types
POWDER CONTOURING
- Apply powder products over liquid and cream to intensify the look and set in place with out lifting and moving the work you have already done
- The right pressure you should be using when applying powder over cream or liquid products
- Choose the best bronzing colours that make the skin look golden and not orange
- The types of brushes and tools that work best for blending powders
- Where to apply blush and how much is really enough
HIGHLIGHTING
- The best places to apply highlighter to get the most glowing luminous skin
- Create a more natural glow from with in as well as a really intense highlighted look
- Applying different types of highlighting products – liquids, powders, cream
- Apply body glow to the chest and shoulders
TAKING PHOTOS OF MODELS AND CLIENTS
- The difference between taking photos on your camera and phone
- How to light your photos properly
- Understanding your cameras settings
- Knowing what background would look best
- The easiest way to take photos of clients
- Using your ring light properly

What You Will Get Out of this Workshop
This look & learn workshop gives you such an amazing opportunity to learn the looks that are in high demand right now. These techniques can't be learned anywhere else, these are Kat's very own application techniques she has created by working on hundreds of clients. She is giving you the fastest, most flawless way you can apply makeup that lasts all day and all night. After this workshop you can be confident in applying makeup that stays in place all day and doesn't only look good on camera but looks amazing in person as well.
You will walk away from this workshop with all the knowledge, experience and techniques Kat has to give. Take as many notes as you can and apply what you learn. If you master these looks you will absolutly take your makeup game to the next level.


About MakeupKat
Kat has been working in the makeup industry for the last 8 years and her determination to master makeup has helped her to grow her own successful freelance business. She has a passion, drive and love for makeup and in such a competitive industry, there are not many artists you come across that have the opportunity to work as a freelance artist fulltime.
Investing in yourself and your skill is something that is invaluable and can put you ahead of the competition. Also Spring Races are just around the corner, this is the perfect opportunity for you to showcase your new makeup skills.