Description
Need some time out and self-care?
Need some space for self-reflection?
Would like to enjoy a wellness program that has a variety of activities?
Would like to 'do' art without needing to be an awesome artist?
Connect with Aboriginal ways?
Connect with like-minded people?
If you need to do all these things, then 'Make Your Story' workshop is perfect.
Mandi's Story
Mandi is a Koori woman, a mother of 3 daughters, an artist and an Aboriginal Wellbeing Practitioner.
Mandi grew up in Melbourne where she completed a Bachelor of Arts and a Certificate 3 in ATSI Art and Design.
Whilst living in northern NSW, Bundjalung country she completed her Master of Indigenous Studies Wellbeing. She had found her life purpose!
As an artist and as someone heavily involved with culture through her previous business, as well as being brought up with her mother's keen interest in alternative therapies… it all made sense, all her past experiences had come together and formed Biyala Dreaming. Biyala Dreaming, Red Gum tree in Yorta Yorta language was created as a business that was based on Aboriginal cultural ways as a catalyst for wellbeing.
Mandi wanted a business that catered to everyone. For people:
Who didn't like 'doing' art
Who didn't like anything 'airy fairy'
To get a taste of what 'self-care' was
To experience wellbeing before they 'had a need for it'.
Who wanted to know more about Aboriginal culture
To break down some barriers.
Biyala Dreaming has workshops that feature storytelling and activities which incorporate positivity, identity, aspiration, strength and self-care.
Make Your Story
Is a chance for you to have some time out without any distractions. A time just for you in a safe space.
What does the workshop involve?
There are a variety of activities and discussion time that assists you to tap into your inner self.
The activities that help to connect with ourselves are:
Visual Meditation
Unlocking 'who you are' with the help of music
Symbol Stones
What do you connect with in Mother Earth? A river? An eagle? Trees? You get a chance to paint (or write) your symbol on the stone.
Sand Art/play
Sand art allows your message to flow freely. With the aid of your symbols you are able to 'make your story' with sand art in a decorative glass bowl.
The basis of Aboriginal cultural identity becomes a template for you to be able to uncover your own unique cultural identity.
Benefits of strengthen identity and wellbeing
Resilience

Confidence

Self-esteem

Empathy

Stress Relief

Connection

Self-care

Explores cultural ways

Provides balance

Things become a little more clearer

Healing
FAQs
Who's it for?
For everyone 13+
Parking?
On and off street parking
Cost?
$60 per participant. Includes all materials and a bite to eat. Unfotrtunately there are no refunds however tickets are transferable.
Please arrive 15 minutes early so we can start on time.

For more information contact Mandi at biyaladreaming@gmail.com or on 0449 635 003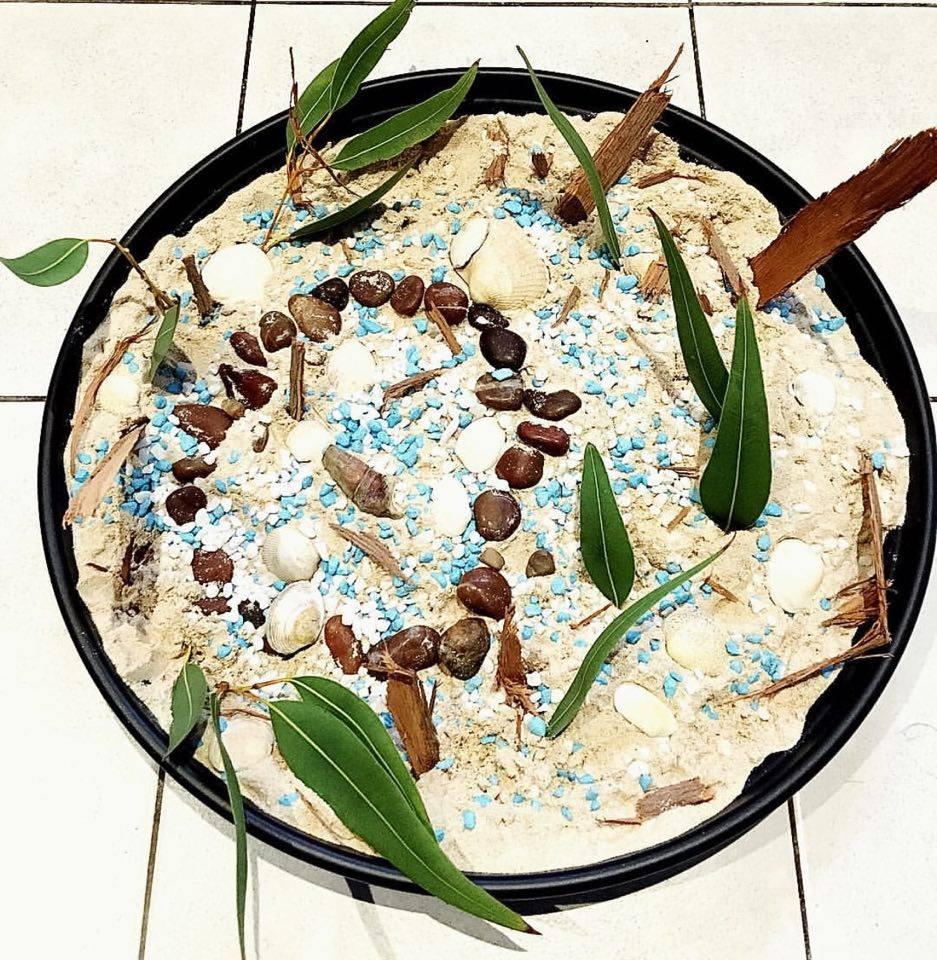 .