Eight Fun Science Lessons with Jacob Strickling the author of the book 'Make Science Fun'. Online Zoom Lessons exploring Pages 1 to 37.
About this event
Who? Families with Children Aged 5-11.
When? Tuesday's 10am to 11am 27th April through to Tuesday 15th June
What? Family Science Course based on pages 1 to 37 of the book 'Make Science Fun' hosted by the author, Jacob Strickling.
Tickets? Only ONE ticket required per family. Usually a parent and a number of siblings will take part in the lesson.
Groups of families are encouraged to meet together and make a morning of it. Each family is required to purchase their own ticket.
Preparation? E-Book is available through Apple book. Jacob will email out a list of materials and equipment required for each lesson.
A worksheet for each lesson will also be emailed out.
(Most of the materials and equipment are common household items).
A computer, laptop, ipad or mobile phone with Zoom enabled.
Location? Your home, the kitchen or dining room are perfect.
Lesson Date Activity
1 Tuesday 27th April 10am Pages 1 to 13 Introductions and Candles Science Box, Candles, Wax, Prank, Candle, Fake Finger, Wax Islands, War paint
2 Tuesday 4th May 10am Page 14 Purple Cabbage Acid Base Indicator
3 Tuesday 11th May 10am Page 18 Making Sherbet
4 Tuesday 18th May 10am Page 20 Campfire Marshmallows and Rubbery Eggs and Bones
5 Tuesday 25th May 10am Page 26 Dough Volcano
6 Tuesday 1st June Page 30 Honey-less Honeycomb!
7 Tuesday 8th June Page 32 Grow the Dough
8 Tuesday 15th June Page 35 Swimming and diving sultanas and Blow up a balloon with Chemistry
Frequently Asked Questions (FAQ's)
Will we need the camera on? Ideally yes. Jacob can only engage with the kids if he can see them!
Is Zoom safe? Email links to the zoom class will be sent out to ticket purchasers. The waiting room function and passwords will be enabled to ensure only genuine students are admitted to class.
Is the class safe? Children need to be supervised by a responsible adult as Science activities can be dangerous.
Is the class recorded? Jacob does not record the lessons in full. Occasionally Jacob will request to record certain parts of the class e.g an exciting experiment. However he ensures children's faces are not visible.
What are Jacob's credentials? Jacob is a Science Teacher with 24 years experience. He has a current Working With Children Check and clean police record. Jacob has 4 children of his own and with his wife Rachel currently school their two youngest from home.
Do I need the book? Not necessarily. The e-book is more than suitable and Jacob will also email out sufficient resources that makes having the book unnecessary.
My child doesn't have access to the equipment or materials, can they still do the lesson? Yes, however the lessons will be far more engaging if the children are taking part in the experiments.
Can I invite others? Absolutely! The kids will love doing the class with their friends or cousins.
I have a number of children, do I need to buy multiple tickets? It's one ticket per Zoom login. Generally 1 to 4 can gather around a single device.
My child is dyslexic can they still do the workshop? Absolutely! They can read through the worksheet a number of times prior to the lesson at their own speed.
Why are there no refunds on tickets? Jacob is the Science guy, not the administration guy! He has also found that once a class fills up and people go to purchase a ticket and there are none left, they won't check Eventbrite later to see if any tickets have become available. This means that refunded tickets are very difficult to sell. Jacob is trying to keep the ticket price at a minimum and so needs to fill up the classes and reduce his administration time.
I've got more questions. Have you read through the description twice? Have you read through the Frequently Asked Questions? If you still don't know the answer then contact jacob@makesciencefun.com.au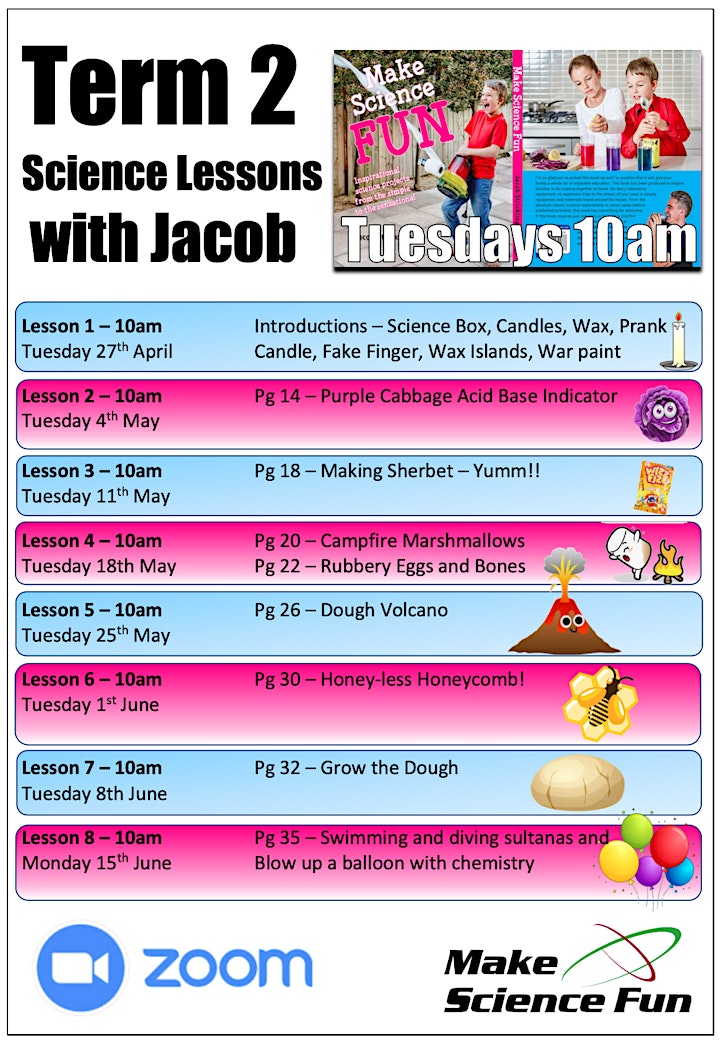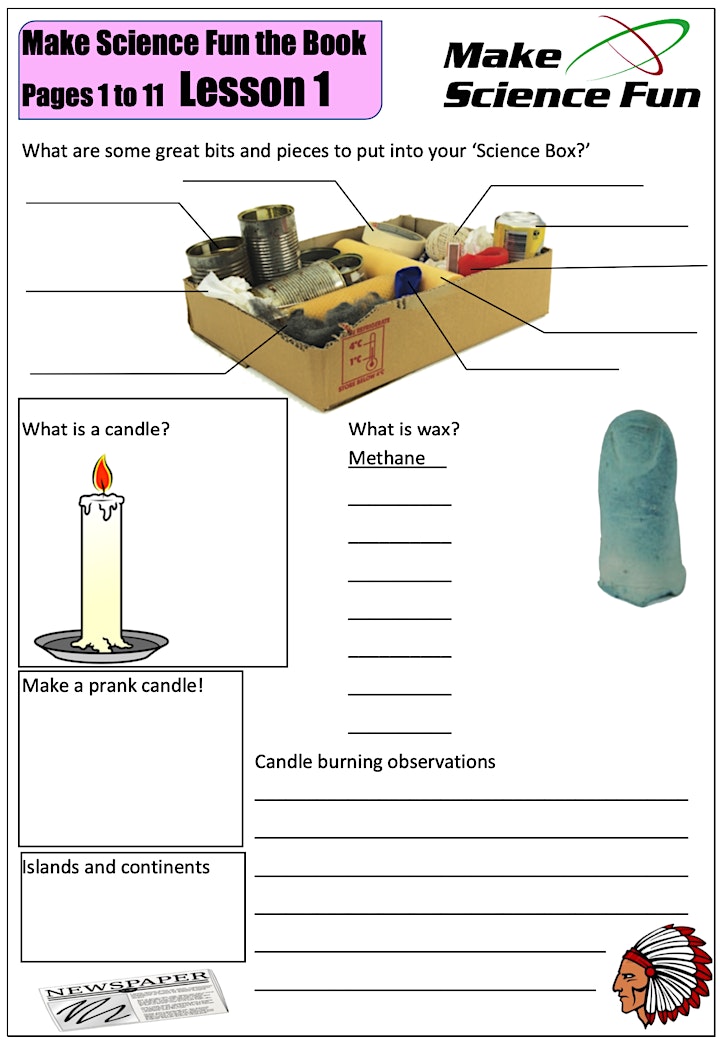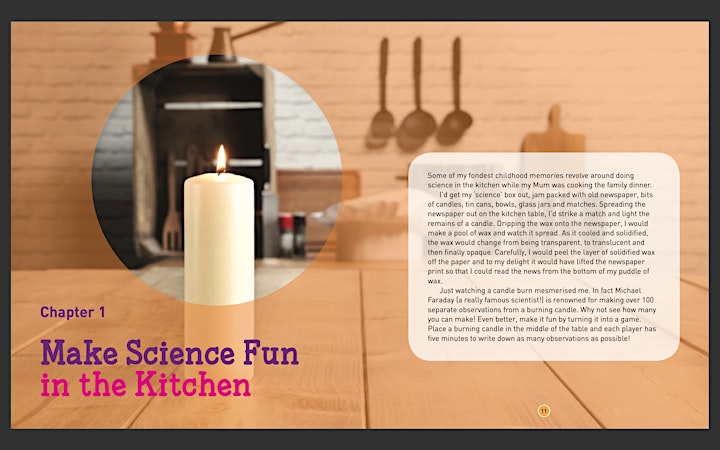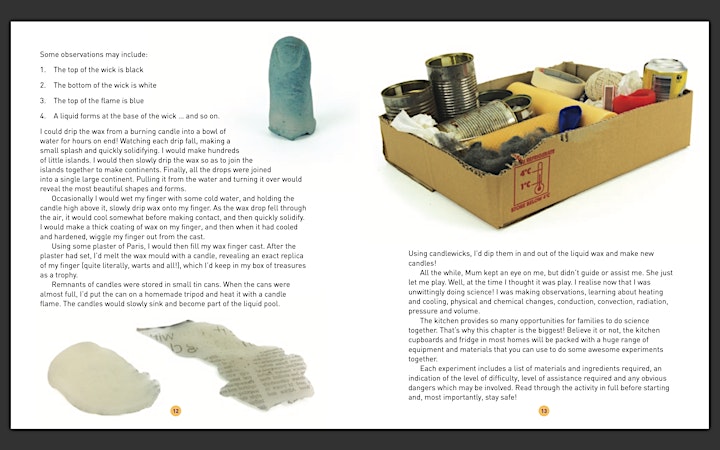 Organiser of Make Science Fun the Book – Online Course - Pages 1 to 37 - Ages 5 to 11
Make Science Fun is the brain child of Jacob Strickling.
Jacob is a passionate Science Teacher.
He spent 24 years teaching Science in the class room and now focuses his time on home schooling his youngest two children and producing fun Science videos.
Jacob enjoys provinding hands-on Science classes to online community.