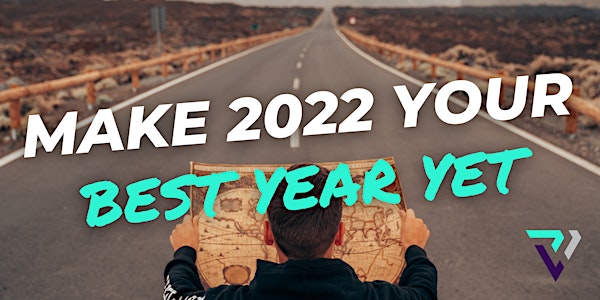 Make 2022 Your Best Year Yet
Do you want to start 2022 strong, certain in your direction, clear on the most important things to focus on and filled with confidence?
About this event
On Thursday the 27th January, I'm hosting a training seminar for any business owner who is determined to make 2022 the best year they've ever had.
I want you to start 2022 strong. 100% certain about where you're going. Crystal clear about the most important results that you want to achieve. And filled with bullet-proof confidence that you will achieve every one.
Right now at the start of the year, is a critical time for you and your business. If you get this piece wrong, you'll start the year still a bit exhausted — Knowing that last year you survived it, but didn't exactly thrive. If you're like many, you've worked hard last year and done okay. But compared to the goals you set for yourself, and the hopes you had for the year, it possibly hasn't quite delivered. If you haven't 'Preloaded' 2022 yet, then all you can do is hope the year will be better. But hope is not enough. Maybe it will get better, and maybe it won't. But without a plan, 2022 will be a photocopy of last year. More work. More problems. More of the same. But it doesn't have to be that way...
If you get the start of the year right, amazing things happen… Instead of being exhausted, you'll feel excited.
Instead of starting off feeling "okay", you can set yourself up so that 2022 is full of purpose, productivity and profit.
And you won't have to hope that the new year gets better… You will be CERTAIN of it. I want to make 2022 an epic year for you...
That's why Thursday 27th Jan, I'm running a session for local business owners called "MAKE 2022 YOUR BEST YEAR EVER". What to fix. What to plan. And How to Win Big.
In this fast-paced 90-minute training, you'll discover:
• Why New Year's Resolutions and SMART Goals aren't enough - and how to set business goals and milestones that actually happen
• How to "Preload Your Year", so that 2022 becomes an incredible success: for you, both personally, and professionally.
• The 90-minute planning system that ensures you hit your 3 most important goals next year.
• The #1 fastest way to plan the whole of next year, so you don't get distracted or side-tracked by shiny objects - and can work the plan, and get the rewards. Frankly, my business and my life turned around when I learned and applied these tactics.
Now, it's YOUR turn... Register to book your seat...
P.S. We're only doing small numbers this year... Don't miss out!