Event Information
Location
108 Burdekin Avenue 7/8/9 February
108 Burdekin Avenue, Sinnamon Park
Brisbane, QLD 4073
Australia
When things are in balance there is good health, wealth, love, peace and harmony. Join us to find out, how to get this balance.
About this event
Maintaining Balance
When: 7.30 PM - 8.30 PM (Saturday 5th February to Wednesday 9th February)*
* 7pm Bhajans, Talks will commence 7.30 PM sharp each day, so we request all attendees to be seated by 7.15 pm.
Where: Oxley Bowls Club, 24A Englefield Road, Oxley 4075 [SATURDAY & SUNDAY]
108 Burdekin Drive, Sinnamon Park, 4073 (MONDAY, TUESDAY & WEDNESDAY -Outdoor Special Marquee Covid Safe)
Note: 100 SPOTS AVAILABLE FOR SATURDAY AND SUNDAY [Already registered people for saturday/sunday will be transferred to the new booking]
Only 30 spots available for Mon/Tue/Wed to join in person. Online via Zoom is available for those who are not able to physically attend. To maximise in person attendance we will endeavour to provide opportunity for all to meet Pujya Swamiji during his visit.
About the 5 day - Talk / Yagna:
Balance is spoken about when trying to steady an action or thought. Maintaining balance is going beyond and understanding how spirituality can help you juggle the ups and downs in work, family, health, wealth, friendships and more. Often we are pushed and pulled, in every direction, and lose focus of our priorities, goals and values through the coloured lens we have of this world. This discourse with the Global Head of Chinmaya Mission, Pujya Swami Swaroopananda, will help us understand how we function in the world  and learn to keep ourselves balanced so our lives are filled with peace and prosperity in every moment.
Sponsors (Yagna Yajmans) are welcome.
Please contact Suresh on 0434 309 817 or Sangeetha on 0401 074 738 for further details.
About the Speaker:
In an era rife with scepticism and confusion about matters spiritual, Pujya Swami Swaroopananda is a rare voice that blends authenticity with accessibility; theory with self-practice; logic with heart.
Formerly the Regional Head of Chinmaya Mission Australia, United Kingdom, Middle East, Africa and Far East, and presently Chancellor of the Chinmaya Vishwavidyapeeth Trust (University for Sanskrit and Indic Traditions) and Chairman of the Chinmaya International Residential School in Coimbatore, South India, Pujya Swami Swaroopananda has now been bestowed by Guruji, Swami Tejomayananda the privilege to also serve as the Head of Chinmaya Mission Worldwide.
Pujya ​Swamiji has authored several commentaries on such important spiritual classics as Ik Onkar, Maha Mrityunjaya Mantra and Sankat Mochan, besides numerous books on contemporary lifestyle subjects such as Simplicity and Meditation, Storm to Perform, Avatar, Managing the Manager and Journey into Health.
Pujya Swamiji is equally adept at conducting 'wholistic management' seminars for senior corporate executives. Among the well-known institutes, he has been invited to speak at are The Ford, London Business School and Harvard University, to name a few. In fact, a proprietary self-development course he conceived and initially conducted, Make It Happen™, has been adapted and integrated into the human resource training programs of various corporate organisations in India and beyond.
https://www.chinmaya.com.au/pages/swami-swaroopanandaji
Car Parking: Adequate parking available at Oxley Bowls Club [Sat/Sun]
Off street parking available,[Mon/Tue/Wed] please be mindful of other residents and drivers, and park on the parkside of the Burdekin avenue..
Due to COVID restrictions, entry for this event will be strictly limited to ONLY registered participants. REGISTER NOW & RESERVE YOUR SPOT!
All participants must QR-Code Check-in, Wear Mask, Sanitise, Socially Distance and be double vaccinated. If any covid symptoms please join online.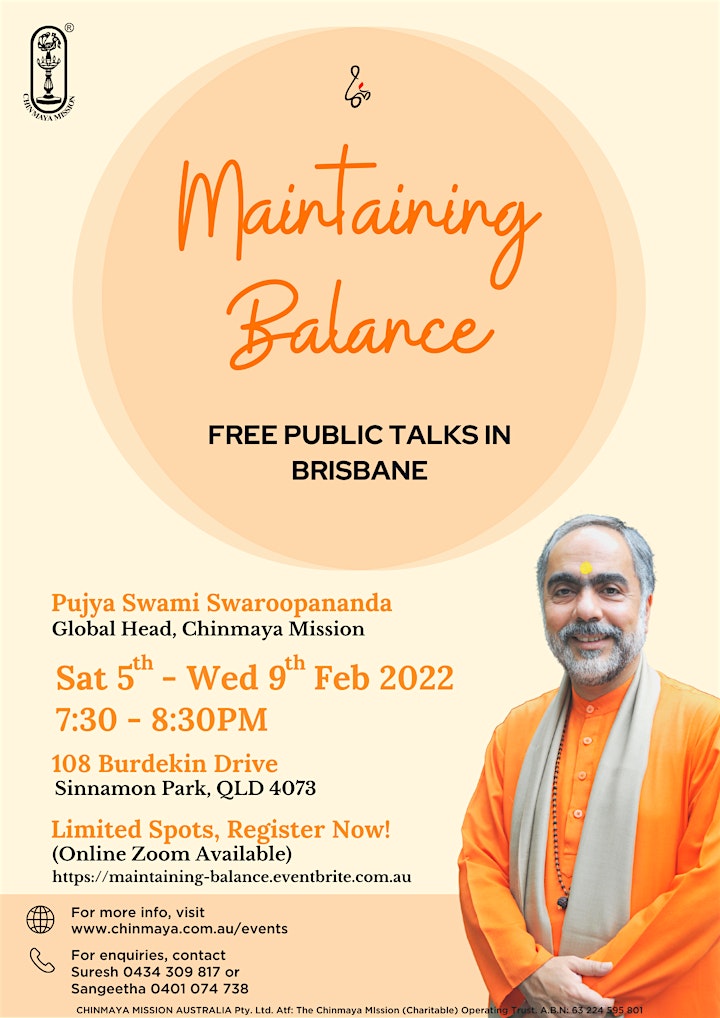 Date and time
Location
108 Burdekin Avenue 7/8/9 February
108 Burdekin Avenue, Sinnamon Park
Brisbane, QLD 4073
Australia