Celebrate Maha Shiva Ratri by worship Lord Shiva and uplift your minds!
About this event
Chinm aya Mission Australia (Sydney)
Celebrates from Chinmaya Sannidhi Ashram
Spiritual Practices (Sadhana) to do during the day:
Shiva Ratri is the most auspicious day and Lord's grace is at the highest. Try to gain as much of that Grace through the below practices.
Try to wake up early before sunrise, clean your altar, light the lamp and offer flowers to the Lord, try to eat minimal (fast completely if you can, otherwise drink/eat just milk, water & bananas (fruits) only during meal times). Refrain from unnecessary talk (try to maintain Silence) throughout the day till midnight, contemplate on the Lord's name or a verse from the scriptures or meditate on the Lord/Self.
Online Program
10.00PM: Pooja, Abhishek (Bathing of the Lord) with Veda (Rudram) Chanting,
Talk on Lord Shiva with Swamiji
11.15PM: Bhajans
11.45PM: Meditation
12.00AM: Maha Arati
Program will be Online Zoom.
Special SEVA Participation:
1) Be Mukhya Yajman ($251)
Be the one to do the pooja for Lord Shiva on this special night and gain great blessings for your family.
Contact Nandu 0408 445 941
2) Flower Bouquets Seva
– Call Anupma 0411 165 357
3) Flower Garlands Seva
– Call Uma 0430 281 319
4) Cook Prasad & Fruits Seva
– Call Radhika 0432 276 622
5) Loose flowers & Milk for Abhishek
– Call Jay 0402 395 509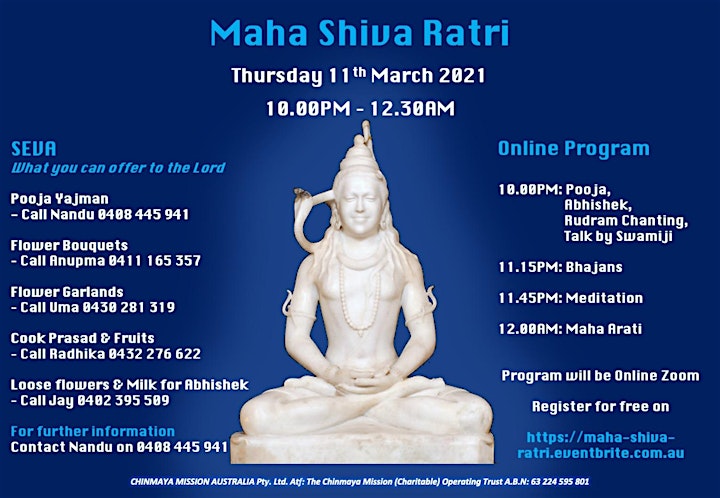 Organiser of Maha Shiva Ratri Festival