Meet Macquarie University in Hanoi to learn more about studying in Australia at a global top 1% university with scholarships.
About this event
Bạn ước muốn học tập ở Sydney, Úc?
Bạn đang tự hỏi nên học ngành gì để phát triển sự nghiệp trong tương lai?
Gặp gỡ Đại học Macquarie vào ngày hội Open Day tại Hà Nội để cùng thực hiện ước mơ đi du học của bạn.
Số lượng vé có hạn. Đăng ký ngay bây giờ để không bỏ lỡ!
Tại ngày hội Open Day, bạn có thể gặp gỡ những giáo sư nổi tiếng thế giới và các giám đốc tuyển sinh trong:
Các buổi thảo luận tương tác và các phiên trao đổi thông tin
Các lượt tư vấn chuyên sâu 1-1
Miễn phí đánh giá khả năng nhận học bổng và đăng ký học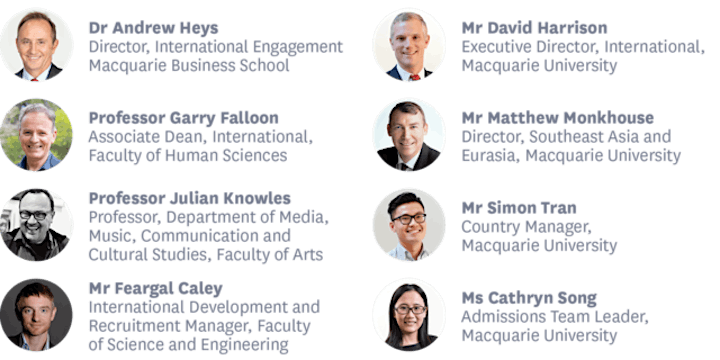 Bạn có thể học gì tại Đại học Macquarie?
Hơn 240 khóa học về Kinh Doanh, Kế Toán, Tài Chính-Ngân Hàng, Ngôn ngữ học và TESOL, Phương tiện kĩ thuật số và truyền thông, Luật, Kỹ thuật, Công nghệ thông tin, Khoa học và nhiều hơn nữa
Chứng chỉ chuyển tiếp "Pathway" và Chương trình học dự bị tại trường Cao quốc tế Macquarie
Các khóa học tiếng Anh theo gói tại Trung Tâm Tiếng Anh Macquarie
Chương trình học Thạc sĩ 1 năm tại Úc
Organiser of Macquarie University Hanoi Open Day 2019
Macquarie University is located in Sydney, Australia and is ranked in the top 1% of world universities (QS World University Rankings, 20).
Uniquely located in the heart of Australia's largest high-tech precinct, Macquarie brings together over 44,000 students and 4,000 staff in one thriving hub of discovery. Our campus spans 126 hectares, with open green space that gives our community the freedom to think and grow.
With more than 300 leading companies located on or around the Macquarie campus, our students are able to tap into industry connections that give them an edge in their future careers, while our staff have access to outstanding research and innovation opportunities with some of the world's leading organisations.
CONTACT US
P: +61 2 9850 7346 | E: study@mq.edu.au | W: mq.edu.au