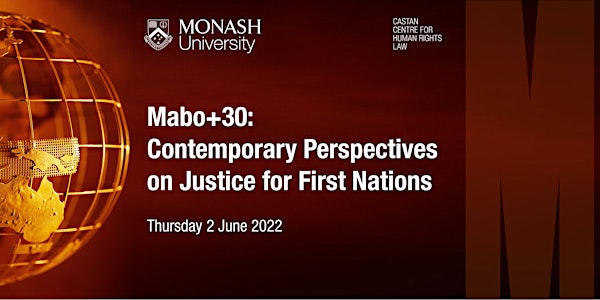 Mabo+30: Contemporary Perspectives on Justice for First Nations
Join the Castan Centre for Human Rights Law to recognise 30 years since the Mabo No 2 decision in the High Court of Australia.
About this event
Thirty years after the Mabo No 2 decision in the High Court of Australia, cases such as Love, Thoms, and Mongomery have reignited the prospects and possibilities of proper recognition of legal relations between First Nations and the 'Settler' State. The contested issues within these recent cases re-emphasise the unfinished legal business that was at the heart of the Mabo case. Justice Brennan in Mabo said "no case can command unquestioning adherence if the rule it expresses seriously offends the values of justice and human rights (especially equality before the law) which are aspirations of the contemporary Australian legal system".
This panel brings together first nations and settler law academics to consider the possibilities of Australian law and the future of legal relations between First Nations and the Australian State, in the context of current debates around sovereignty, land justice, and enfranchisement as genuine spaces of recognition.

Associate Professor Melissa Castan
Melissa is the Director of the Castan Centre for Human Rights Law. Her teaching and research interests are Australian public law, human rights law, constitutional law, Indigenous legal issues and legal education. Her current work focuses on legal identity, recognition spaces and Indigenous-State legal relations.
Associate Professor Kate Galloway
Kate is a lawyer, and academic at Griffith Law School who researches and teaches in property law. She is particularly interested in land tenure and the law's effect on land rights, principally for First Nations people in Australia. She investigates the intersection of property as private law, and sovereignty as the public law manifestation of rights over land.
Donnella Mills
Donnella is a proud Torres Strait Islander woman with ancestral and family links to Masig and Nagir. She is a Senior Associate at King & Wood Mallesons, a community leader in a number of interrelated legal, health and cultural fields, and an experienced lawyer who works in various areas of access to justice for First Nations people and communities.
Eddie Synot
Eddie is a lawyer, researcher and lecturer at Griffith Law School, Griffith University and Centre Associate at the Indigenous Law Centre, UNSW. Eddie has research, professional and personal interests in all things Indigenous - history, law, culture, anthropology, education, community development and wellbeing. His current work critiques the recognition of First Nations people throughout Australian history and recent attempts to achieve recognition in the Australian Constitution.
Contact us
Monash Law Engagement Team
Email: law-engagement@monash.edu