Description
M500 Event - 20 March


The Ownership Journey
When we first start a business as a business owner, we're the number one employee in the business. In addition to working in the business, we're also responsible for every aspect of running the business. Without us being involved at every level, the business would simply fall apart, so we wear every single hat required of us.
But at the business grows, we need to learn to delegate responsibilities to others. We need to spend more time in "owner" and "investor" modes and have less of the daily running of the business reliant on us.
This is not always an easy thing to do. As business owners, we often feel like we can't trust somebody else to do the job as well as we can. So we add those responsibilities to our ever-growing plate. But ultimately, this just makes you busier and busier, without being any more productive or effective.
So at our M500 event in March, we'll be discussing the Ownership Journey.
It's called a journey for a reason – being a business owner is not a desination – there are a number of different stages along with ownership journey, and different aspects you need to be focussing on at each stage along the way as you progress to the Owner and Investor stages of the journey.
We'll be exploring what the Ownership Journey involves, and how to ensure progression in your own journey.
We'll also be interviewing Robert Krastich, Managing Director of Sharper Facility Services.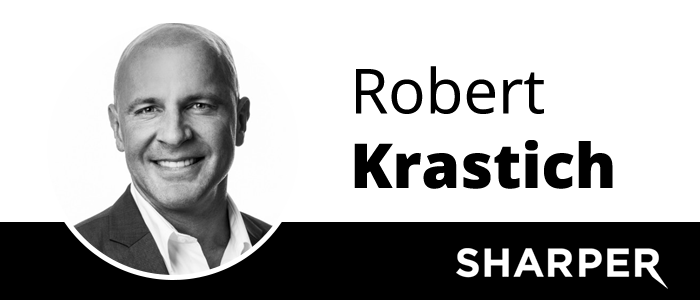 Robert Krastich:
Robert Krastich is the Managing Director at Sharper Facility Services (http://sharper.com.au) which offers Commercial and Office Cleaning in Melbourne.
Robert first started his business "Sharper Facility Services" in 2004. Over the past 15 years, he has grown from a very small team where he was involved in doing the work as well taking care of every other aspect of the business.
As his business grew and he continued along the ownership journey, he struggled with identifying exactly what his role should be within the business and what it was he needed to achieve.
His business is now a major player in the commercial cleaning industry, earning multi-million dollars in revenue and with a keen focus on further growth over the next 12 months.
As the leader of the business, his focus is on growing teams and people better than he ever was, to grow his resources and implement a successful structure, and to focus on serving his ideal target market.
About M500:
The world of a business owner can be a lonely place. We know because we've been there. So we created a better place where business owners can come together. It's called M500.
Success in business comes from sharing information. From challenging others. And from being challenged.
But most importantly, it comes from inspiration. The inspiration that can only come from associating with high-level entrepreneurs.
M500 is all of the above. Meeting monthly, M500 is Business Benchmark Group's premier event for small business owners with an annual turnover of $1M+.
It's not for pretenders or miracle seekers. It's about supporting business ambition. It's an advisory event combined with educational guest speakers and industry networking. It's an opportunity to learn from inspiring business leaders who've turned small businesses into empires.
It's also an open forum that encourages interactive business learning and peer networking. M500 brings together like-minded professionals for a welcome break from the isolation that often accompanies business ownership.
---
For those of you who are not Business Benchmark Group clients, please note that this event is for business owners with a turnover of $1M+ per annum. Given the high anticipated demand and room capacity restrictions, attendance is limited to those meeting this profile. Once your registration is received you will be contacted by a Business Benchmark Group representative within 2 working days with confirmation.
PHOTO RELEASE
From time to time, we use photographs/video of participants in our materials. By virtue of your attendance, you agree to our use of your likeness in such material.