Lynch Meyer Lawyers' Legal Masterclass 2017: Exclusive Insights for Constru...
Description
Specialist Adelaide Construction Law Firm Lynch Meyer Lawyers will be offering AIB Members the unique opportunity to attend specifically tailored training sessions over three consecutive weeks in August. The topics covered in these training sessions are extremely important to South Australian professionals in the construction industry. CPD points apply and framed certificate.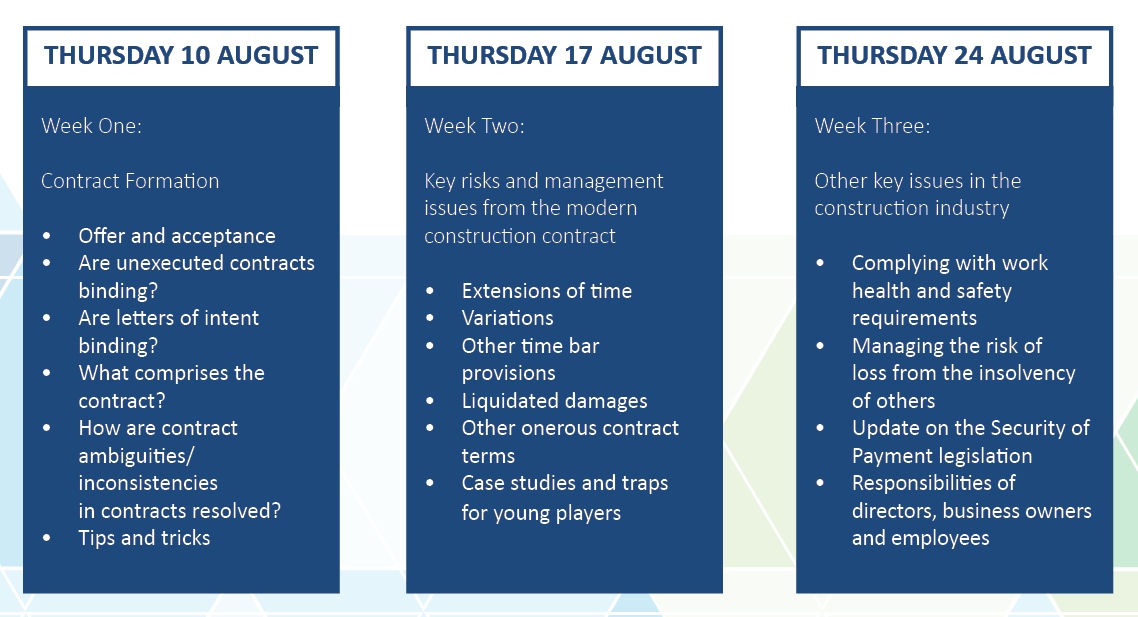 About Lynch Meyer Lawyers
Lynch Meyer Lawyers are highly regarded in South Australia as a leading law firm in the construction, property and engineering industries. Their construction team comprises some of the most highly regarded and experienced construction lawyers in South Australia, some of whom have been recognised nationally in Best Lawyers Australia for a consecutive number of years. Lynch Meyer Lawyers have been proud supporters of AIB for many years.
About the Speaker - Sam Burford, Partner
Sam is a prominent construction lawyer in South Australia. He was recommended as a leading Construction & Infrastructure Litigation Lawyer in Doyle's Guide in South Australia for 2017.
Sam has acted for large international and local building companies, engineers, civil contractors, rail organisations, government departments, residential builders and home owners.
Sam has significant experience in dispute resolution ranging from conciliation, expert determination, arbitration, adjudication and litigation. Sam strives to achieve early and cost effective resolutions for his clients but is diligent and committed to pursuing his clients' rights through to a final determination if necessary.
Sam also advises builders on contracts and documentation and has provided construction and insolvency training to a number of South Australian civil and commercial building companies and to the Civil Contractors Federation of South Australia.