Luxury New Years Eve @ Reggio Calabria Club in The Members Lounge
A special New Years Eve celebration with a 5 course Italian dinner in a traditional Southern Italian style with music by DJ Frank Barbaro.
About this event
Celebrate New Years Eve in The Members Lounge with friends & family with a delicious seafood inspired authentic Italian 'Members Lounge' curated menu. Entertainment by DJ Frank Barbaro bringing in 2022 in style with a night of mixed music, Italian, modern & all the party classics.
Guests will be dining in the Members Lounge situated on Level 1 entering from the front door of the Reggio Calabria Club.
7:00 PM till 1:00 AM
Tickets: $150 per seat
To obtain an exclusive table in The Members Lounge (Upstairs) a minimum of 10 guests will hold that table for your group. Otherwise, orders under 10 guests will make the balance of seats remaining available to the public to purchase.
**Important Notice - Fully vaccinated guests above the ages of 12 can purchase tickets only as per the Victorian Government's Chief Health Officer orders.
Full details: http://www.reggiocalabriaclub.com.au/index.php/events/latest-events-sub or http://tiny.cc/newyears21ML
Menu
Gluten-free, vegan & vegetarian meals available
Primi
'Bello' Antipasto
A traditional Italian antipasto sharing banquet with 'antipasto fredo '& 'antipasto caldo' plates.
Oysters Natural
Smoked salmon
Stuffed Sardines
Whitebait fritters
Octopus Salad
Eggplant parmigiana
Calamari fritti
Mixed antipasto board
Entrée
Paccheri con Gamberi e Pesto
Paccheri di 'Gragnano' with tiger prawns & walnut basil pesto
Secondi
Alternating main courses
( All mains are served with seasonal vegetables and a garden salad)
Pesce Spada
Crumbed swordfish fillet
Scotch Fillet
Fillet of Scotch filet with a red wine jus
Vegetable Main Optional (vegetarian)
Vegan Vegetable stack
Dolce
Tiramisu ice-cream e bigne
Coffee-flavoured Italian ice cream dessert served with a home made custard filled profiterole.
Supper
Seasonal fruit
Panettone
Pizza & Sausages
Included
Soft Beverages/Sparkling water
Wine - Rich Red, Moscato, Sauvignon Blanc, Prosecco
Beer - Peroni, Corona, Cascade, Carlton Draught, VB
Coffee/Tea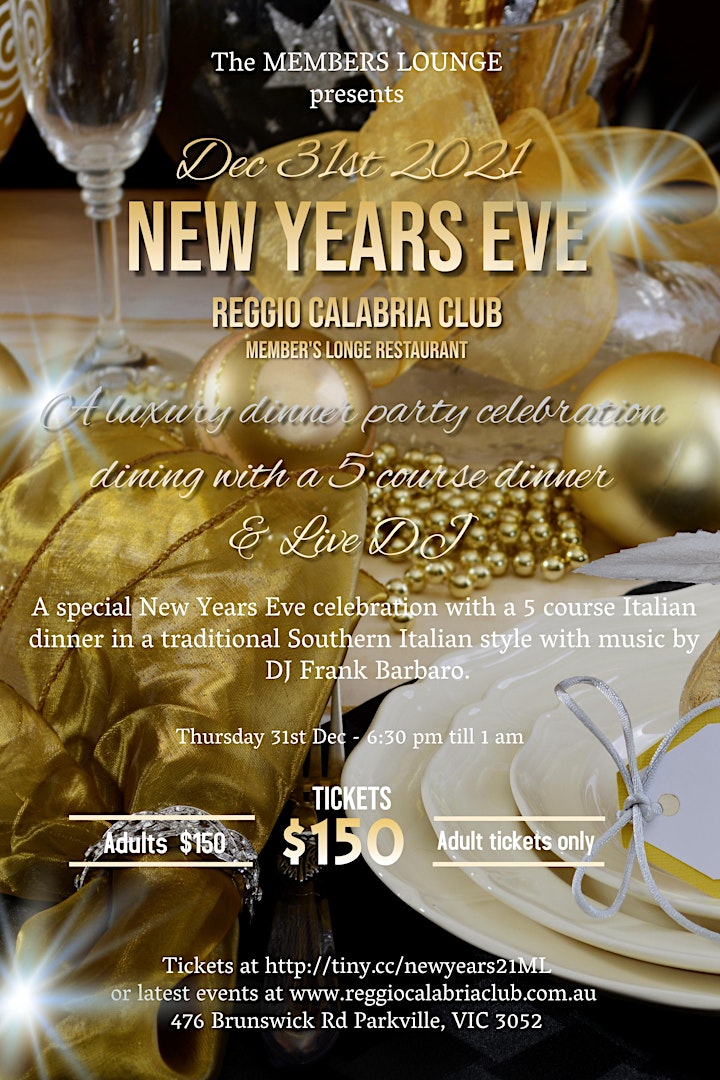 Organiser of Luxury New Years Eve @ Reggio Calabria Club in The Members Lounge