Luscher Level 1 Practitioner -understand why primal physiological responses to specific colour frequencies occur in our natural environment.
About this event
Become a Certified Practitioner of the Luscher 8-Color-Test
Sponsored by Neuro Balance.
Our primal physiological responses to colours which appear in our natural environment are the premise of Dr. Luschers work. Dr Lüscher believed that sensory perception of colour is objective and universally shared by all, but that colour preferences are subjective, and this distinction allows subjective states to be objectively measured thus giving a 90% accurate reading of the client's current emotional disposition. The work of Ian Scott is based on the original works of Dr Lüscher.
The Luscher-Color-Diagnostic® is a psychological profiling tool developed by Dr. Max Luscher in Basel, Switzerland.  Dr. Luscher's research indicated that the colour selections are guided in an unconscious manner, they reveal the person as they really are, not as the perceive themselves, or how they would like to be perceived.
The results of the 8-Color-Test contain indications pertaining to personal assessment and special, professional recommendations as to how psychological stress and the resulting symptoms can be avoided. Dr Lüscher said "Ian Scott brings to the Color Test an initiative and an insight which I have not before encountered."
The test covers eight diagnostic colours and their meaning to give a 90% accurate readout of the client's current disposition. Using the 8-Color-Test to identify clients with severe clinical and psychological problems; the method allows a rapid and deep personality analysis from the colour ranking information.
As a Health Practitioner you will be able to identify those hidden thoughts and emotions in your patients which can sabotage your client's therapeutic progress.
What the 8-Color-Test and therapy can do...
The test report will provide the practitioner with information from the patient's background.
It provides objectivity: no subjective factors either when administering the test or during its diagnostic evaluation.
It will differentiate between underlying constitution and momentary disposition.
The test methodology calls upon a non-verbal (subconscious) method.
The report will give direct and differentiated insight into the causes and psycho-vegetative structure of symptoms or complaints.
The test report will provide "structural therapeutic strategy" for psychotherapy.
As well as suggestions for personal assessment.
About the Course...
This one-day-intensive training program will provide an insight into using colours to confidently identify areas of conflict within the client.
The training will teach participants how to administer the 8-Color-Test and read the meanings of the eight colours. Upon graduation participants will be confident in reading the 8-Color-Test to give a 90% accurate readout of the client's current disposition.
No knowledge of the assessment tool is required to begin with. An explanation of the history, plus the steps in using this method with a client will be demonstrated. The course will also teach participants how to confidently identify areas of conflict within the client.
A lot of time is given to the understanding of the colours so in an instant a practitioner can be made aware that there is an issue to be addressed immediately.
Participants will be given time to practically administer the test amongst the group and interpret the analyses.
Subjects Discussed...
History and Rational of Lüscher-Color-Diagnostic ®
Meaning of Eight Colours
Groupings & Grey Scales
Meet Your Facilitators...
Susan Sandy is a relationship counsellor in private practice in Melbourne.  She brings to the training room many years of experience in counselling both in her own business and in her work with the Department of Education and Early Childhood Development in Victoria.  Working with both individuals and groups, Susan speciality is relationship counselling.  She is a practitioner and teacher of the 8-Color-Test and is one of the founders of the NeuroAssess tool, an online and app platform that assesses the suicide risk of clients for mental health practitioners.
Shane Warren is a registered psychotherapist, certified clinical supervisor, certified practicing hypnotherapist and certified practicing coach working in private practice from rooms in Sydney, Singapore and Hong Kong. He brings to the training room over 21-years of facilitation in personal and professional development programs. Shane is a practitioner and teacher of the 8-Color-Test and is one of the founders of the NeuroAssess tool, an online and app platform that assesses the suicide risk of clients for mental health practitioners.
The Specifics...
Certification will be issued through NeuroBalance and professional development points are available with a number of related professional associations.
FAQs
Are there ID requirements or an age limit to enter the event?
There are not age limits to participate in this event.  We encourage participants to bring a business card to exchange, but ID is not required for registration.
What are my transport/parking options getting to the event?
The event is held in the Northern Suburbs of Melbourne. Transport options vary and whilst car parking is available, you will need to move your car (we give you plenty of time to do that during the training). We encourage participants to explore public transport options which includes buses and trams which stop directly next to the building.
What can/can't I bring to the event?
Bring yourself.  We provide you with a document wallet, note book and a pen.  Participants packs are provided but hey it's always nice to have your own things with you...
Where can I contact the organiser with any questions?
The organisers can be contacted through this page or by telephoning 0422416894.
Is my registration/ticket transferrable?
Your ticket cannot be transferred for cash, but if you can not make it, someone else in your team may like to join the discussion on your behalf.  We are happy to accept that person just shoot us a quick note to advise the registration team at the event.
What happens if the event is cancelled due to COVID?
Your ticket will be refunded in the event of restrictions preventing this training going ahead, however we can also transfer your registration to another scheduled event post the Covid lockdown.
Can I update my registration information?
At any time.
Do I have to bring my printed ticket to the event?
This is helpful but we have modern technology that means we can accept you without the ticket.
What is the refund policy?
The ticket is non-refundable, with the exception of COVID restrictions preventing training from proceeding. 
The name on the registration/ticket doesn't match the attendee. Is that okay?
Sure if you can not make the event and give the ticket to another member of your team - that is cool - we ask to help with the registration process shoot us an email confirming this arrangement.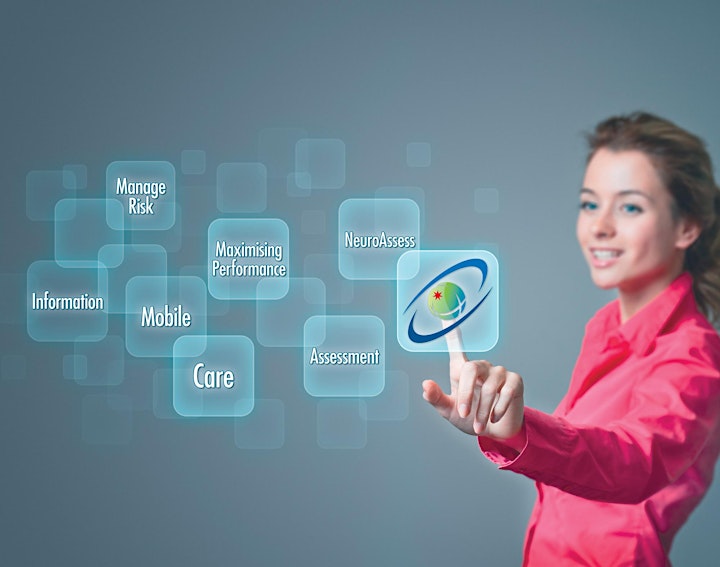 Organiser of Luscher Colour Measure Practitioner Certification (MEL)
Our Mission
Neuro Balance's mission is to make a positive change to the lives of people around the world by improving the lifelong health and well-being of citizens, through initiative, innovation and integration.
Our Philosophy
Neuro Balance's philosophy is to provide practitioners with world leading, technologically advanced, diagnostic and therapeutic tools, responsive designed platform captures essential information about the clients' psychopathology at the time of their appointment.  This gives the practitioner the best opportunity to improve clients' health, well-being and lifestyle outcomes.