Luminous LIVE Brisbane - Sacred Singing with Sonesence

Saturday, 26 November 2016 from 4:00 pm to 5:00 pm (AEST)
Event Details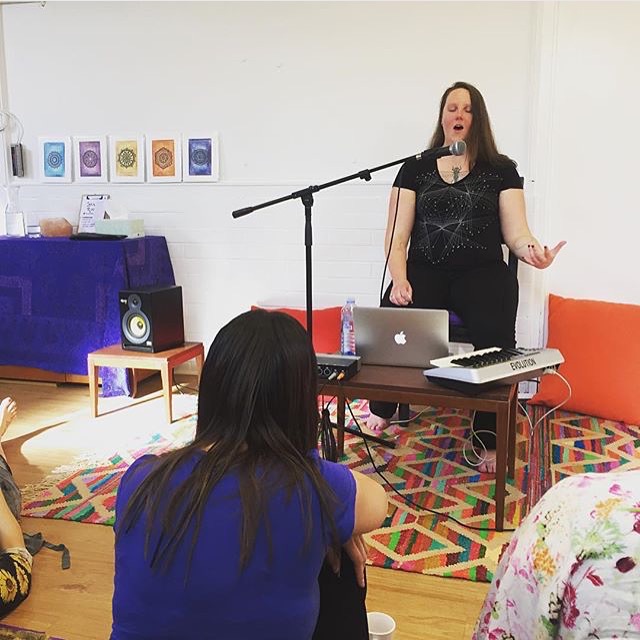 An intimate and interactive experience, Luminous LIVE will lift you up, zen you out and connect you to your radiance. All alongside our gorgeous peace seeking community. 
There'll be guided meditation, lush vocal landscapes, and interactive singing. Plus you'll get the opportunity to mingle with other like minded souls after the event.  
"Tahlee's angelic voice and uplifting music guides you on an internal journey to find peace in a busy world. Upon opening my eyes I felt realigned with my heart's intention, my soul purpose and my love of life itself." ~ Kristal 
Combining meditation, live vocal looping and interactive singing - the Luminous LIVE tour is based on Tahlee's latest album, Luminous, that was created in Finland during a Nordic summer.
"When I arrive in heaven I believe the angels will be playing this on repeat. Words can't describe how utterly beautiful Tahlee's music is. "Luminous" is exactly that. It is warmth, beauty, hope, grace, love, light and peace" ~ Liz
What to expect:
There will be:
+ a guided meditation to ground and unite us;
+ a live vocal looping performance based on tracks from the Luminous album;
+ interactive singing - a joyful expression of our voices together
It's a completely safe environment to connect to your Self, to express yourself, to be seen and heard. We will raise our voices and our consciousness. Together. 
"I loved using my voice in unison with others. It felt a little like a yoga class for my vocal chords - gentle exercise and a very grounding yet uplifting experience." ~ Lisa
What to bring:
Soho Yoga has all the yoga mats and bolsters you need. However you may bring your own yoga mat / pillows if you wish; plus crystals or talismans of your choice to place on the communal alter.
"Tahlee has this beautiful angelic nature about her! As soon as you are in her presence a sense of calm emanates. Imagine that when you are filled with a room of equally soulful people, joined in harmonic sacred singing... the result is something magical." ~ Kathy
Can't wait to see and hear you there. 
Love,
Tahlee
FAQs 
How do I get there?
Soho Yoga Fortitude Valley is located in the heart of the Valley next door to Bakery Lane and 350m from the Valley train station. Secure parking is available at McWhirters on Warner St opposite the studio. 
What do I bring?
+ a yoga mat if you wish
+ crystals or talismans of your choice

Where can I hear the Luminous album? 
You can preview it here 
What is interactive chanting?
Faciliated, communal singing that blends all our voices in lush harmonies.
I can't sing. The idea of interactive chanting scares me. Can I just not do it?
First of all - if you have a voice, you can sing. Trust me. 
Also, you'll be in a safe environment with lots of other people who will be too busy worried about their own singing to pay any attention to yours ;)
It'll be fun, I promise. But feel free to mime if you're still freaked out. <3
Any questions?
Email Tahlee: music@sonesence.com
Have questions about Luminous LIVE Brisbane - Sacred Singing with Sonesence?
Contact Sonesence
When & Where

Soho Yoga
5/702 Ann St (Entrance on Warner St)
Fortitude Valley, Qld 4006
Australia

Saturday, 26 November 2016 from 4:00 pm to 5:00 pm (AEST)
Add to my calendar
Organiser
Tahlee Rouillon is the creator of Sonesence. She has been described as 'a musical genius', 'super skilled' and 'the voice of an angel'.
She blends improvised performance with guided audience participation to create unique music events based on community, peace and joy.
Luminous LIVE Brisbane - Sacred Singing with Sonesence