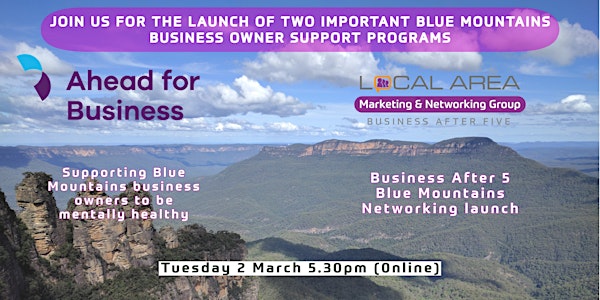 Lower Blue Mountains: Business After 5 Introductory Meeting
We launch a collaboration with Ahead for Business and a new Business After Five networking trial involving Glenbrook & Springwood Groups.
About this event
Welcome to the Local Area Marketing & Networking Group – Glenbrook– the Business Networking Group that Puts People First.
From the 2 March 2021 a Business After Five networking model (5.30pm - 7pm) is being trialled.
This special event will also launch Ahead for Business - a mental health support program for Blue Mountains small business owners.
It encourages and supports business owners to identify and take action to maintain good personal and workplace mental health and wellness.
Tailored resources are provided including peer support, mental health and business stressor check-ups and personalised action plans.
The six-month program is run by the Everymind Institute and is being proudly supported by the Local Area Marketing & Networking Group via local area promotion and its business networking structure.
Tuesday's event will include a keynote presentation on "Creating a Mentally Healthy Workplace" with guest speaker, Jasmina Krso.
Jasmina is an Ahead for Business Senior Project Officer with a preventative mental health background and has extensive experience promoting good mental health to business owners. Project Officer, Alyse Berrigan will assist.
This is an online event as we finalise plans for a return to face-to-face meetings, which also is a discussion topic at this meeting. Your input is very important to help us create the best possible model for you.
Our Business After Five program will introduce you to our networking model (see below) which is consistent for both face-to-face and online events.
We run mix of online and face-to-face meetings through all Greater Western Sydney groups (Including the Blue Mountains).
You get to meet like-minded people, exchange ideas, learn, socialise, collaborate, exchange knowledge, form new relationships, get fresh business ideas and tips and, of course, expand your introduction-based business network.
Whether your business is shop, office, industry, home based or in a shared space, you will meet motivated owners and entrepreneurs to share your passion and grow your business with.
WHAT WE DO
Our regular online and face-to-face meetings have identical formats for familiarity in all groups. They begin with:
1. Opening welcome.
2. 60-second Business Primers (all attendees).
3. Member Business INSIGHT* (up to 10 minutes).
4. Group photo.
5. Business Card Exchange (We do that online too!)
6. Five-minute break
7. Member Business INSIGHT* (up to 10 minutes).
8. Keynote (up to 20 mins).
9. Five-minute 1-1 Collaboration Discussions. (Online – members auto rotate via private virtual meeting rooms. Additional 1-1 meeting time online available at meeting end.)
10. Meeting ends.
Member INSIGHTS and keynotes are supported via a template format designed to help you tell your story, build personal relationships, promote your business and share your unique knowledge 'value-add'. They also help 'fine-tune' your presentation skills.
*NEW for 2021 – You can present an INSIGHT solo or via a live interview. INSIGHTS will be video recorded and loaded onto our new YouTube channel with your full business contact details. This is a great initiative to help market your business. You can cross link to your own social media or website too!
THERE'S MORE!
One of the many ways we "Put People First" is with innovative business support programs.
1. Our Small Business Knowledge Program runs monthly in a host group. Program topics are based on three priority areas: 1. Business Sustainability and Profitability; 2. Legal Issues and 3. Sales & Marketing.
2. During last year's NSW Small Business Month, the Group launched its unique Business Health Insulation Program for members to Successfully Transition Covid-19 Impacts into the Future.
The program provides resources targeted at keeping businesses sustainable, adaptable and ultimately prosperous.
3. The Group has a new member Facebook page where you can promote your business, keep in touch with other members and keep up to date on Group activities.
4. Regular members receive a post meeting email with the attendee list and relevant information and handouts from the meeting. The attendee list includes business contact and service/product details.
5. In addition to widespread meeting promotion, post meeting wrap-ups, including photos, are publicised on Facebook and via LinkedIn. Attending members are encouraged to share and to use these in their own promotions.
6. Face-to-face meetings include a Promotions Table for your brochures, samples, give-aways etc. Members are encouraged to bring a promotional banner to display as part of the meeting backdrop for photos & video.
7. All members are encouraged to nominate themselves to host a meeting - either online or face-to-face at one of our venues. You are fully supported to make it an enjoyable, rewarding and confidence building experience!
MEMBERSHIP FEES
Unlike many groups, we do not charge a membership or joining fee.
Every meeting has an attendance fee contribution to costs. Group sponsorship opportunities will open up in the first part of 2021 as part of a sponsorship education program demonstrating the value to small businesses of community sponsorships.
Online meeting fees are set at $7.50 per attendee (from March 2021 - unless otherwise stated. Booking fee and GST inclusive). Face-to-face meeting fees (which include morning tea) will be released once venues are finalised subject to NSW Government Covid-19 requirements.
Group inquiries to:
Joe Kowalewski Chief Marketing Officer Local Area Marketing & Networking Group E: networking@localareamktg.com.au Ph: 0404 767 482