Description
Does this ring true for you?


Do you ever sense on the inside "There must be more than this?"
If only you could trust yourself enough and love yourself enough to handle it, you would make some courageous changes right now?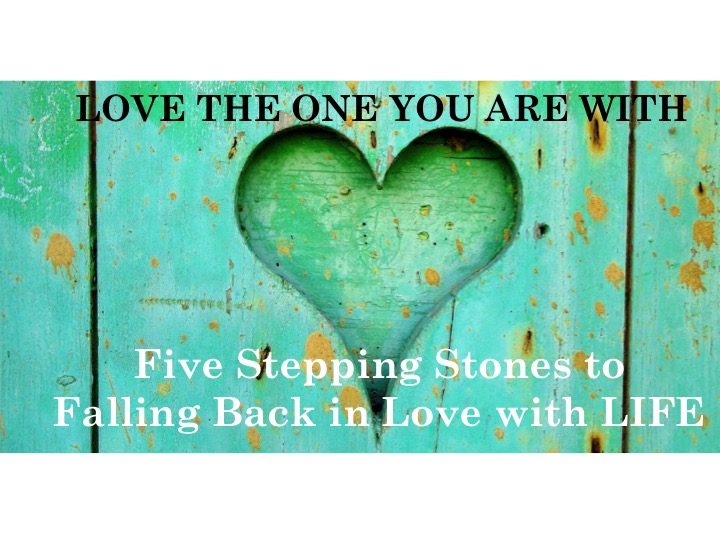 Do you ever feel as if you are becoming invisible? As if life is passing you by and rather than experience life fully, you feel as if you are stuck in a holding pattern of superficial "to do lists"?
You are not alone.
Most people on this planet do not know how to trust themselves, to truly back themselves, to create a life on their terms.
Do you sometimes feel as if you are holding yourself back in some way?
Are some of your relationships either superficial or strained and you long for a deeper connection with people around you ...and perhaps, yourself?
Have you ever wanted to feel completely in control of your life, by embracing who you truly are?
Then this is the right time for you to push the pause button on this crazy merry go round called life and invest some time in YOU.
What you do know..
You have a great life on the outside, yet there is a voice inside you saying "Is this the best it gets?"

Amongst the many roles you have, you are this and you are that, yet you have lost who YOU truly are?

You are sick and tired of being everything to everybody and somewhere along the way, you have become invisible?

The time for waiting is over as you can see life passing you by at such a superficial pace. You are ready to commit to living your life deeply, meaningfully and fall back in love with your unique YOU.

You know that if not NOW... when and if not YOU... who?
So many people feel the same, yet do not have your courage to choose to make a difference to their own lives. To learn how to gain the clarity and courage you're seeking to be in control of what truly matters to YOU. To learn to truly love, trust, care and respect yourself for who you uniquely are.
---
As a Professional Coach and Ambassador of Your Ultimate Self, Your Success and Ultimate You, I am excited to share with you the amazing work of Sharon Pearson, Founder of The Global Success Insititute and Author of Ultimate YOU. As my mentor and teacher I have been on a three year journey with Sharon Pearson as she has distilled 15 years of coaching, all her life experiences and her own inner world transformation into this most amazing book.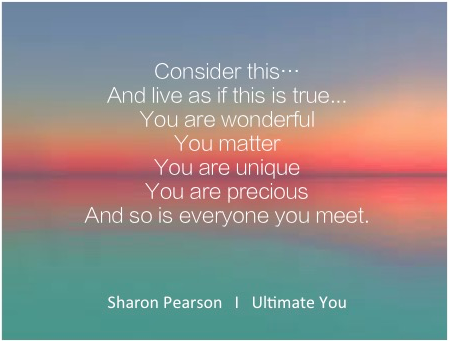 Together we will explore these five stepping stones:
How you can be your ultimate self, the person you thought you would be by now?
How do you get to a place of passion, compassion and love where you are not just giving, yet also having your own needs, emotions and boundaries respected.
Instead of feeling taken for granted and exhausted, that you feel deeply fulfilled with your relationships with others and most importantly, yourself.
Why you have certain beliefs, thoughts and feelings and how they are created.

Why your needs, boundaries and emotions form the foundation for reclaiming your uniqueness.
So you can love the one you are with and trust yourself and know yourself to be lovable, enough and worthy...
...and you do not need to do this alone. Let's do this together...
Empowered by this knowledge you can choose to re-write your story - and begin to literally change your life. Together, we are going to discover the deepest purpose and passion in your life as well as how to get inspired and propel in the direction of achieving your deepest dreams.
How will the workshop run?
This interactive workshop will introduce you to five stepping stones to craft the life you love, using many tried and tested personal development models and theories. There will be plenty of opportunity to participate and there will be group discussion throughout the day.
All workbooks are included and it is recommended you bring a notebook and pen as you may wish to take some addtional notes.
And afterwards, I am here to support you...There will be an offer to join the Time to Grow Within facebook community, to support you and help you create an empowered life of your choice by learning how to embrace your own true authentic self, all of YOU.
It's your time... Take the first steps towards living your extraordinary life today...
---
FAQs
Are there ID or minimum age requirements to enter the event?
No minimum age group with the exception I swear unashamably!
What are my transport/parking options for getting to and from the event?
MC2 has fantastic parking and is free up to four hours. Then you just move your car to another car parking spot.
What can I bring into the event?
Bring a note pad and pen. We wil provide worksheets on the day. Please bring your curiousity, sense of adventure and a deep desire to learn more about the most fascinating person on this planet. YOU!
How can I contact the organiser with any questions?
Please feel comfortable to email me or phone me with any questions on 0432969368 or email: jane@timetogrowcoaching.com.au
I am truly delighted to meet you soon.
Jane Cann